Ribbon Deploys Innovative Call Analytics to Curb Robocalling
In order to curtail the prevalence of spams and robocalls, Ribbon Communications Inc. RBBN recently launched its identity assurance portfolio — Ribbon Call Trust. This avant-garde technology functions on the mechanism of advanced analytics and machine learning (ML) with Robocall mitigation and STIR/SHAKEN framework. The move to boost caller ID authentication is the need of the hour, especially at a time when the telecom industry is plagued by illegitimate and spoofed robocalls.

STIR/SHAKEN are acronyms for Secure Telephone Identity Revisited standards and Signature-based Handling of Asserted information using toKENs. These industry-leading technologies provide the best available information to make it easier for carriers and consumers to decide what calls they want to allow or block, thereby combating spoofed calls. It also makes it easier to trace a call to its original source. The regulatory framework that has currently been adopted in the United States and Canada consists of advanced software functionality and verification tools that identify robocalls.

Backed by a highly-adaptable architecture, Ribbon Call Trust capitalizes on dynamic ML models to detect the original sources of fraud call attempts on a real-time basis. Markedly, three attributes are necessary to provide identity assurance on a real-time per-call basis — Identity, Reputation and Trust context. The flexible architecture of the solution is equipped with open application programming interfaces that have the ability to ingest data from other databases to enhance the accuracy of the reputation scoring models and dynamically adapt to evolving threat scenarios. Apart from leveraging public cloud infrastructure, the solution integrates with STIR/SHAKEN framework for verification services. Further, it has been specifically designed to support customers with legacy networks by leveraging the identity assurance portfolio.

In addition to validating a caller's identity, intent and reputation, Ribbon Call Trust also leverages other STIR/SHAKEN-compliant technologies — Ribbon Secure Telephony Identity, Ribbon Identity Hub, Call Controllers and Session Border Controllers — to name a few. Previously, it had worked with companies like Peerless Network and Amazon.com, Inc.'s AMZN cloud computing arm — Amazon Web Services — to thwart robocalling and reinforce better call analytics for secure, reliable and real-time communication services. Along with infringement of customer privacy, robocalls try to siphon off sensitive information to dupe individuals and rob unsuspecting customers of their hard-earned money. To curb this illegal practice, the company is currently working with telco standards organization — Alliance for Telecommunications Industry Solutions (ATIS) — to support various enterprise customers.

It is worth mentioning that the Federal Communications Commission ("FCC") proposed and implemented effective policy initiatives to end the unsolicited robocalls. These include creation of a national database of disconnected phone numbers that are reassigned to other users to avoid dialling the wrong customers repeatedly and enabling telecom service providers to block and filter text messages deemed as spam. It has also demanded a digital validation by carriers to curb this menace.

By following these guidelines, Ribbon remains focused on delivering real-time and secure data and voice network capabilities for the cloud, network and enterprise edge with consistent investment in high-growth markets.

The stock is currently trading with a forward P/E of 14.8X. Shares of Ribbon have surged 63.5% compared with the industry's rise of 40.5% in the past three months.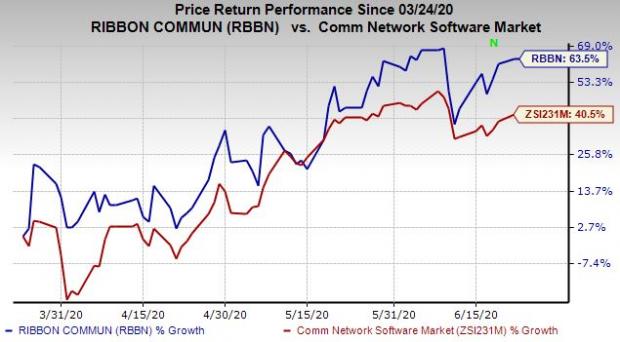 Zacks Rank & Stocks to Consider

Ribbon currently has a Zacks Rank #4 (Sell).

Some better-ranked stocks in the broader industry are ADTRAN, Inc. ADTN and Bandwidth Inc. BAND. While ADTRAN sports a Zacks Rank #1 (Strong Buy), Bandwidth carries a Zacks Rank #2 (Buy). You can see the complete list of today's Zacks #1 Rank stocks here.

ADTRAN's bottom line surpassed the Zacks Consensus Estimate thrice in the last four quarters. The company has a trailing four-quarter positive earnings surprise of 8.5%, on average.

Bandwidth's bottom line surpassed the Zacks Consensus Estimate in the last four quarters. The company has a trailing four-quarter positive earnings surprise of 89.4%, on average.

These Stocks Are Poised to Soar Past the Pandemic

The COVID-19 outbreak has shifted consumer behavior dramatically, and a handful of high-tech companies have stepped up to keep America running. Right now, investors in these companies have a shot at serious profits. For example, Zoom jumped 108.5% in less than 4 months while most other stocks were sinking.

Our research shows that 5 cutting-edge stocks could skyrocket from the exponential increase in demand for "stay at home" technologies. This could be one of the biggest buying opportunities of this decade, especially for those who get in early.

See the 5 high-tech stocks now>>
Want the latest recommendations from Zacks Investment Research? Today, you can download 7 Best Stocks for the Next 30 Days.
Click to get this free report
Amazon.com, Inc. (AMZN): Free Stock Analysis Report
ADTRAN, Inc. (ADTN): Free Stock Analysis Report
Ribbon Communications Inc. (RBBN): Free Stock Analysis Report
Bandwidth Inc. (BAND): Free Stock Analysis Report
To read this article on Zacks.com click here.
Zacks Investment Research