Price War in Coronavirus Test Space to Intensify Thanks to Abbott
The United States currently has more coronavirus cases than any other country. Needless to say, diagnostic laboratories and hospitals are almost on the verge of succumbing to this enormous pressure of developing COVID-19 test kits.
In such a situation, through a combined initiative of the U.S. Department of Health and Human Services (HHS) and the Department of and Defense (DOD), the government has decided to buy 150 million of Abbott's $5 rapid antigen test for COVID-19.
Mass diagnosis through Abbott's affordable rapid test is expected to control the spread of the virus in a better way, thereby helping the economy to remain open and gradually regain normalcy. The U.S. Department of Health & Human Services expects this to significantly boost the testing capacity of the nation.
Shares of Abbott ABT rose nearly 8% yesterday (to close at $111.29), immediately after news of this $760 million deal with the government surfaced.
The Test at a Glance
On Aug 26, Abbott's rapid antigen test, BinaxNOW COVID-19 Ag Card received the FDA's Emergency Use Authorization (EUA). This credit card sized pocket-friendly test uses Abbott's lateral flow technology and provides results in as less as 15 minutes. Within the given settings, this test can be performed even by school nurses.
Nation in a Better Position Testing Wise
Notably, Abbott has invested hundreds of millions of dollars since April to manufacture BinaxNOW at a massive scale at its two new U.S. facilities. The company plans to ramp up to 50 million tests a month at the beginning of October. This compares favorably with Advanced Medical Technology Association's (AdvaMed) Jun 28 announcement where it had stated that per the data from the association's National Testing Registry for the week ending Jul 24, shipments of COVID-19 molecular diagnostic tests reached one million per day.
A report by The Atlantic has termed this development as a sea change in the testing landscape of the nation. All other traditional or even rapid diagnostic tests that had earlier received FDA's EUA require an expensive machine and cost around $40 or more. In contrast, this $5 test that only requires a coated-paper card and a small swab is immensely significant. Going by The Atlantic's COVID Tracking Project, reportedly, there have been in total fewer than 75 million tests over the past six months.
Status of Other Rapid Antigen Tests
Quidel Corporation QDEL was the first to achieve the FDA's EUA for its rapid antigen test Sofia 2 SARS Antigen FIA in May. This test is authorized for use only at high and moderate complexity laboratories certified by Clinical Laboratory Improvement Amendments (CLIA), as well as for point-of-care testing by facilities operating under a CLIA Certificate of Waiver. Notably Quidel's rapid immunoassay product sales jumped 270% in the second quarter.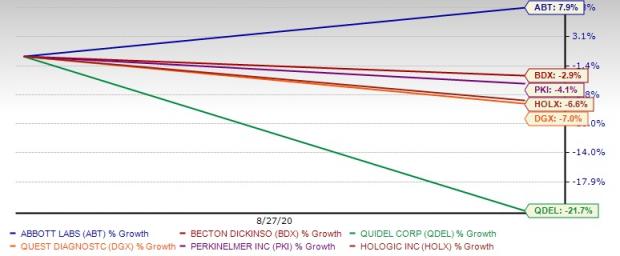 Becton, Dickinson and Company BDX or BD in July received EUA for its Rapid Point-of-Care Antigen Test. Although this portable test delivers results in 15 minutes, it has to be used with BD Veritor Plus System. BD did not record any contribution from this just-launched test in the third quarter of fiscal 2020. However, it projects solid sales ahead.
Both the tests require an additional system, which make the procedures more costly and complex. Going by a Yahoo Finance report, Tommy Thompson (the interim president of the University of Wisconsin System and former Secretary of Health and Human Services under George W. Bush), said he had to fight to get 36 of the Quidel machines that he ordered to help the University open campuses across the state after the federal government stepped in.
Shares of Quidel plummeted 21.7% while that of BD dropped 3% yesterday.
Business of Other COVID-19 Test Makers May See a Dip
Not only rapid antigen test makers, market watchers also believe Abbott's $5-test will result in huge price competition. Shares of Hologic HOLX, Quest Diagnostics DGX and PerkinElmer Inc. PKI declined more than 6%, 7% and 4%, respectively yesterday as investors seems to anticipate a dip in profits. A Bloomberg Quint report in this regard claimed that this development at Abbott will wipe out at least $22 billion in market value across more than a dozen companies.
Today's Best Stocks from Zacks
Would you like to see the updated picks from our best market-beating strategies? From 2017 through Q2 2020, while the S&P 500 gained an impressive +44.0%, five of our strategies returned +50.9%, +93.8%, +122.2%, +153.0%, and even +156.8%.

This outperformance has not just been a recent phenomenon. From 2000 – Q2 2020, while the S&P averaged +5.5% per year, our top strategies averaged up to +51.7% per year.

See their latest picks free >>
Want the latest recommendations from Zacks Investment Research? Today, you can download 7 Best Stocks for the Next 30 Days.
Click to get this free report
Becton, Dickinson and Company (BDX): Free Stock Analysis Report
Quest Diagnostics Incorporated (DGX): Free Stock Analysis Report
Hologic, Inc. (HOLX): Free Stock Analysis Report
PerkinElmer, Inc. (PKI): Free Stock Analysis Report
Abbott Laboratories (ABT): Free Stock Analysis Report
Quidel Corporation (QDEL): Free Stock Analysis Report
To read this article on Zacks.com click here.
Zacks Investment Research