Matador (MTDR) to Trim Drilling Program as Oil Price Plunges
Matador Resources Company MTDR has provided a glimpse of its 2020 operational update. Notably, the explorer's updated program was a response to plummeting oil prices.
Crude oil is trading in the bearish territory as the novel coronavirus outbreak has been affecting global energy demand. Thus, to combat plunging oil prices, the explorer is planning to significantly lower drilling activities.
By the first half of this year, the company intends to reduce its drilling program to three rigs from six. By the end of March, Matador is likely to release one of its six operated rigs. Of the remaining five rigs, the company will release two more by the end of the June-quarter of 2020. Thus, the upstream energy firm will be operating only three rigs through the second half of 2020.
Apart from reducing drilling activities, Matador is considering trimming its operating costs that will include lease operating (LOE) and general and administrative (G&A) expenses. Moreover, to protect its balance sheet, the company has decided to continue to divest part of its non-core properties. The assets to be divested might comprise leasehold and mineral interests in Haynesville shale and South Texas.
It is to be noted that all 11 lenders in the commercial banking group of Matador have unanimously affirmed the company's borrowing base at $900 million. The upstream firm has also chosen to boost its elected borrowing commitment to $700 million from $500 million. Importantly, Matador believes that the borrowing base and elected commitment reflect ample liquidity to weather the challenging business environment.
Moreover, to protect the company's financials as a measure to combat weak oil prices, Joseph Wm. Foran, Matador's Chairman and CEO, has voluntarily decided to slash his base salary by 25%. While the board members of the company will not mind a 25% cut in compensation, the vice presidents and executive officers have decided to cut base salaries in the range of 10% to 20%.
Matador Resources Company Price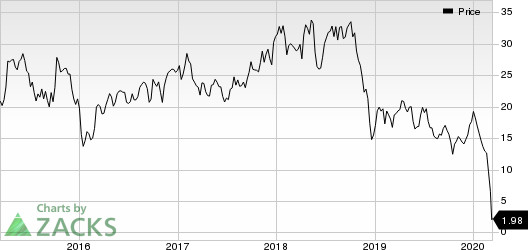 Matador Resources Company price | Matador Resources Company Quote
Headquartered in Dallas, TX, Matador currently carries a Zacks Rank #3 (Hold). Meanwhile, better-ranked players in the energy space include Precision Drilling Corporation PDS, Range Resources Corporation RRC and Antero Resources Corporation AR. While Precision Drilling and Range Resources carry a Zacks Rank #2 (Buy), Antero sports a Zacks Rank #1 (Strong Buy). You can see the complete list of today's Zacks #1 Rank (Strong Buy) stocks here.
Precision Drilling beat the Zacks Consensus Estimate for earnings in the prior four reported quarters.
Range Resources is likely to see bottom-line growth of 4.1% in the next five years.
Antero is likely to see earnings growth of more than 270% in 2020.
The Hottest Tech Mega-Trend of All
Last year, it generated $24 billion in global revenues. By 2020, it's predicted to blast through the roof to $77.6 billion. Famed investor Mark Cuban says it will produce ""the world's first trillionaires,"" but that should still leave plenty of money for regular investors who make the right trades early.
See Zacks' 3 Best Stocks to Play This Trend >>
Want the latest recommendations from Zacks Investment Research? Today, you can download 7 Best Stocks for the Next 30 Days.
Click to get this free report
Range Resources Corporation (RRC): Free Stock Analysis Report
Precision Drilling Corporation (PDS): Free Stock Analysis Report
Matador Resources Company (MTDR): Free Stock Analysis Report
Antero Resources Corporation (AR): Free Stock Analysis Report
To read this article on Zacks.com click here.
Zacks Investment Research