Brand Strength & Growth Efforts Aid Coty Maintain Shimmer
Strong brands as well as efforts to optimize operations are helping Coty Inc. COTY to sustain its momentum. Well, this renowned beauty products company's shares gained almost 7.1% in the past three months compared with the industry's rise of 6.5%. Let's take a closer look at the aspects favoring this Zacks Rank #3 (Hold) stock.

Luxury Unit — A Key Upside

Coty's Luxury segment has been performing well for quite some time, backed by solid brand performances, innovations and strong consumer demand. Although revenues in the segment were somewhat hurt by supply-chain headwinds and changes in accounting policies in the third quarter of fiscal 2019, it was compensated by strong brands. Net revenues rose 2.8% on an LFL or organic basis. The upside was driven by growth in Burberry, Gucci, Hugo Boss and Calvin Klein. Management is committed toward bolstering performance in the Luxury segment, which contributed 36.6% to revenues in the third quarter.

Prudent Acquisitions & Other Catalysts

Coty has made several strategic acquisitions to strengthen its portfolio. In this regard, the buyout of the iconic Burberry brand is yielding results, which largely fueled Coty's Luxury segment performance in the third quarter of fiscal 2019. Other instances in this regard include the acquisition of 60% stake in LLC and the buyout of Good Hair Day or ghd. Prior to these, the company acquired Procter & Gamble's PG Beauty business. This has boosted the company's sales.

Coty is progressing well with several transformation initiatives to boost operational efficiency. This includes efforts such as upgrading systems as well as optimizing manufacturing and logistics networks. The company is encouraged by the progress it has made in respect of such plans in the last two years. Moreover, management had earlier stated that it plans to realize nearly $750 million of synergies driven by cost, procurement, supply chain and SG&A savings by 2020. Simultaneously, the company is focused on investing in brands and strengthening e-commerce capabilities to drive growth.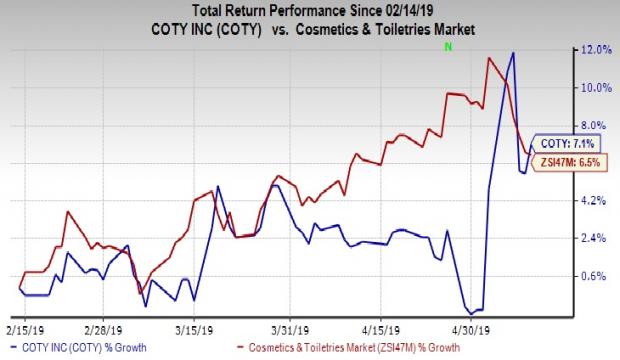 Headwinds in the Path

In spite of the aforementioned upsides, there are certain challenges that have been limiting Coty's performance. We note that Coty's Consumer Beauty segment has been posting soft organic sales. The segment remained pressurized in the third quarter, wherein revenues plunged 17.8% and like for like (LFL) or organic sales declined 10%. Results were hurt by supply-chain disruptions and changes in revenue recognition accounting. Also, persistent softness in mass beauty categories in the United States and Europe were a drag. Performance of Younique remained dismal during the quarter.

Though management is working toward enhancing the segment, full recovery may take time. Apart from Consumer Beauty, the company's Professional Beauty unit has been struggling due to supply-chain hurdles.
Nevertheless, we expect Coty to tide over these shortcomings on the back of the aforementioned sturdy initiatives to strengthen business.

Don't Miss These Solid Cosmetic Stocks

Estee Lauder EL, with long-term EPS growth rate of 13%, carries a Zacks Rank #2 (Buy). You can see the complete list of today's Zacks #1 Rank (Strong Buy) stocks here..
Helen of Troy Limited HELE, with a Zacks Rank #2, has long-term EPS growth rate of 5.6%.

Zacks' Top 10 Stocks for 2019

In addition to the stocks discussed above, would you like to know about our 10 finest buy-and-holds for the year?

Who wouldn't? Our annual Top 10s have beaten the market with amazing regularity. In 2018, while the market dropped -5.2%, the portfolio scored well into double-digits overall with individual stocks rising as high as +61.5%. And from 2012-2017, while the market boomed +126.3, Zacks' Top 10s reached an even more sensational +181.9%.

See Latest Stocks Today >>
Want the latest recommendations from Zacks Investment Research? Today, you can download 7 Best Stocks for the Next 30 Days.
Click to get this free report
Coty Inc. (COTY): Free Stock Analysis Report
Helen of Troy Limited (HELE): Free Stock Analysis Report
The Estee Lauder Companies Inc. (EL): Free Stock Analysis Report
Procter & Gamble Company (The) (PG): Free Stock Analysis Report
To read this article on Zacks.com click here.