Can Coty Continue Gaining From Buyouts & E-Commerce Growth?
With acquisitions and efforts to boost online business rolled up in its sleeves, Coty Inc. COTY seems well on track to augment market share in the world of beauty and cosmetics. In fact, these factors have been fueling the top line performance of this Zacks Rank #3 (Hold) company for a while.

However, a major obstacle in Coty's growth path is the sluggishness in the Consumer Beauty segment. This has been denting the company's organic sales performance. So, let's see if Coty's growth drivers can help the company to tide over obstacles and sustain its growth in the forthcoming periods.

Acquisitions: A Vital Growth Driver

Improved consumer confidence has not only been favoring higher spending on food and beverage items, but has also increased spending on personal care and cosmetic products. Such trends have been boosting Coty's Luxury and Professional segments performance and have also encouraged the company to engage in business expansion through buyouts.

In fact, Coty has made several strategic acquisitions to enhance its rich line-up of brands. In first-quarter fiscal 2018, the company's top line improved more than 100% year over year, mainly driven by contributions from the P&G Beauty business buyout and positive synergies from the acquisitions of ghd and Younique. Other instances include the buyout of 60% stake in LLC and the takeover of international license rights for Burberry Beauty luxury fragrances, cosmetics and skincare.

Other Efforts to Boost Performance

Further, Coty is boosting end-to-end digital transformation efforts including e-commerce across its divisions and regions. The company has been making great strides in this regard, which has driven e-commerce sales growth in Consumer Beauty and Luxury segments in the first quarter. Notably, through the peer-to-peer social selling platform Younique, Coty has been able to establish improved connectivity with customers. Further, the company is making progress with COVERGIRL brand through Custom Blend app. The app enables customers take a digital, social and influencer-led go-to-market approach as well as personalize and customize it as per desire.

Additionally, Coty is committed toward enhancing cost structure. This is indicated from the fact that the company's gross margin has been expanding for a while now. In first-quarter fiscal 2018, the adjusted gross margin increased 280 basis points, courtesy of supply-chain efficiencies; procurement synergies and contributions from buyouts. Also, the adjusted operating income jumped 17% to $195.1 million, driven by Coty's stringent financial discipline.

Aided by such upsides, shares of the company have surged 32.9% in the past three months compared with the industry's rally of 22.1%.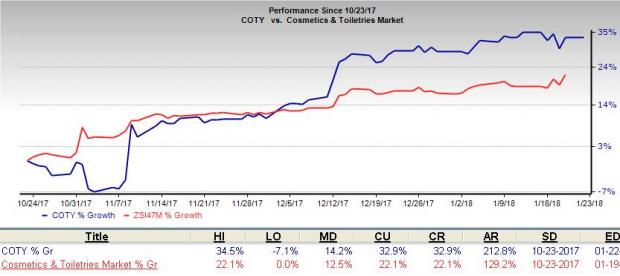 Can Strategic Plans Offset Headwinds?

Lately, persistent softness in Consumer Beauty segment has been a worry for the company. The segment has been struggling against underlying challenges in North America, thanks to changing consumers' preferences and a highly competitive environment. Soft market trends in major cosmetics categories and reduced shelf space for few brands (in the United States and Europe) have been acting as deterrents for the segment. Evidently, organic sales in this segment tumbled 8% in the first quarter, following declines of 10% and 6% in the fourth and third quarters of fiscal 2017, respectively.

Nevertheless, Coty's strategic business expansion and efficiency-building endeavors have helped the company to develop a robust brand line-up. We expect such efforts to help the company overcome the aforementioned headwinds.

Greedy for Consumer Staples Stocks? Check These

Investors interested in the same sector may also consider investing in companies such as United Natural Foods, Inc. UNFI, Estee Lauder Companies Inc EL and Sysco Corporation SYY, all carrying a Zacks Rank #2 (Buy). You can see the complete list of today's Zacks #1 Rank (Strong Buy) stocks here.

United Natural came up with an average positive earnings surprise of 2.3% in the trailing four quarters. It has a long-term earnings growth rate of 6.2%.

Estee Lauder pulled off an average positive earnings surprise of 18% in the trailing four quarters. It has a long-term earnings growth rate of 12.5%.

Sysco Corporation delivered an average positive earnings surprise of 2.6% in the trailing four quarters. It has a long-term earnings growth rate of 9%.

The Hottest Tech Mega-Trend of All

Last year, it generated $8 billion in global revenues. By 2020, it's predicted to blast through the roof to $47 billion. Famed investor Mark Cuban says it will produce ""the world's first trillionaires,"" but that should still leave plenty of money for regular investors who make the right trades early.

See Zacks' 3 Best Stocks to Play This Trend >>
Want the latest recommendations from Zacks Investment Research? Today, you can download 7 Best Stocks for the Next 30 Days.
Click to get this free report
Coty Inc. (COTY): Free Stock Analysis Report
Estee Lauder Companies, Inc. (The) (EL): Free Stock Analysis Report
Sysco Corporation (SYY): Free Stock Analysis Report
United Natural Foods, Inc. (UNFI): Free Stock Analysis Report
To read this article on Zacks.com click here.