Semtech (SMTC) Bolsters Clientele With Kiwi's LoRa Selection
Semtech Corporation SMTC collaborated with the Internet of Things (IoT) turn-key solutions and data analytics providing company, Kiwi Technology.
Kiwi leverages Semtech's LoRaWAN standard to connect with its gas meters for a third-party class B network control unit (NCU).
With LoRaWAN connectivity, Kiwi quickly detects and notifies customers about potential methane leaks, equipment malfunctions or breakdowns, ensuring gas supply and infrastructure safety.
SMTC's LoRa devices have low power consumption and bidirectional communication capabilities, which help NCUs function on full autonomous mode for up to 10 years. This shows the robustness of Semtech's LoRa devices.
The selection of LoRa devices by Kiwi Technology has added strength to Semtech's customer base.
Semtech Corporation Price and Consensus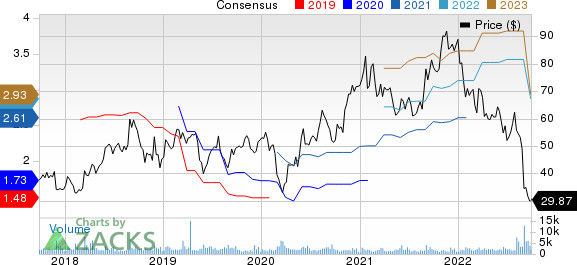 Semtech Corporation price-consensus-chart | Semtech Corporation Quote
Growth in Customer Base
Apart from this recent selection, Semtech's LoRa long-range modem is incorporated into REYAX's new antenna transceiver module, the REYAX RYLR998, which makes it usable across various IoT use cases, such as smart homes and asset tracking.
Additionally, Semtech partnered with ICT International, whereby the latter integrated Semtech's LoRa devices and LoRaWAN standard into its water-quality monitoring systems for aquaculture.
SMTC's LoRa devices & LoRaWAN standard are also incorporated into Enthu Technology Solutions and Xorowin Mechatronics' SIPOAL to provide constant real-time connectivity for industrial use cases.
Semtech's LoRa devices and LoRaWAN standard are also integrated into Smart Paddock's Bluebell smart GPS ear tag for monitoring livestock location in real time and analyzing cattle's behavioral data to solve livestock management issues.
The consistent increase in customers is expected to continue contributing to Semtech's top-line growth.
LoRa Portfolio Strength
Semtech's growing customer relationships are attributed to its reliable and efficient LoRa portfolio of solutions. Also, SMTC keeps working toward expanding its offerings to equip customers with advanced technology-based solutions.
Semtech recently added multi-band features to the LoRa Edge device-to-Cloud geolocation platform LoRa Edge to focus on the challenges faced by the logistics industry.
This apart, SMTC introduced the LoRa Developer Portal to help developers quickly develop IoT devices connected with the LoRaWAN standard.
Semtech expanded the LoRa Core portfolio by adding a solution LoRa Corecell Reference Design for full-duplex gateway applications in the U.S. 902-928MHz ISM band. The new product enables LoRaWAN gateways to receive and transmit data simultaneously.
The growing initiatives are helping SMTC strengthen its footprint in the growing LoRa and LoRaWAN devices market.
Though Semtech's rising initiatives to expand its presence in the aforesaid market remain a positive, its declining revenues from the high-end consumer market due to weak demand from the Asian smartphone customers remains a serious concern.
Shares of SMTC have been down 60.1% in the year-to-date period, lagging the Computer and Technology sector's decline of 30.1%.
Zacks Rank & Stocks to Consider
Currently, Semtech has a Zacks Rank #5 (Strong Sell).
Investors interested in the broader Zacks Computer & Technology sector can consider some better-ranked stocks like Arista Networks ANET, Keysight Technologies KEYS and Teradata TDC. While Arista Networks and Keysight Technologies sport a Zacks Rank #1 (Strong Buy), Teradata carries a Zacks Rank #2 (Buy) at present. You can see the complete list of today's Zacks #1 Rank stocks here.
Arista Networks has returned 22.8% in the year-to-date period. The long-term earnings growth rate for ANET is currently projected at 18.9%.
Keysight Technologies has lost 24.1% in the year-to-date period. KEYS' long-term earnings growth rate is currently projected at 11%.
Teradata has lost 27.8% in the year-to-date period. The long-term earnings growth rate for TDC is currently projected at 27.4%.
Zacks Names "Single Best Pick to Double"
From thousands of stocks, 5 Zacks experts each have chosen their favorite to skyrocket +100% or more in months to come. From those 5, Director of Research Sheraz Mian hand-picks one to have the most explosive upside of all.
It's a little-known chemical company that's up 65% over last year, yet still dirt cheap. With unrelenting demand, soaring 2022 earnings estimates, and $1.5 billion for repurchasing shares, retail investors could jump in at any time.
This company could rival or surpass other recent Zacks' Stocks Set to Double like Boston Beer Company which shot up +143.0% in little more than 9 months and NVIDIA which boomed +175.9% in one year.
Free: See Our Top Stock And 4 Runners Up
Want the latest recommendations from Zacks Investment Research? Today, you can download 7 Best Stocks for the Next 30 Days.
Click to get this free report
Teradata Corporation (TDC): Free Stock Analysis Report
Semtech Corporation (SMTC): Free Stock Analysis Report
Arista Networks, Inc. (ANET): Free Stock Analysis Report
Keysight Technologies Inc. (KEYS): Free Stock Analysis Report
To read this article on Zacks.com click here.
Zacks Investment Research