Here's What to Expect from eBay's (EBAY) Q2 Earnings Report
EBay Inc. EBAY was added to the Zacks Rank #1 (Strong Buy) list on Tuesday, with the company set to report its quarterly earnings results Wednesday after the market closes. YTD, EBAY is up 42.5%.
Overview
EBay, which helped kick off the modern e-commerce era, now has to fight against the ever-growing presence of Amazon AMZN, as well as traditional retailers like Target TGT. EBay has tried to rebrand itself as much more than an online auction place. But the firm has struggled compared to many of its peers, especially since it spun off PayPal PYPL in 2015.
The firm also owns multiple other companies including StubHub. Though we should remember that activist investors Elliott Management and Starboard Value LP have pushed eBay to sell its other businesses, including its online ticket marketplace and its portfolio of Classifieds properties.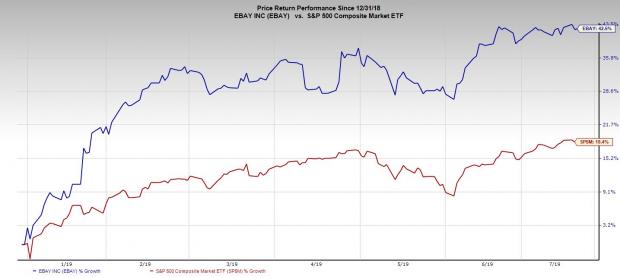 Q2 Expectations & Earnings Trends
EBay's Q2 revenue is supposed to grow 1.28% to hit $2.67 billion, based on our current Zacks Consensus Estimates. This small growth is a significant slowdown compared to its year-over-year revenue growth in the past five quarters, which has averaged 7.16%, but has been on a constant decline.
Our Zacks non-financial metrics expect gross merchandising volume to be down nearly 4%, which could be a reason for the slowdown in revenue growth. One of eBay's significant revenue streams comes from the fees it charges sellers on its site, thus a decrease in GMV on the site can hurt overall revenue for eBay.
Revenue growth for eBay is evenly spread geographically with both U.S. revenue and international revenue expected to increase around $15 million. This, however, would mark relatively smaller growth for the international sector, as eBay's international unit is slightly greater.
Another very important non-financial metric for eBay will be its report on active buyers. Our expectations call for the company to report approximately 181.11 million active marketplace users, up from 175 million in the year-ago period. If eBay can prove that its site is becoming more popular for buyers, investors can be more optimistic about the future of the ecommerce site.
Meanwhile, earnings are expected to increase 16.98% for the quarter to $0.62 per share. This is in the middle of the range that eBay provided for its Q2 earnings guidance in April. A significant amount of this growth is expected to come from the company's investments in Japan and benefits from its share repurchase program.
Bottom Line
EBay must capture more of the expanding e-commerce market to combat the likes of Amazon and Walmart WMT, which has become a big-name player in online retail with recent digital investments. Investors should pay close attention to eBay's guidance and any activist-related updates.
Radical New Technology Creates $12.3 Trillion Opportunity

Imagine buying Microsoft stock in the early days of personal computers… or Motorola after it released the world's first cell phone. These technologies changed our lives and created massive profits for investors.

Today, we're on the brink of the next quantum leap in technology. 7 innovative companies are leading this "4th Industrial Revolution" - and early investors stand to earn the biggest profits.

See the 7 breakthrough stocks now>>
Want the latest recommendations from Zacks Investment Research? Today, you can download 7 Best Stocks for the Next 30 Days.
Click to get this free report
eBay Inc. (EBAY): Free Stock Analysis Report
Amazon.com, Inc. (AMZN): Free Stock Analysis Report
PayPal Holdings, Inc. (PYPL): Free Stock Analysis Report
Walmart Inc. (WMT): Free Stock Analysis Report
Target Corporation (TGT): Free Stock Analysis Report
To read this article on Zacks.com click here.
Zacks Investment Research