Delta Air Lines (DAL) Q4 Earnings Beat, Revenues Lag
Delta Air Lines DAL, which kick-started the fourth-quarter 2018 earnings season in the airline space, delivered a mixed performance. While the company's earnings topped estimates, it posted lower-than-expected revenues in the quarter.
The Atlanta, GA-based carrier's fourth-quarter earnings (excluding 19 cents from non-recurring items) of $1.30 per share surpassed the Zacks Consensus Estimate by 3 cents. Moreover, the bottom line increased on a year-over-year basis.
Operating revenues of $10,742 million, however, fell short of the Zacks Consensus Estimate of $10,828.7 million. Revenues increased 4.9% from the year-ago figure.
During the quarter, passenger revenues and cargo revenues improved 6.9% and 5.4%, respectively, both on a year-over-year basis. However, other revenues decreased 12.3%. The average fuel price (adjusted) in the fourth quarter was $2.42 per gallon, reflecting an increase of 25.3% on a year-over-year basis.
Operating Statistics
Revenue passenger miles (a measure of air traffic) increased 4% to 53.2 billion. Capacity or available seat miles expanded 4.1% to 62.5 billion. Load factor (percentage of seats filled by passengers) came in at 85.2%, flat year over year. Passenger revenue per available seat mile (PRASM) increased 2.7% year over year to 15.43 cents.
Total revenue per available seat mile (TRASM), on an adjusted basis, increased 3.2% year over year to 17.16 cents. Passenger mile yield improved 2.8% to 18.12 cents.
Operating Expenses
Total operating expenses, including special items, climbed 6% year over year to $9,652 million. Operating cost per available seat mile increased 2.3% to 15.44 cents. Non-fuel unit costs declined 0.5% to 10.74 cents.
Delta Air Lines, Inc. Price, Consensus and EPS Surprise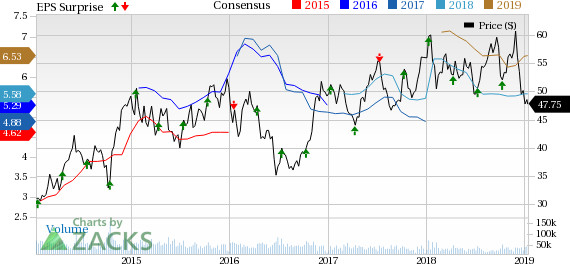 Delta Air Lines, Inc. Price, Consensus and EPS Surprise | Delta Air Lines, Inc. Quote
Liquidity
Delta exited the quarter with $1,565 million in cash and cash equivalents. Delta generated free cash flow of $45 million and adjusted operating cash flow of $1.3 billion in the fourth quarter.
Adjusted debt at the end of 2018 stood at $16 billion. The company managed to reduce its net debt significantly from the 2009 levels.
Dividend and Share Repurchase
Delta returned $563 million to its shareholders through dividends ($238 million) and share buybacks ($325 million) in the quarter under review. The company's board cleared a dividend hike to the tune of 15% in 2018. The new quarterly dividend is 35 cents per share. The carrier returned $2.5 billion to shareholders in 2018 through dividends ($909 million) and share buybacks ($1.6 billion).
Annual Results
For full-year 2018, the carrier's earnings (on an adjusted basis) climbed 19% to $5.65 per share. Revenues increased 8% to nearly $44 billion. The Zacks Consensus Estimate was of earnings of $5.58 per share on revenues of $44.44 billion.
Guidance
For the first quarter of 2019, the carrier expects earnings per share to be between 70 cents and 90 cents. The Zacks Consensus Estimate for first-quarter earnings is pegged at 92 cents per share. The tepid guidance disappointed investors. Consequently, the stock shed value in pre-market trading.
The carrier anticipates pre-tax margin in the 6.5-8.5% band. The estimated fuel price, including taxes, settled hedges and refinery impact, is envisioned in the range of $1.95-$2.05 per gallon.
TRASM, on an adjusted basis, is anticipated in the range of 0% to 2% (year-over-year change). System capacity is expected to be up approximately 4% on a year-over-year basis. Cost per available seat mile, excluding fuel and profit sharing, is anticipated to increase in the 1-2% band
For full-year 2019, earnings per share is expected between $6 and $7. The Zacks Consensus Estimate is pegged at $6.53 per share.
Upcoming Releases
Investors interested in the Zacks Airline industry are keenly awaiting fourth-quarter earnings reports from key players like JetBlue Airways Corp. JBLU, Southwest Airlines LUV and Allegiant Travel Co. ALGT in the coming days. While JetBlue and Southwest are scheduled to report on Jan 24, Allegiant will follow suit on Jan 30.
Zacks Rank
Delta carries a Zacks Rank #2 (Buy). You can see the complete list of today's Zacks #1 Rank (Strong Buy) stocks here.
Looking for Stocks with Skyrocketing Upside?
Zacks has just released a Special Report on the booming investment opportunities of legal marijuana.
Ignited by new referendums and legislation, this industry is expected to blast from an already robust $6.7 billion to $20.2 billion in 2021. Early investors stand to make a killing, but you have to be ready to act and know just where to look.
See the pot trades we're targeting>>
Want the latest recommendations from Zacks Investment Research? Today, you can download 7 Best Stocks for the Next 30 Days.
Click to get this free report
To read this article on Zacks.com click here.
Zacks Investment Research