Airline Stocks Fly High on Multiple Tailwinds in Q4: 4 Picks
It is a well-known fact that 2018 was not a favorable year for airline stocks. Oil prices, which were high for the majority of the year, were the main reason behind the sorry performance of airlines in the previous year.
The Zacks Airline industry shed 22.9% in 2018. The industry's performance was worse than that of the Zacks S&P 500 composite, which declined 5.9%.
2018 Price Performance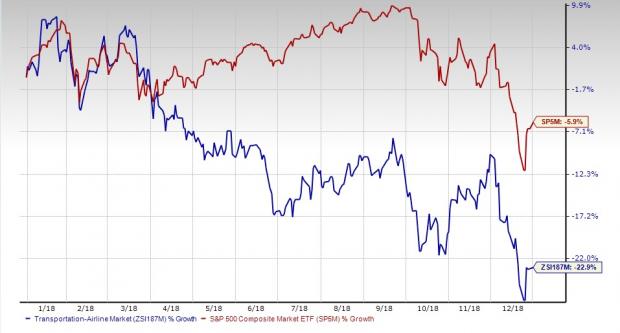 Oil Price
A rise in oil price leads to a sharp increase in operating expenses of airline companies. Oil prices displayed an uptrend till early October, increasing more than 20%.
The surge in oil prices was the primary reason behind the bottom-line contraction at most airlines in each of the three quarters of 2018. In a stunning reversal, oil prices have been declining steadily since then on fears of supply glut and economic headwinds.
Why Airlines Gained Altitude in Q4
The southward movement of one of their major inputs propelled airlines stocks. As a result of the sharp drop, oil prices declined nearly 40% in Q4.
Consequently, airline heavyweights like United Continental Holdings UAL, American Airlines AAL, Southwest Airlines LUV and Alaska Air Group ALK outperformed in the final quarter of 2018. The bottom line at most carriers improved year over year. Declining oil prices apart, low tax rates also aided results.
Meanwhile, the top line was aided by upbeat passenger revenues with demand for air travel remaining strong in Q4. Robust traffic during the Thanksgiving holiday period contributed to the uptick in passenger revenues.
The better-than-expected results led to an uptick in the share price of the likes of United Continental, Southwest Airlines, American Airlines and JetBlue Airways JBLU.
Other Positives
The Q4 outperformances apart, most carriers unveiled encouraging projections. For instance, American Airlines expects adjusted earnings per share in 2019 between $5.50 and $7.50, much higher than the 2018 figure of $4.55. The bullish guidance resulted in the Zacks Consensus Estimate for full-year earnings being revised upward to the tune of 5.6% since the announcement.
United Continental expects full-year 2019 earnings in the $10-$12 band, higher than $9.13 per share reported in full-year 2018. Southwest Airlines predicts Q1 revenue per available seat mile (RASM: a key unit revenue measure) to rise 4-5% year over year in the first quarter of 2019.
Adding to the list of positives is Alaska Air Group's dividend hike. The company announced a dividend increase of 9% to 35 cents per share (annually: $1.40 per share). The current tax law, which came into force in December 2017, is a boon for airlines as far as investor-oriented activities are concerned. On the back of tax law induced savings, we expect more stocks in the space to increase their dividend payouts in 2019.
Bullish Zacks Industry Rank
The Zacks Airline industry has a Zacks Industry Rank of 8 (out of 250 plus groups), which highlights the fact that airlines are back in favor. The favorable rank places the companies in the top 4% of the Zacks industries.
Our proprietary Heat Map shows the industry's bullish rank over the past few weeks.

Airline Stocks Should Grace Your Portfolio
In view of the renewed optimism surrounding airline stocks, we believe that investors should include them in their respective portfolios.
Each of the selected stocks carries a Zacks Rank #1 (Strong Buy) or 2 (Buy). Moreover, the stocks have a Growth Score of B. You can see the complete list of today's Zacks #1 Rank stocks here.
4 Solid Picks
Air France-KLM SA AFLYY is based in Paris and carries a Zacks Rank #1. The Zacks Consensus Estimate for 2019 earnings has increased 2% over the past 30 days.
United Continental Holdings is based in based in Chicago, IL and carries a Zacks Rank #2. The Zacks Consensus Estimate for 2019 earnings has increased 5.4% over the past 30 days.
JetBlue Airways Corporation is a low-cost airline based in Long Island City, NY and carries a Zacks Rank #2. The Zacks Consensus Estimate for 2019 earnings has increased 14.1% over the past 30 days.
Southwest Airlines is a Dallas-based low-cost carrier with a Zacks Rank #2. The Zacks Consensus Estimate for 2019 earnings has increased 1.7% over the past 30 days.
Wall Street's Next Amazon

Zacks EVP Kevin Matras believes this familiar stock has only just begun its climb to become one of the greatest investments of all time. It's a once-in-a-generation opportunity to invest in pure genius.

Click for details >>
Want the latest recommendations from Zacks Investment Research? Today, you can download 7 Best Stocks for the Next 30 Days.
Click to get this free report
Air France-KLM SA (AFLYY): Free Stock Analysis Report
Alaska Air Group, Inc. (ALK): Free Stock Analysis Report
United Continental Holdings, Inc. (UAL): Get Free Report
Southwest Airlines Co. (LUV): Get Free Report
American Airlines Group Inc. (AAL): Free Stock Analysis Report
JetBlue Airways Corporation (JBLU): Get Free Report
To read this article on Zacks.com click here.
Zacks Investment Research