Radius' (RDUS) Q4 Loss Wider Than Expected, Revenues Beat
Shares of Radius Health, Inc. RDUS were down 3.9% after it reported mixed results for the fourth quarter.
Shares of the company have gained 6.5% in the year so far compared with the industry's growth of 1.7%.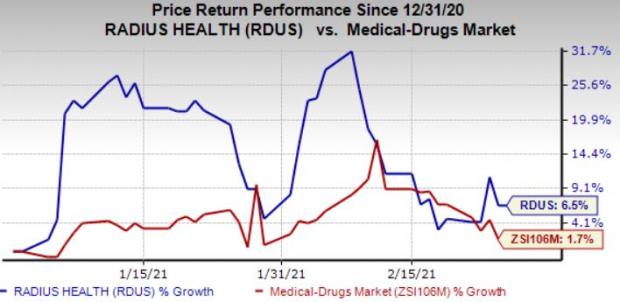 The company incurred a loss of 46 cents per share in the fourth quarter, wider than the Zacks Consensus Estimate of a loss of 32 cents. The figure was, however, narrower than the year-ago quarter's loss of 54 cents per share due to higher revenues.
The company reported revenues of $62.8 million, beating the Zacks Consensus Estimate of $59 million and increasing from the year-ago quarter's $55.7 million owing to continued growth in demand for lead drug, Tymlos, which is approved for the treatment of postmenopausal women with osteoporosis at high risk of fracture.
Quarter in Detail
Net sales of Tymlos were $59.9 million, up 7.7% year over year. New patient starts increased 26% sequentially.
Research & development expenses for the reported quarter were $36.4 million, up from $34.5 million year over year, primarily driven by a $16.0-MILLION increase in RAD011 program expenses. Selling, general & administrative expenses were roughly flat at $35.8 million.
Pipeline Updates
Data from the phase III ATOM study, evaluating the use of abaloparatide in osteoporotic men at high risk for fracture, are expected in the second half of the year.
Data from the wearABLe study, evaluating the effects on bone mineral density of abaloparatide delivered via a novel transdermal system, are also expected in the second half of year.
In July 2020, Radius entered into an exclusive global license agreement with Menarini Group for the development and commercialization of elacestrant. Per the agreement, Menarini Group will be responsible for the worldwide commercialization of elacestrant, after the completion of the phase III study. The EMERALD study is evaluating the use of elacestrant to treat ER+/HER2- advanced or metastatic breast cancer and data are expected in the second half of the year.
Last month, Radius announced a definitive agreement to acquire the global development and commercialization rights of Benuvia Therapeutics Inc.'s synthetic cannabidiol oral solution, RAD011. The company also entered into definitive agreements with Endo Ventures Limited, a subsidiary of Endo International plc ENDP, to register, commercialize and distribute abaloparatide on an exclusive basis in Canada.
2020 Results
Revenues of $238.6 million increased from $173.3 million in 2019 and beat the Zacks Consensus Estimate of $235 million.
Loss per share narrowed to $2.35 from $2.89 in 2019.
Our Take
Radius reported a wider loss in the fourth quarter but sales beat estimates. Tymlos is holding up well amid the pandemic. The pipeline progress has been impressive as well. However, competition is stiff from bigwigs like Eli Lilly & Co's LLY Forteo and Amgen's AMGN Prolia.
Zacks Rank & A Stock to Consider
Radius currently carries a Zacks Rank #3 (Hold). You can see the complete list of today's Zacks #1 Rank (Strong Buy) stocks here.
Just Released: Zacks' 7 Best Stocks for Today
Experts extracted 7 stocks from the list of 220 Zacks Rank #1 Strong Buys that has beaten the market more than 2X over with a stunning average gain of +24.9% per year.

These 7 were selected because of their superior potential for immediate breakout.

See these time-sensitive tickers now >>
Want the latest recommendations from Zacks Investment Research? Today, you can download 7 Best Stocks for the Next 30 Days.
Click to get this free report
Endo International plc (ENDP): Free Stock Analysis Report
Eli Lilly and Company (LLY): Free Stock Analysis Report
Amgen Inc. (AMGN): Get Free Report
Radius Health, Inc. (RDUS): Free Stock Analysis Report
To read this article on Zacks.com click here.
Zacks Investment Research