Why Hold Strategy is Apt for International Paper (IP) Right Now
International Paper Company IP is benefiting from solid demand for packaging and surging e-commerce activities amid the coronavirus pandemic. The company's focus on growing core business and acquisitions will continue to drive growth. However, bleak demand for printing paper and higher material costs remain near-term headwinds.

International Paper currently carries a Zacks Rank #3 (Hold). It has a VGM Score of A. Our research shows that stocks with a VGM Score of A or B, when combined with a Zacks Rank #1 (Strong Buy), 2 (Buy) or 3, offer the best investment opportunities. You can see the complete list of today's Zacks #1 Rank stocks here.

International Paper's shares have gained 60.8% over the past year, compared with the industry's growth of 72.4%.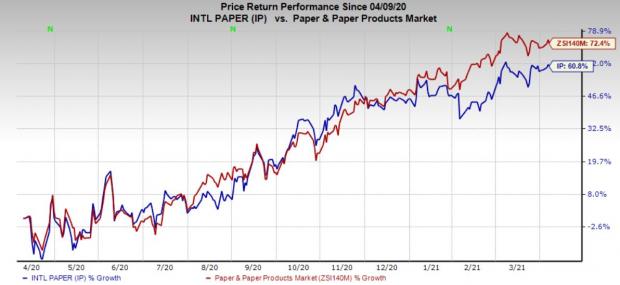 Positive Earnings Surprise History
International Paper has a trailing four-quarter average earnings surprise of 43.1%.
Estimate Revision Activity
The Zacks Consensus Estimate for current-year earnings per share has been revised upward by 2.3% to $3.95 over the past 60 days. The figure indicates year-over-year growth of 41%.
Growth Drivers in Place
The company is witnessing stellar demand driven by processed food, beverage, proteins, chemicals, paper tissue and towel. International Paper will continue to benefit from the growing e-commerce demand as it has become a primary spending channel for customers owing to restrictions amid the pandemic. Notably, corrugated packaging plays a critical role in supply chain to bring essential products to consumers. Moreover, the Global cellulose fibers segment is well poised to gain from solid demand for absorbent hygiene products and tissue products.

International Paper continuously evaluates its operations for improvement opportunities by focusing on core businesses, realigning capacity to operate fewer facilities with the same revenue capability, closing high cost facilities, and trimming costs. Last December, the company announced its plan to spin off the Printing Papers segment into a stand-alone, publicly-traded company (SpinCo) to focus on the Industrial Packaging segment, and tap the rising demand for corrugated packaging, cut costs and improve earnings. Earlier, the company had divested its consumer packaging business in North America to Graphic Packaging Holding Company GPK.

Moreover, mergers and acquisitions remain a key strategy for International Paper to strengthen its packaging business. Last month, the company acquired two Spain-based state-of-the-art corrugated box plants in a bid to expand its capabilities in the country's largest industrial regions, Madrid and Catalonia. In fact, the corrugated packaging business provides growth scope for International Paper in the EMEA region. In North America, the company envisions a large opportunity within its industrial packaging businesses, which continues to generate the best margins in the industry. The company is also taking initiatives to drive margin expansion over time across the business.

International Paper's efforts to reduce debt levels also appear encouraging. Its total debt has gone down from $11 billion at the end of 2016 to $8.1 billion as of Dec 31, 2020. Moreover, cash and temporary investments aggregated $595 million as of Dec 31, 2020 compared with $511 million as of Dec 31, 2019. The company is committed to a sustainable dividend with a target range of 40% to 50% of free cash flow.
Headwinds to Counter
The pandemic has affected paper consumption in schools, offices and businesses due to the stay-at-home measures implemented to contain the spread of the virus. This will weigh on the company's results. International Paper has also witnessed unprecedented decline in commercial printing segments due to the significant pullback in print advertising. Furthermore, the transition to digital media has triggered declines in demand for paper and remains a persistent woe.

Apart from this, the company expects elevated input costs on higher recovered fiber, seasonal energy and distribution costs in the current year.
Bottom Line
Investors might want to hold on to the stock, at present, as it has ample prospects for outperforming peers in the near future.
Stocks to Consider
A few better-ranked stocks in the basic materials space are Impala Platinum Holdings Limited IMPUY and Fortescue Metals Group Limited FSUGY, each sporting a Zacks Rank #1 at present.

Impala Platinum has an expected earnings growth rate of 195.9% for the current fiscal year. The company's shares have surged 84% in the past year.

Fortescue has a projected earnings growth rate of 84.3% for the current fiscal year. The company's shares have soared 182% in a year's time.
Time to Invest in Legal Marijuana
If you're looking for big gains, there couldn't be a better time to get in on a young industry primed to skyrocket from $17.7 billion back in 2019 to an expected $73.6 billion by 2027.

After a clean sweep of 6 election referendums in 5 states, pot is now legal in 36 states plus D.C. Federal legalization is expected soon and that could be a still greater bonanza for investors. Even before the latest wave of legalization, Zacks Investment Research has recommended pot stocks that have shot up as high as +285.9%

You're invited to check out Zacks' Marijuana Moneymakers: An Investor's Guide. It features a timely Watch List of pot stocks and ETFs with exceptional growth potential.

Today, Download Marijuana Moneymakers FREE >>
Want the latest recommendations from Zacks Investment Research? Today, you can download 7 Best Stocks for the Next 30 Days.
Click to get this free report
International Paper Company (IP): Free Stock Analysis Report
Impala Platinum Holdings Ltd. (IMPUY): Free Stock Analysis Report
Graphic Packaging Holding Company (GPK): Free Stock Analysis Report
Fortescue Metals Group Ltd. (FSUGY): Get Free Report
To read this article on Zacks.com click here.
Zacks Investment Research