Alkermes' Schizophrenia Drug Gets Favorable FDA Panel Vote
Alkermes plc ALKS announced that it received positive votes for ALKS 3831 from the joint meeting of the Psychopharmacologic Drugs Advisory Committee and the Drug Safety and Risk Management Advisory Committee, appointed by the FDA. Shares of the company increased 13.2% following the news in pre-market. However, shares of the company have decreased 17.4% year to date against the industry's growth of 1.8%.

ALKS 3831 (olanzapine/samidorphan) is an investigational, novel, once-daily, oral atypical antipsychotic drug candidate being evaluated for the treatment of adults with schizophrenia and bipolar I disorder. Schizophrenia is a chronic, severe and disabling brain disorder. Bipolar disorder is a brain disorder that causes unusual shifts in a person's mood, energy and ability to function.
During the joint meeting, the group voted that the samidorphan meaningfully mitigates olanzapine-associated weight gain with a 16-1 vote. The committee also ruled the safety profile of ALKS 3831, which has been adequately characterized with a 13-3 vote.The committees jointly voted that labeling is sufficient to mitigate the risks related to the opioid antagonist action of samidorphan in an 11-6 vote.
Though the FDA is not bound by it, the joint advisory committee's recommendationswill be considered by the agencyin its review of the new drug application (NDA) for ALKS 3831.The action date for the ALKS 3831 NDA is Nov 15, 2020. The NDA is supported by data from 18 studies evaluating ALKS 3831 and nine studies evaluating samidorphan alone.
Other drugsin the schizophrenia treatment market include AstraZeneca plc's AZN Seroquel XR, Johnson & Johnson's JNJ Risperdal Consta and AbbVie's ABBV Vraylar. Vraylar is also approved for the treatment of adults with major depressive episodes related to bipolar I disorder.
Alkermes currently carries a Zacks Rank #3 (Hold). You can see the complete list of today's Zacks #1 Rank (Strong Buy) stocks here.
Alkermes plc Price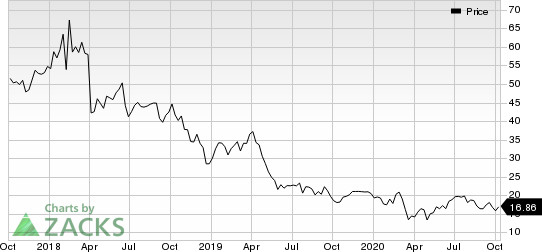 Zacks' 2020 Election Stock Report:
In addition to the companies you learned about above, we invite you to learn more about profiting from the upcoming presidential election. Trillions of dollars will shift into new market sectors after the votes are tallied, and investors could see significant gains. This report reveals specific stocks that could soar: 6 if Trump wins, 6 if Biden wins.
Check out the 2020 Election Stock Report >>
Want the latest recommendations from Zacks Investment Research? Today, you can download 7 Best Stocks for the Next 30 Days.
Click to get this free report
Johnson Johnson (JNJ): Free Stock Analysis Report
Alkermes plc (ALKS): Free Stock Analysis Report
AstraZeneca PLC (AZN): Free Stock Analysis Report
AbbVie Inc. (ABBV): Free Stock Analysis Report
To read this article on Zacks.com click here.
Zacks Investment Research