How Williams-Sonoma (WSM) Stock Stands Out in a Strong Industry
One stock that might be an intriguing choice for investors right now is Williams-Sonoma, Inc. WSM. This is because this security in the Retail - Home Furnishings space is seeing solid earnings estimate revision activity, and is in great company from a Zacks Industry Rank perspective.
This is important because, often times, a rising tide will lift all boats in an industry, as there can be broad trends taking place in a segment that are boosting securities across the board. This is arguably taking place in the Retail - Home Furnishings space as it currently has a Zacks Industry Rank of 58 out of more than 250 industries, suggesting it is well-positioned from this perspective, especially when compared to other segments out there.
Meanwhile, Williams-Sonoma is actually looking pretty good on its own too. The firm has seen solid earnings estimate revision activity over the past month, suggesting analysts are becoming a bit more bullish on the firm's prospects in both the short and long term.
WilliamsSonoma, Inc. Price and Consensus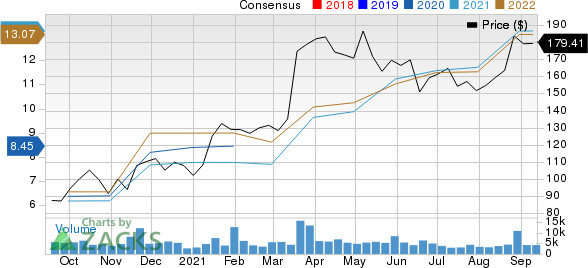 WilliamsSonoma, Inc. price-consensus-chart | WilliamsSonoma, Inc. Quote
In fact, over the past month, current quarter estimates have risen from $2.59 per share to $3.00 per share, while current year estimates have risen from $11.74 per share to $13.22 per share. This has helped WSM to earn a Zacks Rank #3 (Hold), further underscoring the company's solid position. You can see the complete list of today's Zacks #1(Strong Buy) Rank stocks here.
So, if you are looking for a decent pick in a strong industry, consider Williams-Sonoma. Not only is its industry currently in the top third, but it is seeing solid estimate revisions as of late, suggesting it could be a very interesting choice for investors seeking a name in this great industry segment.

Tech IPOs With Massive Profit Potential: Last years top IPOs surged as much as 299% within the first two months. With record amounts of cash flooding into IPOs and a record-setting stock market, this year could be even more lucrative.
See Zacks' Hottest Tech IPOs Now >>
Want the latest recommendations from Zacks Investment Research? Today, you can download 7 Best Stocks for the Next 30 Days.
Click to get this free report
WilliamsSonoma, Inc. (WSM): Free Stock Analysis Report
To read this article on Zacks.com click here.
Zacks Investment Research