FDA Accepts Sanofi's BLA for Myeloma Candidate to Review
Sanofi SNY announced that the FDA has accepted for review its biologics license application ("BLA") for its anti-CD38 monoclonal antibody candidate, isatuximab. The BLA is meant to seek an approval of isatuximab as a treatment for patients with relapsed/refractory multiple myeloma ("RRMM"). The regulatory body has set an action date of Apr 30, 2020.
The BLA was based on positive data from the phase III study — ICARIA-MM — which evaluated isatuximab on RRMM patients, who received two or more prior anti-myeloma therapies.
Notably, a regulatory application seeking an approval of isatuximab for similar indication was also accepted for review in Europe during the second quarter of 2019. The candidate enjoys an orphan designation for RRMM in the United States.
Shares of Sanofi have dipped 0.4% so far this year against the industry's rise of 2.3%.

The open label ICARIA-MM study was examining isatuximab plus standard of care medicines, namely Celgene's CELG Pomalyst (pomalidomide) and lowdose dexamethasone, compared with pomalidomide and low-dose dexamethasone alone.
Results from the study were presented at the annual meeting of the American Society of Clinical Oncology in 2019, which showed that the patients treated with the isatuximab combination had prolonged progression free survival ("PFS") for the given patient population. Patients in the isatuximab arm had a mean PFS of 11.53 months as compared to 6.47 months in the comparator arm. Isatuximab combination reduced the risk of disease progression by 40% in RRMM patients. Overall response rate for isatuximab combination was 60% compared with 35% for pomalidomide and dexamethasone alone.
Isatuximab is also being evaluated in several phase III studies in combination with the current standard of care for people with relapsed/refractory or newly-diagnosed multiple myeloma. The candidate is also being evaluated in clinical studies for other hematologic malignancies and solid tumors.
Sanofi has a strong pipeline that includes several new molecular entities and vaccine candidates in late-stage development.
Apart from isatuximab, Sanofi's portfolio has a promising cancer candidate called cemiplimab. It was approved in the United States last September for treating cutaneous squamous cell carcinoma while it was approved in the EU earlier this month. Cemiplimab is marketed by the trade name of Libtayo. The drug is also being investigated for multiple other cancer indications including the pivotal studies on lung, cervical and skin cancers.
Sanofi has a development and commercialization partnership agreement with Regeneron Pharmaceuticals REGN for Libtayo.
Last month, the FDA accepted a BLA, seeking approval for MenQuadfi, a meningococcal vaccine candidate, currently being developed for the prevention of meningococcal meningitis. Last December, the FDA approved Sanofi's pediatric vaccine, Vaxelis, which has been developed for active immunization to prevent six different diseases in children, aged six weeks to four years. Vaxelis has been jointly developed by Sanofi and Merck MRK.
Sanofi Price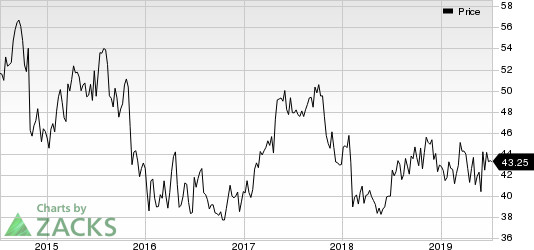 Zacks Rank
Sanofi currently carries a Zacks Rank #3 (Hold). You can see the complete list of today's Zacks #1 Rank (Strong Buy) stocks here.
More Stock News: This Is Bigger than the iPhone!
It could become the mother of all technological revolutions. Apple sold a mere 1 billion iPhones in 10 years but a new breakthrough is expected to generate more than 27 billion devices in just 3 years, creating a $1.7 trillion market.
Zacks has just released a Special Report that spotlights this fast-emerging phenomenon and 6 tickers for taking advantage of it. If you don't buy now, you may kick yourself in 2020.
Click here for the 6 trades >>
Want the latest recommendations from Zacks Investment Research? Today, you can download 7 Best Stocks for the Next 30 Days.
Click to get this free report
Merck & Co., Inc. (MRK): Free Stock Analysis Report
Sanofi (SNY): Free Stock Analysis Report
Regeneron Pharmaceuticals, Inc. (REGN): Free Stock Analysis Report
Celgene Corporation (CELG): Free Stock Analysis Report
To read this article on Zacks.com click here.
Zacks Investment Research