KB Home Up 31% Over a Month: Is There More Room to Run?
KB Home KBH is expected to benefit from the ongoing execution of the returns-focused growth plan. Also, focus on first-time buyers will aid the company in the near term.

Shares of this Los Angeles, CA-based homebuilder have returned 31.4% over a month, steadily outperforming the Zacks Building Products - Home Builders industry's 21% rally. Also, it has outperformed the S&P 500's 7.6% rise in the said period. The solid performance can be attributed to an impressive earnings surprise trend. KB Home's earnings surpassed the Zacks Consensus Estimate in all the trailing 17 quarters.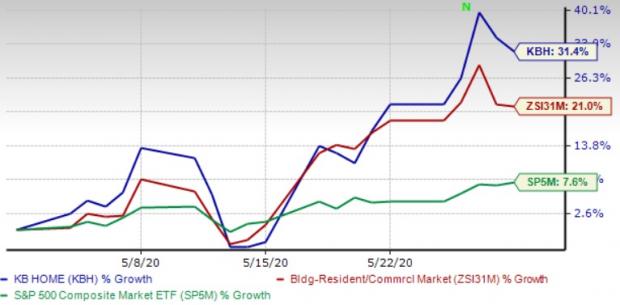 However, record job losses, and fear and uncertainty regarding the future as a result of COVID-19 are concerns for homebuilders like KB Home, PulteGroup Inc. PHM, NVR, Inc. NVR, D.R. Horton, Inc. DHI and others.

Let's delve deeper into the factors that justify its current Zacks Rank #2 (Buy). You can see the complete list of today's Zacks #1 Rank (Strong Buy) stocks here.

Growth Drivers

Strong Growth Initiatives: KB Home has been pursuing a Returns-Focused Growth Plan since 2016 to drive revenues, homebuilding operating income margin, return on invested capital, return on equity and leverage ratio. The plan's main components are executing the company's core business strategy, improving asset efficiency and monetizing significant deferred tax assets.

It has been successfully executing the core business strategy (i.e. KB2020), which aims at boosting scale in the existing geographic footprint, improving profitability per unit, generating higher operating margin and driving earnings, while generating positive cash flow to redeploy for growth and debt reduction.

Owing to solid execution of this plan, KB Home expects to increase earnings per share in fiscal 2019 by more than 150% relative to 2016. This will help the company to boost returns, with return on equity expected to accelerate from 6.3% in 2016 to more than 12% in fiscal 2019.

Focus on First-Time Buyers: KB Home remains focused on growing demand for entry-level homes. It focuses on giving customers the ability to personalize their homes at prices that are affordable relative to local median household income levels, in order to appeal to a wide array of consumers, primarily first-time homebuyers, as well as move-up and active adult homebuyers. In the fiscal first quarter, approximately 57% of homes delivered were to first-time homebuyers compared with approximately 52% in the year-earlier quarter.

Strong Balance Sheet Position: KB Home is well positioned to tide over the unfavorable demand trends owing to the pandemic, backed by a strong balance sheet and more than $1.2 billion of liquidity.

The company ended the fiscal first quarter with $429.7 million cash and cash equivalents, and $787.6 million of available capacity on the $800-MILLION unsecured revolving credit facility. Homebuilding debt (i.e. homebuilding notes payable) of $1.75 billion was almost in line with fiscal 2019-end. The company's 7.00% senior notes of $450.0 million is scheduled to mature on Dec 15, 2021, which indicates that it has no significant debt maturities in the next 12 months. The company's homebuilding debt to total capital on Feb 29, 2020 was 41.7%, down from 42.3% as of Nov 30, 2019.

Headwind

Coronavirus to Weigh on Results: Given uncertainties arising from the coronavirus outbreak, the company experienced slower absorption and higher cancellations since mid-March through mid-April, as the state and local government authorities implemented various restrictions and stay-in-place orders to restrict the spread of the virus. Uncertainties in business operations arising from the COVID-19 outbreak prompted Meritage Homes to withdraw its previously issued 2020 guidance. It expects weak results in the near term as large parts of the economy have been hurt by the spread of the coronavirus.

Precisely, a significant rise in unemployment — particularly arising from coronavirus-led shutdowns and stay-at-home orders — is a major headwind. The recent Bureau of Labor Statistics Job Openings and Labor Turnover Survey data reveals that there were 618,000 layoffs in the construction sector in March. The metric was strikingly higher than 202,000 in February 2020 and 179,000 in March 2019. Notably, it expects the metric to be higher in the April data, scheduled to release on Jun 9.

Zacks' Single Best Pick to Double

From thousands of stocks, 5 Zacks experts each picked their favorite to gain +100% or more in months to come. From those 5, Zacks Director of Research, SherazMian hand-picks one to have the most explosive upside of all.

This young company's gigantic growth was hidden by low-volume trading, then cut short by the coronavirus. But its digital products stand out in a region where the internet economy has tripled since 2015 and looks to triple again by 2025.

Its stock price is already starting to resume its upward arc. The sky's the limit! And the earlier you get in, the greater your potential gain.

Click Here, See It Free >>
Want the latest recommendations from Zacks Investment Research? Today, you can download 7 Best Stocks for the Next 30 Days.
Click to get this free report
PulteGroup, Inc. (PHM): Free Stock Analysis Report
KB Home (KBH): Free Stock Analysis Report
NVR, Inc. (NVR): Free Stock Analysis Report
D.R. Horton, Inc. (DHI): Free Stock Analysis Report
To read this article on Zacks.com click here.
Zacks Investment Research