Varian (VAR) Unveils New Features for Noona Software
Varian Medical Systems, Inc. VAR recently launched new features for its Noona software application, a powerful tool developed to engage cancer patients in their continuous reporting and symptom monitoring processes. Noona offers cancer care teams in-app features such as patient screening, real-time symptom reporting, secure care team messaging, telephone triage workflow automation, and patient access to medical records, thereby helping them with the new short and long-term healthcare changes resulting from the coronavirus pandemic.
This development, which is in response to the challenges brought on by the pandemic, is expected to boost Varian's Oncology segment.
More About Noona
Varian has come up with a new approach to swiftly and remotely implement the solution so that it can reach cancer patients and care teams quicker, without increasing the risk of COVID-19 exposure.
Noona will henceforth be equipped to remotely communicate with and manage cancer patients, protect them and the team who cares for them. Noona has had a positive impact on care offered by Tennessee Oncology, with nearly 600 care team members using Noona; around 10,000 patients accessing the Noona patient app to report symptoms and communicate with cancer care experts; and about 31,000 patients being managed through the telephone triage workflow automation. Lately, Tennessee Oncology has been witnessing even more demand for the Noona patient app with patient adoption steadily rising by about 1,000 new patients a month since the start of the pandemic.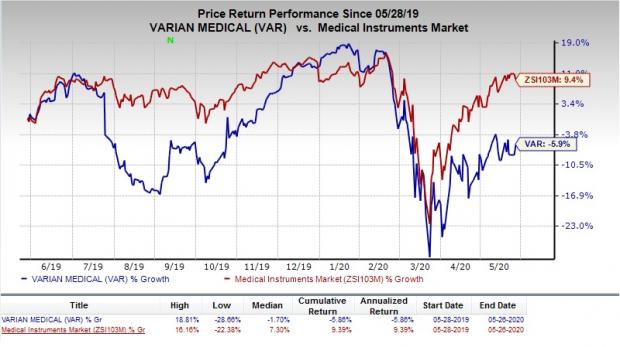 Noona has helped mitigate the risk of exposure for cancer patients and staff and reduce emergency room visits, thereby meeting the increasing demand for remote cancer patient monitoring.
Due to the surging demand for the Noona solution from other cancer care organizations, the team has redeveloped the implementation process to remotely and swiftly enable its access to other clinics. The new swift deployment process enables solution experts to configure and establish an entirely new cancer organization and virtually train care team users through video conferencing tools and pre-built education materials – in just a few weeks' time without being onsite.
Market Prospects
Per a report by GrandView Research, the global cancer diagnostics market size was valued at $144.4 billion in 2018 and is expected to see a CAGR of 7.0% over the forecast period of 2019-2026.
Recent Development
Varian recently announced a partnership with National University Cancer Institute, Singapore ("NCIS") to expand access to cancer solutions in Singapore Two Varian Vital Beam medical linear accelerators. With this, an Edge radiosurgery system with HyperArc technology will be installed at NCIS, offering radiation therapy treatment options to cancer patients in Singapore.
Price Performance
In the past year, the stock has lost 5.9% against 9.4% growth of its industry.
Zacks Rank and Key Picks
Varian currently has a Zacks Rank #4 (Sell).
A few better-ranked stocks from the broader medical space are Aphria APHA, DexCom DXCM and HMS Holdings HMSY.
Aphria's long-term earnings growth rate is estimated at 24.6%. The company presently carries a Zacks Rank #2 (Buy).You can see the complete list of today's Zacks #1 Rank (Strong Buy) stocks here.
DexCom's long-term earnings growth rate is estimated at 36.3%. The company presently carries a Zacks Rank #2.
HMS Holdings' long-term earnings growth rate is estimated at 10%. It currently carries a Zacks Rank #2.
More Stock News: This Is Bigger than the iPhone!
It could become the mother of all technological revolutions. Apple sold a mere 1 billion iPhones in 10 years but a new breakthrough is expected to generate more than 27 billion devices in just 3 years, creating a $1.7 trillion market.
Zacks has just released a Special Report that spotlights this fast-emerging phenomenon and 6 tickers for taking advantage of it. If you don't buy now, you may kick yourself in 2021.
Click here for the 6 trades >>
Want the latest recommendations from Zacks Investment Research? Today, you can download 7 Best Stocks for the Next 30 Days.
Click to get this free report
DexCom, Inc. (DXCM): Free Stock Analysis Report
Varian Medical Systems, Inc. (VAR): Free Stock Analysis Report
HMS Holdings Corp (HMSY): Free Stock Analysis Report
Aphria Inc. (APHA): Free Stock Analysis Report
To read this article on Zacks.com click here.