Biotech Stock Roundup: NTLA Surges on Study Data, EXEL & ALT Down on Updates & More
It was a busy week for the volatile biotech sector with quite a few pipeline and regulatory updates. New drug approvals also continue to be in focus along with news related to vaccines for COVID-19.
Recap of the Week's Most Important Stories:
Exelixis Down on Study Update: Shares of Exelixis, Inc. EXEL declined after it announced mixed data from the ongoing phase III study, COSMIC-312. The study is evaluating Cabometyx in combination with Tecentriq (atezolizumab) as compared to Nexavar (sorafenib) in patients with previously untreated advanced hepatocellular carcinoma (HCC), a type of liver cancer. Data from the study showed that it met only one of the primary endpoints, demonstrating significant improvement in progression-free survival (PFS) at the planned primary analysis.
However, a prespecified interim analysis for the second primary endpoint of overall survival (OS) did not reach statistical significance. Hence, based on these preliminary OS data, Exelixis anticipates the probability of reaching statistical significance at the time of the final analysis to be low. Nevertheless, the study will continue as planned to the final analysis of OS and results are expected in early 2022.
Moderna's Vaccine Updates: Moderna, Inc. MRNA announced encouraging new results from in vitro neutralization studies of sera from individuals vaccinated with its COVID-19 vaccine. Data showed that vaccination with mRNA-1273 can produce neutralizing titers against all variants tested. These included additional versions of the beta variant (B.1.351, first identified in South Africa), three lineage variants of B.1.617 (first identified in India), including the kappa (B.1.617.1) and the delta variants (B.1.617.2); the eta variant; and the A.23.1 and A.VOI.V2 variants. Data from neutralization studies demonstrated that a modest reduction of 2.1-fold in neutralizing titers against the delta variant compared to the ancestral strain (D614G).
Concurrently, Moderna announced that the government of India has issued a registration certificate and permission to import its COVID-19 vaccine for restricted use in an emergency situation.
Regeneron/Sanofi's Drug Approved in Europe: Regeneron REGN and partner Sanofi SNY announced that the European Commission (EC) has approved their PD-1 inhibitor, Libtayo (cemiplimab), for two additional indications. The EC approved Libtayo for the first-line treatment of adults with non-small cell lung cancer (NSCLC) whose tumor cells have ≥50% PD-L1 expression and no EGFR, ALK or ROS1 aberrations.
The patients targeted for this indication must have metastatic NSCLC or locally advanced NSCLC and not be a candidate for definitive chemoradiation. The EC also approved the drug for the treatment of adults with locally advanced or metastatic basal cell carcinoma (BCC) who have progressed on or are intolerant to a hedgehog pathway inhibitor (HHI). BCC is a common type of skin cancer.
The companies also announced that the European Medicines Agency (EMA) will update the summary of product characteristics (SmPC) for asthma drug, Dupixent (dupilumab), adding long-term safety results for adults with moderate-to-severe atopic dermatitis based on a positive opinion by the Committee for Medicinal Products for Human Use (CHMP).
Regeneron currently carries a Zacks Rank #2 (Buy). You can see the complete list of today's Zacks #1 Rank (Strong Buy) stocks here.
Bristol Myers Gets EC Approval for Opdivo in Additional Indications: Bristol Myers Squibb BMY announced that the European Commission (EC) has approved its blockbuster immuno-oncology drug, Opdivo (nivolumab), plus Yervoy (ipilimumab) for the treatment of adult patients with mismatch repair deficient (dMMR) or microsatellite instability-high (MSI-H) metastatic colorectal cancer (mCRC) after prior fluoropyrimidine-based combination chemotherapy.
The CHMP of the European Medicines Agency (EMA) has given a positive opinion recommending the approval of chimeric antigen receptor (CAR) T cell immunotherapy, Abecma (idecabtagene vicleucel; ide-cel). The committee recommended granting Conditional Marketing Authorization to Abecma for the treatment of adult patients with relapsed and refractory multiple myeloma who have received at least three prior therapies, including an immunomodulatory agent, a proteasome inhibitor and an anti-CD38 antibody, and have demonstrated disease progression on the last therapy.
Concurrently, the CHMP also recommended the approval of Opdivo for the adjuvant treatment of adult patients with esophageal or gastroesophageal junction (GEJ) cancer who have residual pathologic disease following prior neoadjuvant chemoradiotherapy (CRT).
Intellia Surges on Study Data: Shares of Intellia Therapeutics, Inc. NTLA have been on the upward trajectory since Jun 26, following the announcement of positive data on NTLA-2001, an investigational CRISPR therapy for transthyretin (ATTR) amyloidosis. The candidate is being evaluated in people living with hereditary transthyretin amyloidosis with polyneuropathy (ATTRv-PN). The company and partner Regeneron announced interim data from an ongoing phase I study of their lead in vivo genome editing candidate, NTLA-2001.
Treatment with NTLA-2001 led to dose-dependent reductions in serum TTR, with mean reductions of 52% among the three patients in the 0.1 mg/kg dose group, and 87% among the three patients in the 0.3 mg/kg dose group, including one patient with a 96% reduction. NTLA-2001 was generally well-tolerated at both dose levels by the six patients in the interim analysis, with no serious adverse events and no liver findings by day 28.
Altimmune Down on Vaccine Update: Shares of clinical-stage biopharmaceutical company, Altimmune, Inc. ALT, plunged after it provided an update on its AdCOVID investigational vaccine for the prevention of COVID-19. The vaccine was well tolerated but did not stimulate an adequate immune response in healthy volunteers. The immunogenicity data demonstrated lower than expected immune responses for each of the immune parameters tested.
Although antibodies were detected that bound the SARS-CoV-2 Spike protein and neutralized the virus in a subset of subjects, the magnitude of the response and the percent of subjects responding to AdCOVID were substantially lower than what had been demonstrated for other authorized vaccines for emergency use. Consequently, Altimmune is discontinuing further development of AdCOVID beyond the completion of this phase I study.
Performance
Medical - Biomedical and Genetics Industry 5YR % Return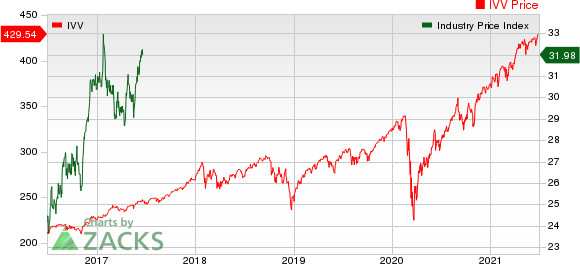 The Nasdaq Biotechnology Index gained 1.88% in the last five trading sessions. Among the biotech giants, Vertex gained 4.19% during the period. Over the past six months, shares of Biogen have surged 42%. (See the last biotech stock roundup here: Biotech Stock Roundup: BIIB's AD Drug Update, CVAC's Decline on Vaccine Data & More).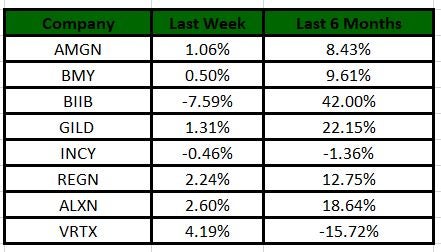 Image Source: Zacks Investment Research
What's Next in Biotech?
Stay tuned for more pipeline and regulatory updates.
Bitcoin, Like the Internet Itself, Could Change Everything
Blockchain and cryptocurrency has sparked one of the most exciting discussion topics of a generation. Some call it the "Internet of Money" and predict it could change the way money works forever. If true, it could do to banks what Netflix did to Blockbuster and Amazon did to Sears. Experts agree we're still in the early stages of this technology, and as it grows, it will create several investing opportunities.
Zacks' has just revealed 3 companies that can help investors capitalize on the explosive profit potential of Bitcoin and the other cryptocurrencies with significantly less volatility than buying them directly.
See 3 crypto-related stocks now >>
Want the latest recommendations from Zacks Investment Research? Today, you can download 7 Best Stocks for the Next 30 Days.
Click to get this free report
Regeneron Pharmaceuticals, Inc. (REGN): Free Stock Analysis Report
Sanofi (SNY): Free Stock Analysis Report
Bristol Myers Squibb Company (BMY): Free Stock Analysis Report
Moderna, Inc. (MRNA): Free Stock Analysis Report
Exelixis, Inc. (EXEL): Free Stock Analysis Report
Altimmune, Inc. (ALT): Free Stock Analysis Report
Intellia Therapeutics, Inc. (NTLA): Free Stock Analysis Report
To read this article on Zacks.com click here.
Zacks Investment Research