Netflix Subscribers: How NFLX Compares to Amazon, HBO & Hulu
Netflix NFLX added roughly 7 million new subscribers in Q3, which blew away its own third-quarter estimates by approximately 2 million. The big subscriber growth and the even bigger beat helped NFLX stock surge. So, let's dive into more of the numbers and take a look at how Netflix stacks up against Amazon AMZN, Hulu, and HBO T.
Q3 Subscriber Growth
Netflix added a total of 6.96 million subscribers during the third quarter. This crushed its 5 million estimate and represented a new Q3 record. Netflix attributed its significant subscriber beat—which came after it missed its own subscriber projections by 1 million last quarter—to better-than-expected "acquisition globally, with strong growth broadly across all our markets including Asia."
Reed Hastings' firm added 5.87 million new international subscribers, which came in well above its 4.35 million estimate and also crushed Wall Street estimates. The company closed the quarter with 78.64 million international subscribers and 73.46 million paying customers outside of the U.S.
Netflix's international growth was impressive and will prove key going forward, but the firm's expansion at home helped to highlight the strength of its growing content library and its standing against its peers. The streaming TV giant expected to add 650,000 new subscribers in the U.S. Instead it gained 1.09 million to bring its U.S. total to 58.46 million, with 56.96 million on paid subscriptions.
The streaming firm ended the quarter with a total of 137.1 million subscribers worldwide, which topped its 135.14 million estimate and marked a roughly 25% jump from the third-quarter of 2017 when the firm boasted 109.25 million subscribers. Investors should also note that Netflix closed the quarter with 130.42 paid subscribers, up from 104.02 million in the previous-year quarter.
One of the key takeaways on top of the significant beats both at home and abroad was the fact that it reached record-setting net additions for Q3. This helps to prove that Netflix's days of massive growth aren't over, which is something that will likely excite investors and Wall Street.
(The subscriber chart below comes from Netflix's Q3 earnings release.)

Outlook & Competition
Now that we have covered Netflix's third-quarter growth in this vital category, it's time to look ahead.
Netflix expects to add 7.6 million paid users and 9.4 million total subscribers during the fourth quarter. These estimates would bring the streaming TV powerhouse's paid members to 138.02 million and its total subscribers to a whopping 146.5 million.
Clearly, Netflix's subscriber growth showcases the strength of its TV and movie offerings. This was highlighted by the fact that Netflix ended HBO's 17-year streak at the top of the Emmy nomination list, which is pretty impressive considering it only started making original content in 2013.
Going forward, Netflix is set to launch more and more shows and movies, some of which will feature A-list Hollywood stars such as Dwayne "The Rock" Johnson. These hit, critically acclaimed shows and movies will likely prove even more vital as Amazon continues to pump out big-budget shows and movies with even bigger names. Plus, Apple AAPL, Disney DIS, and AT&T are ready to introduce their own streaming offerings that will feature marquee names and historic franchises.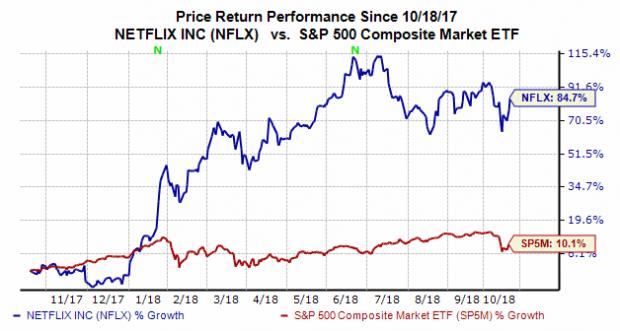 With that said, Netflix's 137.1 million subscribers worldwide makes it one of the biggest streaming TV firms. By comparison, Amazon Prime, which includes Prime Video, supposedly claims "over 100 million" members. Jeff Bezos revealed his company's Prime subscriber figures for the first time ever last spring.
Moving on, Netflix rival Hulu last claimed 20 million subscribers. Meanwhile, not including Cinemax, HBO claimed roughly 30 million U.S. subscribers as of 2014, according to Barclays. This falls well short of Netflix's 58.46 million and HBO was founded in 1972.
With that said, HBO reportedly claims 142 million subscribers globally, most of which come through traditional paid-TV. Going forward, HBO is expected to grow its streaming presence through deals with other online players. But Netflix is also on pace to add 27.4 million subscribers this year alone.
5 Medical Stocks to Buy Now

Zacks names 5 companies poised to ride a medical breakthrough that is targeting cures for leukemia, AIDS, muscular dystrophy, hemophilia, and other conditions.

New products in this field are already generating substantial revenue and even more wondrous treatments are in the pipeline. Early investors could realize exceptional profits.

Click here to see the 5 stocks >>
Want the latest recommendations from Zacks Investment Research? Today, you can download 7 Best Stocks for the Next 30 Days.
Click to get this free report
The Walt Disney Company (DIS): Free Stock Analysis Report
Netflix, Inc. (NFLX): Free Stock Analysis Report
Amazon.com, Inc. (AMZN): Free Stock Analysis Report
AT&T Inc. (T): Free Stock Analysis Report
Apple Inc. (AAPL): Free Stock Analysis Report
To read this article on Zacks.com click here.
Zacks Investment Research