Chubb (CB) to Boost Shareholder Value Via Share Buybacks
Chubb Limited's CB board of directors recently authorized a share buyback program for returning more value to investors. This latest authorization will allow the company to spend up to .5 billion for repurchasing its common stock. The new buyback program will be effective Dec 31, 2020.

In the first nine months of 2019, the company repurchased shares of .2 billion at an average purchase price of 5.08 per share.

Additionally, Chubb approved a quarterly dividend of 75 cents per share, payable on Jan 10, 2020 to its shareholders of record at the close of business on Dec 20, 2019. The company's current dividend yield is 2%, noticeably better than the industry average of 0.4%. In May 2019, it hiked annual dividend by 2.5%, which marked the 26th straight year of dividend hike.

The P&C insurer is committed to boost shareholder value through such share repurchases and dividend hikes. A solid financial position over the years has enabled the company to take part in such endeavors. Consequently, this raises optimism among investors and boosts their confidence on the stock.

At the end of the third quarter, the company had .5 billion in cash, up 18.5% from the 2018-end level. Operating cash flow in the first nine months of 2019 was approximately .9 billion, which improved 25.6% from the figure recorded in the same period of 2018. Hence, we remain optimistic about Chubb's efforts to further improve its capital and liquidity position that will not only capacitate the company to return more value to investors but also accelerate near-term growth.

Moreover, it is focused on deploying capital prudently, which in turn, will not only aid the insurer to enhance shareholder value but also to invest in strategic initiatives.

Share repurchases benefit the company's earnings per share, book value and shareholder equity by trimming the number of shares outstanding. Therefore, share buyback programs buoy investors' hope and increase their confidence in the stock.

Other insurers — which also aim at enhancing shareholder value via share buybacks, dividend hikes and special payouts — recently carried out similar shareholder-friendly moves. In a bid to share more profits with stockholders, board members of Assurant, Inc. AIZ approved an increase in quarterly dividend by 5% and Everest Re Group, Ltd. RE approved 11% quarterly dividend hike.

Also, another insurer RLI Corp.'s RLI board of directors recently approved a special dividend of .00 per share and quarterly dividend of 23 cents.

Zacks Rank and Share Price Movement

Currently, Chubb carries a Zacks Rank #3 (Hold). Shares of the company have gained 16.1%, outperforming the industry's 8% growth year to date. We expect higher premiums, strategic initiatives, better investment results and a solid capital position to drive the stock higher in the near term.

You can see the complete list of today's Zacks #1 Rank (Strong Buy) stocks here.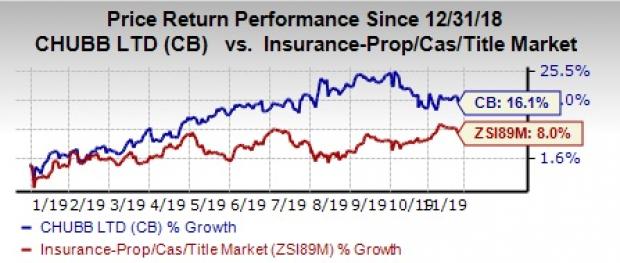 The Hottest Tech Mega-Trend of All

Last year, it generated billion in global revenues. By 2020, it's predicted to blast through the roof to .6 billion. Famed investor Mark Cuban says it will produce "the world's first trillionaires," but that should still leave plenty of money for regular investors who make the right trades early.

See Zacks' 3 Best Stocks to Play This Trend >>
Want the latest recommendations from Zacks Investment Research? Today, you can download 7 Best Stocks for the Next 30 Days.
Click to get this free report
Assurant, Inc. (AIZ): Free Stock Analysis Report
RLI Corp. (RLI): Free Stock Analysis Report
Everest Re Group, Ltd. (RE): Free Stock Analysis Report
Chubb Limited (CB): Free Stock Analysis Report
To read this article on Zacks.com click here.