Why Nvidia (NVDA) Stock is a Strong Buy Ahead of 2020 Chip Growth
Nvidia NVDA shares have soared roughly 60% in the last year as part of a broader semiconductor market climb that has come despite an overall sales and earnings downturn. Despite the comeback, the graphics chip powerhouse still has room to run before it hits its fall 2018 highs.
Quick Hits
Nvidia is a GPU giant that will continue to help provide the $150 billion global gaming industry with some of the most cutting-edge chips. The company has also expanded it data center business in the cloud computing age and its presence in artificial intelligence. "We extended our reach beyond the cloud, to the edge, where GPU-accelerated 5G, AI and IoT will revolutionize the world's largest industries," CEO Jensen Huang said in prepared remarks last quarter.
"We see strong data center growth ahead, driven by the rise of conversational AI and inference."
That said, Nvidia's sales have fallen roughly 15% in the trailing 12 months. The downturn, which has hit most of the historically cyclical semiconductor market, comes against hard to compare periods of outsized expansion.
Investors should note that NVDA's quarterly revenue declines have shrunk during this stretch, with last quarter's (Q3 fiscal 2020) -5.2% sales decline, marking by the smallest in the trailing four quarters.
The market remains high on NVDA and other chip stocks as a return to growth looks assured in 2020. Plus, the Dow, S&P 500, and Nasdaq all continue to hit new highs, with the recent signing of the phase-one trade deal between the U.S. and China helping further bolster the outlook for chip firms.
Apple AAPL and Google parent Alphabet Inc. GOOGL have fueled some of the recent market gains. And both tech titans are supported by semiconductor companies, who will remain the backbones of technological advancements for years to come, which includes 2020's 5G push from the likes of AT&T T and others.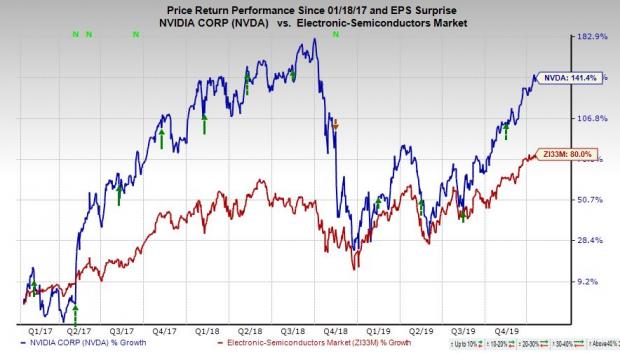 Other Fundamentals
The chip space is coming off one of its worst years since the early 2000s, with overall sales projected to fall roughly 13% in 2019, according to the Semiconductor Industry Association. Despite the downturn, semiconductor stocks thrived in 2019, driven by the likes of AMD AMD, Micron MU, Intel INTC, and many others.
The divergence between the actual results and stock price performances seem to be a function of the 2018 selloff and Wall Street's certainty that chip sales will bounce back in 2020. We can see in the chart that NVDA has easily outpaced its industry's climb over the last three years (140% vs. 80%). Yet Nvidia shares still have roughly 12% more room to run before they run into their pre-2018 selloff highs of around $281 a share.
Nvidia shares are currently trading at 11.9X forward 12-month sales, which is a bit stretched. However, NVDA stock has traded as high as 15.4X forward sales in the last two years. Investors should also note that Nvidia is part of an industry that rests in the top 8% of our more than 250 Zacks industries. Plus, the company pays a dividend, though its yield sits at 0.26%.

Bottom Line
Our Zacks estimates call for the Santa Clara, California-headquarter firm's overall fiscal 2020 sales to slip 8%, with earnings projected to dip 16%. However, the company's return to growth is set to start in the fourth quarter, with NVDA's Q4 fiscal 2020 revenue projected to surge over 34% to help lift adjusted earnings by 107.5%.
Meanwhile, Nvidia's adjusted full-year fiscal 2021 earnings are projected to jump 30.5% on of 19.4% higher sales that would see it reach $12.86 billion.
NVDA's positive earnings estimate revision activity helps it earn a Zacks Rank #1 (Strong Buy) at the moment. The stock also rocks a "B" grade for Growth in our Style Scores system.
Breakout Biotech Stocks with Triple-Digit Profit Potential

The biotech sector is projected to surge beyond $775 billion by 2024 as scientists develop treatments for thousands of diseases. They're also finding ways to edit the human genome to literally erase our vulnerability to these diseases.

Zacks has just released Century of Biology: 7 Biotech Stocks to Buy Right Now to help investors profit from 7 stocks poised for outperformance. Our recent biotech recommendations have produced gains of +98%, +119% and +164% in as little as 1 month. The stocks in this report could perform even better.

See these 7 breakthrough stocks now>>
Want the latest recommendations from Zacks Investment Research? Today, you can download 7 Best Stocks for the Next 30 Days.
Click to get this free report
Alphabet Inc. (GOOGL): Free Stock Analysis Report
AT&T Inc. (T): Free Stock Analysis Report
Apple Inc. (AAPL): Free Stock Analysis Report
Advanced Micro Devices, Inc. (AMD): Free Stock Analysis Report
NVIDIA Corporation (NVDA): Free Stock Analysis Report
Intel Corporation (INTC): Free Stock Analysis Report
Micron Technology, Inc. (MU): Free Stock Analysis Report
To read this article on Zacks.com click here.
Zacks Investment Research