Buy Dividend Tech Stock Garmin Before Q1 Earnings?
Garmin GRMN has climbed 20% in 2021 and the stock hit new highs on Monday ahead of its first quarter fiscal 2021 earnings release that's due out on Wednesday, April 28.
Way Beyond Consumer Products
Garmin's in-car navigation systems and wearables helped it become a household name. The company's fitness wearables and smartwatch businesses have grown amid competition from Apple AAPL and others. And the Switzerland-headquartered firm's portfolio expands far beyond every-day consumer tech products.
Garmin sells high-end fish finders, advanced radars and systems for boats and airplanes, and much more. For instance, GRMN in Feb landed an agreement with Joby Aviation for tech to help create "scalable air taxi services."
Garmin's 2020 revenue climbed over 11% to reach $4.19 billion, which came on top of FY19's 12.3% sales growth. Last year's success was driven by a 26% jump in its fitness unit, 23% expansion in outdoor, and 29% marine growth.
Zacks estimates call for Garmin's first quarter sales to pop around 9%, with its adjusted earnings projected to slip around 3.3% to $0.88 a share.
Looking ahead, GRMN's fiscal 2021 sales are projected to jump 10% to $4.61 billion, with FY22 set to climb another 7% higher. Meanwhile, its adjusted EPS figures are expected to climb by 1% and 10%, respectively over this stretch.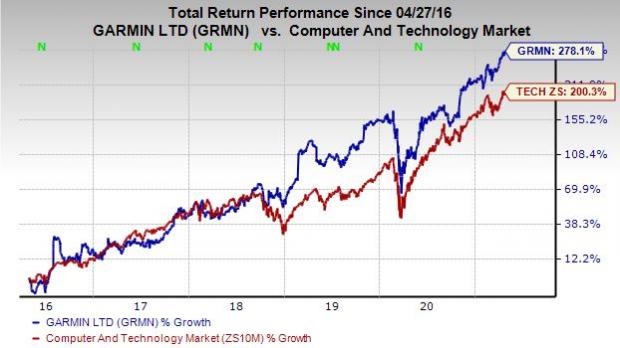 What Else
Garmin currently lands a Zacks Rank #3 (Hold), alongside a "B" grade for Growth in our Style Scores system. The company has also topped our bottom-line estimates by an average of 58% in the trailing four periods and it is part of a space that sits in the top 30% of our over 250 Zacks industries.
Garmin stock has surged 80% in the last year and 160% in the past three years, compared to the Zacks tech sector's 100% climb. The nearby chart showcases that GRMN's outperformance extends over the last five years as well. This run makes its 1.73% dividend yield, which tops the 10-year U.S. Treasury and the S&P 500's average, all the more impressive.
Bottom Line
As we mentioned at the outset, Garmin stock has popped 20% in 2021 and it reached brand new records Monday. This run has stretched GRMN's valuation a bit and it sits just above overbought RSI levels at 71.
Given these fundamentals, Garmin could face near-term selling pressure even if it is able to outperform estimates and provide strong guidance on Wednesday. Nonetheless, longer-term investors might want to consider this dividend-paying tech stock that's exposed to multiple growth industries including futuristic areas such as flying taxis.
Zacks' Top Picks to Cash in on Artificial Intelligence

In 2021, this world-changing technology is projected to generate $327.5 billion in revenue. Now Shark Tank star and billionaire investor Mark Cuban says AI will create "the world's first trillionaires." Zacks' urgent special report reveals 3 AI picks investors need to know about today.

See 3 Artificial Intelligence Stocks With Extreme Upside Potential>>
Want the latest recommendations from Zacks Investment Research? Today, you can download 7 Best Stocks for the Next 30 Days.
Click to get this free report
Apple Inc. (AAPL): Free Stock Analysis Report
Garmin Ltd. (GRMN): Free Stock Analysis Report
To read this article on Zacks.com click here.
Zacks Investment Research