Why Xerox (XRX) Intends to Sell Customer Financing Business?
Xerox Corporation XRX announced on Monday that it is exploring a potential deal for the customer financing business. The unit accounted for $3.4 billion or more than 65% of the company's total debt in 2018 and contributed 4% to total revenues.
The announcement comes on the heels of the company unveiling its plan to reorganize its structure as a wholly-owned subsidiary of a new holding company.
The potential sale is part of Xerox's efforts to streamline its operations, which it believes will help it achieve gross savings of $640 million in 2019 and $1.5 billion by 2021.
Xerox has been exploring options since it canceled its merger with Fujifilm Holdings due to strong opposition from activist investors Carl Icahn and Darwin Deason.
Shares of the company have gained 61.3% year to date, substantially outperforming the 35.7% rally of the industry it belongs to.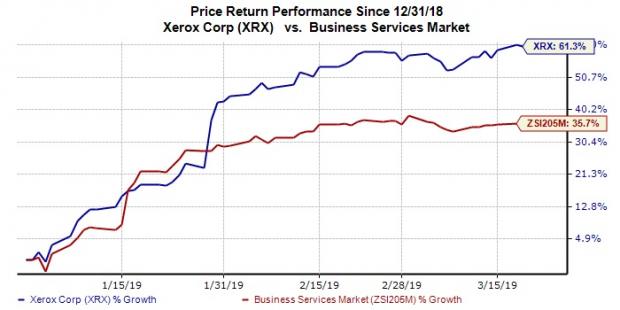 Our Take
Selling the financing business will significantly reduce Xerox's debt level. This in turn will enhance the company's risk profile and boost its capacity to obtain additional financing for investment in areas that exhibit potential.
Xerox Corporation Debt to Equity Ratio (Quarterly)
Notably, Xerox is undertaking a number of transformation efforts including "Project Own It" to increase productivity and operational efficiency, reduce costs and realign business to changing market conditions. It has an aggressive product development program in new high growth markets.
Zacks Rank and Other Key Picks
Currently, Xerox has a Zacks Rank #2 (Buy). Some other similar-ranked stocks in the broader Zacks Business Services sector are Interpublic IPG, Omnicom OMC and Paychex PAYX, each carrying a Zacks Rank of 2. You can see the complete list of today's Zacks #1 Rank (Strong Buy) stocks here.
Long-term expected EPS (three to five years) growth rate for Interpublic, Omnicom and Paychex is 2.7%, 4.7% and 8.8%, respectively.
This Could Be the Fastest Way to Grow Wealth in 2019
Research indicates one sector is poised to deliver a crop of the best-performing stocks you'll find anywhere in the market. Breaking news in this space frequently creates quick double- and triple-digit profit opportunities.
These companies are changing the world – and owning their stocks could transform your portfolio in 2019 and beyond. Recent trades from this sector have generated +98%, +119% and +164% gains in as little as 1 month.
Click here to see these breakthrough stocks now >>
Want the latest recommendations from Zacks Investment Research? Today, you can download 7 Best Stocks for the Next 30 Days.
Click to get this free report
Interpublic Group of Companies, Inc. (The) (IPG): Free Stock Analysis Report
Omnicom Group Inc. (OMC): Free Stock Analysis Report
Xerox Corporation (XRX): Free Stock Analysis Report
Paychex, Inc. (PAYX): Free Stock Analysis Report
To read this article on Zacks.com click here.