Transportation Stocks Reviving Dividend Hikes: 3 Solid Picks
It is no secret that stocks in the widely-diversified transportation sector were one of the worst hit last year due to the coronavirus pandemic. With revenue stream dwindling, companies belonging to various corners of the sector resorted to a slew of cost-cutting measures including furloughs, layoffs and reduction in discretionary expenses as they battled to fend off the liquidity crisis.
Notably, the coronavirus-triggered economic mayhem dented the financial stability of many companies with transportation companies being no exception. Due to the bleak demand scenario, some of the sector participants resorted to dividend reductions or deferrals of dividend payments. For example, management at DHT Holdings DHT trimmed 75% of its quarterly dividend to 5 cents per share during February. This was further slashed by 20% to 4 cents a share in May.
Moreover, airlines in the United States had to suspend dividend payments as a pre-condition for receiving federal support. Further, the transportation companies, which neither slashed nor withdrew dividend payouts continued rewarding their shareholders through the economic turbulence at their existing rate with no hikes seen in the sector.
However, the scenario has been improving over the past few months, leading to an uptick in economic activities. With widespread vaccination programs in place, the demand scene is getting brighter by the day and this bodes well for companies across the board.
Reflecting better economic conditions, the freight scenario in the United States became quite rosy as that can be gauged from the latest Cass Freight Shipments Index report, according to which shipment volumes surged 35.3% on a year-over-year basis in May. Notably, this record uptick in May was higher than the 27.6% year-over-year rise reported in April and a 10% jump registered in March.
In view of this improved environment, many companies in the transportation space once again started sharing profits with their shareholders in the form of dividend hikes. This is a huge boon for investors interested in the Zacks Transportation sector that has risen 8.2% year to date.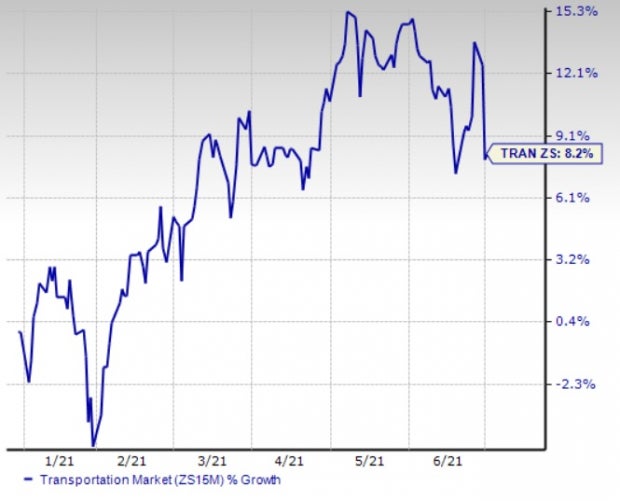 Image Source: Zacks Investment Research
Notably, investors always prefer an income-generating stock. Hence a high dividend-yielding one is obviously much coveted. Needless to add that stockholders are always hunting players with consistent and incremental dividend history to park their money in.
3 Stocks to Buy Now
In view of the bullish scenario as mentioned above, we present three transportation companies that announced dividend hikes recently and represent excellent investment opportunities. The companies not only carry a Zacks Rank #1 (Strong Buy) or 2 (Buy), currently, but also have been witnessing favorable earnings estimate revisions over time. You can see the complete list of today's Zacks #1 Rank stocks here.
FedEx Corporation FDX is our first choice. This Memphis, TN-based package delivery company currently sports a Zacks Rank of 1. The company is benefiting from the boom in e-commerce demand that led the stock to rally 14.9% year to date. In June, FedEx's board approved a 15% hike in its quarterly dividend payout, which drove the amount to 75 cents per share. The dividend will be paid out on Jul 12 to its shareholders of record as of Jun 28. FedEx has an impressive record with respect to returning its shareholders' funds. A strong free cash flow generation supports such shareholder-oriented activities.
The positivity surrounding the stock is evident from the 6.2% upward revision in the Zacks Consensus Estimate for current-year earnings over the past 60 days. FedEx's earnings per share are expected to grow 12% in the next three-five years.
Expeditors International of Washington EXPD is our next pick. This Seattle, WA-based freight forwarder is currently a Zacks #1 Ranked player. The company is being bolstered by the recovery in airfreight revenues. Notably, shares of the company have surged 33.1% year to date. In May 2021, Expeditors announced an 11.5% raise in its semi-annual cash dividend, taking the total to 58 cents per share. The company has an impressive record with respect to utilizing its shareholders' money.
The optimism surrounding the stock is evident from the 21.4% northbound revision of the Zacks Consensus Estimate for current-year earnings over the past 60 days.
Investors can also count on Matson MATX, which is one of the leading providers of ocean transportation and logistics services. The company currently carries a Zacks Rank #2. The Honolulu, Hawaii-based company's increasing cash flow highlights its financial strength. In June, its board cleared a 30.4% hike in its quarterly dividend, taking the total to 30 cents per share. The first installment of the increased dividend will be paid out on Sep 2, 2021 to its shareholders of record as of Aug 5.
Over the past 60 days, the company has seen the Zacks Consensus Estimate for 2021earnings move 8.7% north. The stock has gained 12.3% year to date on the back of tailwinds like improved freight demand and cost-management actions.
Zacks Names "Single Best Pick to Double"
From thousands of stocks, 5 Zacks experts each have chosen their favorite to skyrocket +100% or more in months to come. From those 5, Director of Research Sheraz Mian hand-picks one to have the most explosive upside of all.

You know this company from its past glory days, but few would expect that it's poised for a monster turnaround. Fresh from a successful repositioning and flush with A-list celeb endorsements, it could rival or surpass other recent Zacks' Stocks Set to Double like Boston Beer Company which shot up +143.0% in a little more than 9 months and Nvidia which boomed +175.9% in one year.

Free: See Our Top Stock and 4 Runners Up >>
Want the latest recommendations from Zacks Investment Research? Today, you can download 7 Best Stocks for the Next 30 Days.
Click to get this free report
Expeditors International of Washington, Inc. (EXPD): Free Stock Analysis Report
FedEx Corporation (FDX): Free Stock Analysis Report
Matson, Inc. (MATX): Free Stock Analysis Report
DHT Holdings, Inc. (DHT): Free Stock Analysis Report
To read this article on Zacks.com click here.
Zacks Investment Research