Cimarex Energy (XEC) Q1 Earnings Beat, Capex Guidance Cut
Cimarex Energy Co. XEC reported first-quarter 2020 earnings per share of 58 cents, beating the Zacks Consensus Estimate of 41 cents. However, the bottom line declined from the year-ago quarter's $1.20 per share.
Moreover, total revenues of $472.8 million missed the Zacks Consensus Estimate of $514 million and also decreased from the year-ago quarter's $576.9 million.
Meanwhile, the better-than-expected earnings can be attributed to expanded oil equivalent production volumes. This was offset partially by lower natural gas, crude and NGL price realizations as well as higher operating costs.
Cimarex Energy Co Price, Consensus and EPS Surprise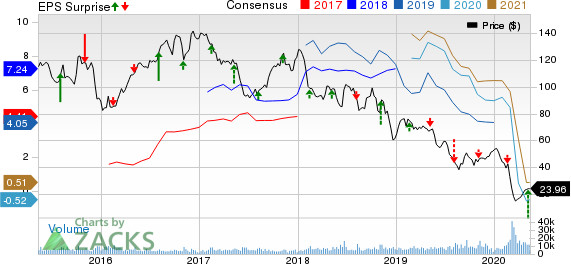 Cimarex Energy Co price-consensus-eps-surprise-chart | Cimarex Energy Co Quote
Other upstream energy players that recently beat on first-quarter earnings include Cabot Oil & Gas Corporation COG, Comstock Resources Inc CRK and Range Resources Corporation RRC. While Cabot Oil & Gas sports a Zacks Rank #1 (Strong Buy), Comstock Resources and Range Resources carry a Zacks Rank #2 (Buy).
Operational Highlights
Production
In the quarter under review, total production averaged 276.6 thousand barrels of oil equivalent per day (MBOE/D), up from 258.9 MBOE/D in the year-ago period on considerably higher activities in the Permian Basin. Output from the basin grew 21.1% year over year to 203.4 MBOED. Notably, this upstream energy player is currently operating two drilling rigs, which will decline to one by mid-May. Total oil volumes rose to 89.8 thousand barrels per day (MBbls/D) from 79.4 MBbls/D in the year-ago period. Moreover, natural gas production increased to 694.3 MMcf/D from the year-ago level of 639.1 MMcf/D. However, natural gas liquids (NGL) volumes dropped marginally to 71.1 MBbls/D from the year-ago figure of 72.9 MBbls/D.
Realized Prices
Realized price of crude oil fell from $48.87 per barrel to $44.18 and the same for NGL dropped 40.1% year over year to $9.84. Realized prices for natural gas plunged 247.3% to 55 cents per thousand cubic feet.
Costs and Expenses
Overall costs and expenses in the quarter surged to $1,254.5 million from the year-ago level of $528.9 million. Notably, production expense in the first quarter was recorded at $3.47 per BOE, up 2.9% from the prior-year figure.
Financial Condition
As of Mar 31, 2019, the company had cash and cash equivalents of $88.7 million. Net long-term debt was almost $2 billion, representing a total debt to total capital ratio of nearly 0.43.
Cimarex's adjusted cash flow from operating activities totaled $306.4 million, down from $351.1 million in the prior-year quarter. The company spent $248.6 million on exploration and development in the March quarter.
Guidance
Cimarex, carrying a Zacks Rank #5 (Strong Sell), withdrew quarterly and annual production guidance as well as projection for operating costs per unit in the wake of the COVID-19 pandemic. The company curtailed roughly 20% of its May crude oil production volumes. In fact, the upstream firm expects such curbs to continue if commodity prices remain in the bearish territory.It also began an Early Retirement Incentive Plan, which will trim its staff by roughly 10% and lead to annual savings of $25 million.
For 2020, the company cut its total capital investment by 55-60% from the initial guidance. It now expects capex in the range of $500-$600 million. Cimarex is expected to invest $40 million in midstream operations during 2020. Investment in drilling and completion is expected within $300-$400 million.
You can see the complete list of today's Zacks #1 Rank (Strong Buy) stocks here.
The Hottest Tech Mega-Trend of All
Last year, it generated $24 billion in global revenues. By 2020, it's predicted to blast through the roof to $77.6 billion. Famed investor Mark Cuban says it will produce "the world's first trillionaires," but that should still leave plenty of money for regular investors who make the right trades early.
See Zacks' 3 Best Stocks to Play This Trend >>
Want the latest recommendations from Zacks Investment Research? Today, you can download 7 Best Stocks for the Next 30 Days.
Click to get this free report
Comstock Resources Inc (CRK): Free Stock Analysis Report
Cabot Oil Gas Corporation (COG): Free Stock Analysis Report
Range Resources Corporation (RRC): Free Stock Analysis Report
Cimarex Energy Co (XEC): Free Stock Analysis Report
To read this article on Zacks.com click here.
Zacks Investment Research