Celcuity (CELC) Soars on Agreement With Pfizer & Study Data
Shares of Celcuity Inc. CELC soared almost 51% on Apr 9 following announcement of a licensing agreement with pharmagiant, Pfizer PFE and promising preliminary data from an early-stage study on gedatolisib.
The company announced that it has signed a global licensing agreement with Pfizer, gaining exclusive rights to pan-PI3K/mTOR inhibitor, gedatolisib. Please note that the candidate is currently being developed in an early-stage study for breast cancer.
Per the terms of the agreement, Celcuity paid Pfizer $10 million in upfront payments — $5 million in cash and another $5 million in its common stock. The company will also pay Pfizer up to $330 million in development and sales-based milestone payments as well as tiered royalties on potential sales.
In a separate press release, the company announced promising preliminary data from an ongoing phase Ib study evaluating gedatolisib in combination with Pfizer's Ibrance and an endocrine therapy in ER+/HER2- advanced or metastatic breast cancer patients. Data showed that the gedatolisib combo achieved an objective response rate of 60% asof the Jan 11, 2021 data cut-off date. A phase II/III study on gedatolisib combo is expected to start in mid-2022.
The receipt of exclusive rights to the promising candidate is likely to have boosted investors' sentiment.
Celcuity's shares have gained 135.8% so far this year against the industry's decrease of 6.7%.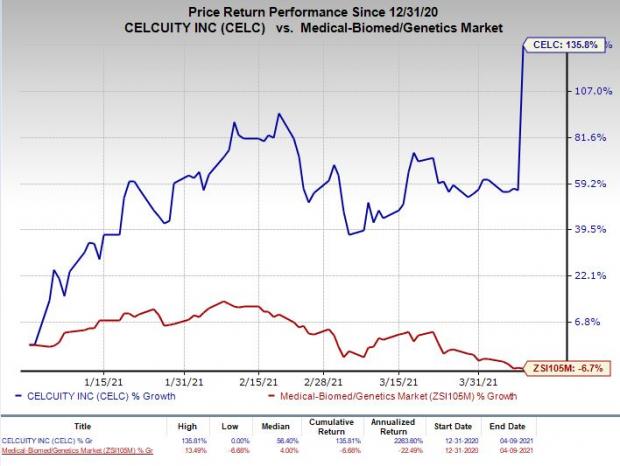 We note that the company is primarily focused on developing efficient companion diagnostic tests for targeted therapies by discovering new cancer sub-types that are not detected by molecular approach-based tests.Gaining exclusive rights to gedatolisib is likely to have added its first cancer therapy to its pipeline.
The company has signed multiple collaboration agreements with different companies — including Novartis NVS and Puma Biotechnology PBYI—and universities to establish accuracy of its CELsignia platform-based diagnostic tests under development. Celcuity evaluates its collaborators' drugs in patients selected with its diagnostic tests. The company already has three companion diagnostic tests available for different sub-types of breast cancer under development. The company is planning to combine these three tests into a single multi-pathway activity test.
Celcuity, Inc. Price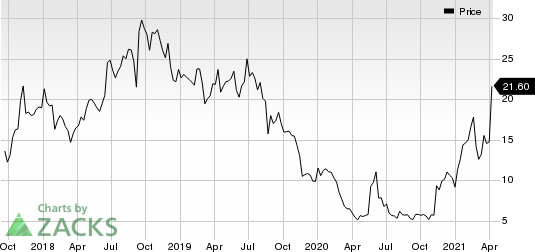 Zacks Rank
Celcuity currently carries a Zacks Rank #4 (Sell).
You can see the complete list of today's Zacks #1 Rank (Strong Buy) stocks here.
These Stocks Are Poised to Soar Past the Pandemic
The COVID-19 outbreak has shifted consumer behavior dramatically, and a handful of high-tech companies have stepped up to keep America running. Right now, investors in these companies have a shot at serious profits. For example, Zoom jumped 108.5% in less than 4 months while most other stocks were sinking.
Our research shows that 5 cutting-edge stocks could skyrocket from the exponential increase in demand for "stay at home" technologies. This could be one of the biggest buying opportunities of this decade, especially for those who get in early.
See the 5 high-tech stocks now>>
Want the latest recommendations from Zacks Investment Research? Today, you can download 7 Best Stocks for the Next 30 Days.
Click to get this free report
Pfizer Inc. (PFE): Free Stock Analysis Report
Novartis AG (NVS): Free Stock Analysis Report
Puma Biotechnology, Inc. (PBYI): Get Free Report
Celcuity, Inc. (CELC): Free Stock Analysis Report
To read this article on Zacks.com click here.
Zacks Investment Research