Nokia (NOK) Shutters South India Plant on Coronavirus Woes
Nokia Corporation NOK recently revealed that it was forced to suspend operations in the manufacturing plant in Sriperumbudur in South India as several employees tested positive for the dreaded coronavirus. The latest incident marks another setback for the company as it aims to buoy its sagging shares through renewed 5G focus.

Although the company refused to divulge any details, unconfirmed sources familiar with the situation have reported the number of affected workers to be 42. The factory was reopened a couple of weeks back after the local government withdrew some of the stringent lockdown measures imposed across the country and began operations in a restricted manner with skeletal staff strength. However, the emergence of the virus among the employees forced management to temporarily shut down the plant.

On its part, Nokia has levied social distancing measures and changes to canteen facilities to minimize the quantum of exposure to the virus. The company expects to resume operations in the near future once the risks of further contamination are eliminated and the plant is thoroughly sanitized.

Notably, Nokia achieved a significant milestone in the development of 5G technology in the United States a few days back with record 5G speed of up to 4.7 Gbps in its Over-the-Air network, backed by 800 MHz of millimeter-Wave spectrum and dual connectivity. This underscored Nokia's commitment to aid businesses and customers with superior network capacity as majority of communication service providers (CSPs) are migrating to experience-driven and automated 5G network operations.

Backed by enhanced network capacity and ultra-low latency, Nokia leveraged EN-DC functionality or dual connectivity to enable operators to transmit data simultaneously across 5G and 4G networks with higher transmission rates. Markedly, the company is focusing on the dual connectivity feature on its Air-Scale platform as a way for operators to maximize their spectrum assets. Touted as the industry's first-of-its-kind, commercial, end-to-end 5G solution, the avant-garde technology enables operators to capitalize on 5G-backed opportunities to boost profitability as well as maximize the value of licensed and unlicensed spectrum with minimum future capital expenditures.

Nokia remains focused on building a robust scalable software business and expanding it to structurally attractive enterprise adjacencies. It has reached more than 66 commercial 5G contracts across the globe with 19 live networks. The company's end-to-end portfolio includes products and services for every part of a network, which are helping operators enable key 5G capabilities such as network slicing, distributed cloud and industrial IoT. Nokia facilitates customers to move from an economy-of-scale network operating model to demand-driven operations by offering easy programmability and automation. Accelerated strategy execution, sharpened customer focus and reduced long-term costs are expected to position the company as a global leader in the delivery of end-to-end 5G solutions.

Nokia's shares have lost 24.8% compared with the industry's decline of 2.7% in the past year. Nevertheless, we remain impressed with the inherent long-term growth potential of this Zacks Rank #3 (Hold) stock.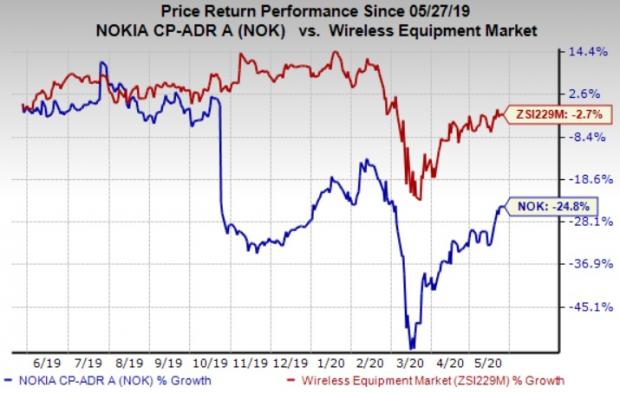 Some better-ranked stocks in the industry are InterDigital, Inc. IDCC, PCTEL, Inc. PCTI and Ericsson ERIC. You can see the complete list of today's Zacks #1 Rank (Strong Buy) stocks here.

InterDigital has a long-term earnings growth expectation of 15%. It delivered a positive earnings surprise of 99.5%, on average, in the trailing four quarters.

PCTEL delivered a positive earnings surprise of 33.9%, on average, in the trailing four quarters.

Ericsson has a long-term earnings growth expectation of 25.9%. It delivered a positive earnings surprise of 4.6%, on average, in the trailing four quarters.

More Stock News: This Is Bigger than the iPhone!

It could become the mother of all technological revolutions. Apple sold a mere 1 billion iPhones in 10 years but a new breakthrough is expected to generate more than 27 billion devices in just 3 years, creating a $1.7 trillion market.

Zacks has just released a Special Report that spotlights this fast-emerging phenomenon and 6 tickers for taking advantage of it. If you don't buy now, you may kick yourself in 2021.

Click here for the 6 trades >>
Want the latest recommendations from Zacks Investment Research? Today, you can download 7 Best Stocks for the Next 30 Days.
Click to get this free report
Nokia Corporation (NOK): Free Stock Analysis Report
Ericsson (ERIC): Free Stock Analysis Report
InterDigital, Inc. (IDCC): Free Stock Analysis Report
PCTEL, Inc. (PCTI): Free Stock Analysis Report
To read this article on Zacks.com click here.