Entergy (ETR) Gets Nod for Building 250 MWac Solar Project
Entergy Corp. ETR recently announced that its Entergy Arkansas subsidiary has got the regulatory nod from the Arkansas Public Service Commission for developing its Driver Solar Project. The 250 megawatt-alternate currents (MWac) solar facility, to be located in Mississippi County, will be ETR's largest solar facility.
Details of The Project
Once complete, as expected by late 2024, the Driver Solar facility will be capable of generating enough energy to power more than 40,000 homes. This project will enhance Entergy's footprint in Northeast Arkansas.
The Driver Solar Project will increase electricity supply and enhance voltage levels on the surrounding grid, both of which improve service reliability and availability.
Entergy's Opportunities in Arkansas
Arkansas installed 177.1 MW of solar in 2021. The solar industry invested $785 million in Arkansas, including $220 million in 2021. This very well reflects the growing solar demand in Arkansas.
Per Solar Energy Industries Association (SEIA), 2,533 MW of solar is projected to be installed in Arkansas over the next five years. This surely offers solid growth opportunities for utilities like Entergy, which already enjoys a solid market share in the state's solar industry.
Notably, Entergy Arkansas purchases energy from or owns three solar facilities: Stuttgart Solar, Chicot Solar and Searcy Solar for approximately 281 megawatts. It is currently in the process of adding Walnut Bend Solar and West Memphis Solar for another 280 megawatts. In total, Entergy Arkansas will generate 811 megawatts of solar power – enough to operate approximately 130,000 homes. Collectively, these various energy resources will provide Entergy Arkansas with approximately 6,000 megawatts of generating capability to serve its customers in 2024 and beyond, with the Driver Solar project being one of the contributors.
Global Clean Energy Drive
Realizing the need to proceed toward a carbon-free environment, utilities across the board are rapidly expanding their renewable energy portfolio, not only in Arkansas but worldwide, with solar and wind contributing a major portion to this transition.
Earlier this year, Entergy Corp issued a request for proposals for 1,000 MW of wind and solar resources. In June 2022, Entergy discussed plans for up to 7 gigawatts of renewable resources by the end of 2025, and as much as 14 to 17 gigawatts of renewable resources by the end of 2031.
Entergy Corp. apart, utilities that are poised to grow their renewable energy portfolio to reduce greenhouse gas emissions are as follows:

NextEra Energy NEE: It operates more than 16,000 MW of emission-free wind energy. In the span 2021 to 2022, the company expects to bring online an additional 3,700 to 4,400 MW of clean, emission-free wind energy. On the solar front, its Florida Power & Light Company is the largest generator of solar energy in Florida with nearly 40 major solar power plants and numerous other solar installations totaling more than 2,700 MW of solar generation.
NextEra Energy has a long-term earnings growth rate of 9.7%. NEE shares have risen 1.7% in the past three months.
Duke Energy DUK: It has taken an initiative to expand the renewable asset base and aims to reach its target of net-zero carbon emissions from electric generation by 2050. The company lowered its carbon emissions in 2021 by more than 44% since 2005 and is now expanding its 2050 net-zero goals to include Scope 2 and certain Scope 3 emissions.
Duke Energy has a long-term earnings growth rate of 6%. The Zacks Consensus Estimate for DUK's 2022 sales implies an improvement of 9.3% from the 2021 reported figure.
Ameren AEE: It is committed to exploring renewable energy options, such as wind, solar, landfill gas, agricultural methane, hydroelectric and other alternative energy sources, to generate electricity. It has built Missouri's largest investor-owned solar energy center in O'Fallon, MO, which has 19,000 solar panels with a generating capacity of 5.7 MW of electricity.
Ameren's long-term earnings growth rate is pegged at 7.2%. The Zacks Consensus Estimate for AEE's 2022 sales implies an improvement of 10.5% from the 2021 reported figure.
Price Movement
In the past year, Entergy's shares have rallied 1.4% compared with the industry's growth of 1.7%.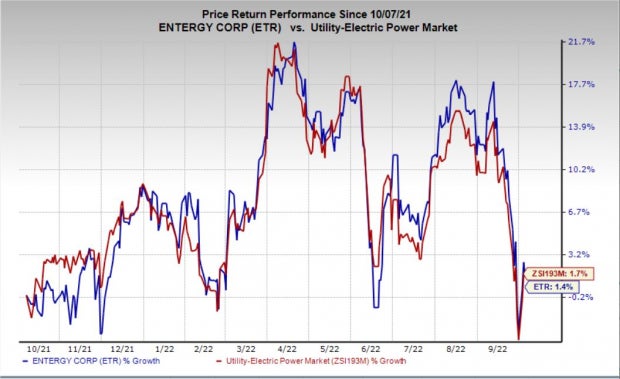 Image Source: Zacks Investment Research
Zacks Rank
Entergy currently carries a Zacks Rank #3 (Hold). You can see the complete list of today's Zacks #1 Rank (Strong Buy) stocks here.
Zacks Names "Single Best Pick to Double"
From thousands of stocks, 5 Zacks experts each have chosen their favorite to skyrocket +100% or more in months to come. From those 5, Director of Research Sheraz Mian hand-picks one to have the most explosive upside of all.
It's a little-known chemical company that's up 65% over last year, yet still dirt cheap. With unrelenting demand, soaring 2022 earnings estimates, and $1.5 billion for repurchasing shares, retail investors could jump in at any time.
This company could rival or surpass other recent Zacks' Stocks Set to Double like Boston Beer Company which shot up +143.0% in little more than 9 months and NVIDIA which boomed +175.9% in one year.
Free: See Our Top Stock And 4 Runners Up
Want the latest recommendations from Zacks Investment Research? Today, you can download 7 Best Stocks for the Next 30 Days.
Click to get this free report
Ameren Corporation (AEE): Free Stock Analysis Report
NextEra Energy, Inc. (NEE): Free Stock Analysis Report
Entergy Corporation (ETR): Free Stock Analysis Report
Duke Energy Corporation (DUK): Free Stock Analysis Report
To read this article on Zacks.com click here.
Zacks Investment Research