3 Bets on an Ecommerce Industry That Remains in the Doldrums
The need for social distancing has become less of a driver for the ecommerce segment, which includes pureplays as well as traditional retailers with ecommerce capabilities.
Accordingly, ecommerce sales in the last quarter were 6.6% above 1Q21 (up 2.4% sequentially), with total retail sales increasing 10.9% (up 3.7% sequentially). Ecommerce accounted for around 14.3% of total U.S. retail sales, a slight deceleration from each of the four preceding quarters. As these estimates from the Commerce Department indicate, some of the traffic that moved online during the initial months of the pandemic is moving back to stores. So there are difficult comps.
Ecommerce continues to grow strongly off a small base, but with the reopening, physical retail is growing faster. Ecommerce continues to benefit from the race to digitization, consumer habits altering for good and supply chains adjusting to help the two sides meet.
Valuation, although still elevated, is still short of reflecting the relatively weaker prospects. But there are a number of smaller players that still look attractive. We've picked TZOO, DTC and JTKWY.
About The Industry
Internet - Commerce continues to evolve as the technologies driving it advance.
On the one side are increasingly powerful and capable user devices. On the other are sophisticated, AI-enabled software platforms facilitating transactions that are thereby, more capable of delivering user satisfaction. Social commerce and chatbots are further facilitating things.
Differentiation comes from better technology for improved showcasing, easier navigation and payment, speedier delivery and returns, brand building, comparison shopping, loyalty, etc. which generally tip the scales in favor of larger players. Particularly because there is fierce price competition necessitating deep discounting, which keeps prices down.
Amazon AMZN dominates, traditional retailers are rapidly digitizing and new players continue to emerge.
Current Trends Driving The Internet-Commerce Industry
The industry is seeing difficult comps as markets continue to open up after the pandemic-driven surge in sales over the last couple of years. While purchasing trends haven't reversed entirely, the effect of more sales moving back to stores was only to be expected. Rising inflation, followed by rate hikes and an impending recession are also not the greatest thing to happen to retailers. And the supply chain and labor issues that started the crisis in the first place continue to drive up costs. Nobody really knows for sure when these issues will be resolved. Additionally, retailers have hugely bult up their digital infrastructure in order to deal with the surging demand, and idling this will add to costs. On a positive note, the importance of having a digital presence has never been greater.
As American companies like Amazon and Walmart continue their march to conquer the world, it's relevant for this outlook to include data that goes beyond the borders. Accordingly, global retail ecommerce grew around 16% in 2021. In 2022, most of the strength is expected to come from the Philippines, India, Indonesia and Brazil growing the fastest, by at least 22%. Total retail sales growth is expected to go from +9.7% in 2021 to +5.0% in 2022. Ecommerce will grow its share of total global retail sales from an estimated 21% this year to 24.5% by 2025. The top five ecommerce markets are China, U.S., UK, Japan and South Korea. Amazon's share of U.S. ecommerce (expected to grow 16.1% this year according to Insider Intelligence) is around 40%, and the leading retailer is expected to grow 15.3% this year. Traditional retailers' focus on digital initiatives including click and collect, cashierless checkout, contactless payment and digital signage should continue, despite customers returning to stores. Online retailers' focus remains on social commerce, grocery sales and the buy-now-pay-later option.
Both ecommerce pureplays and traditional retailers are balancing ecommerce sales with a physical presence because it is only proximity to a consumer that can facilitate quick delivery. So a hybrid/omnichannel model has become commonplace, allowing customized, quick and convenient delivery (BOPIS, curbside pickup) through apps. Self-driven delivery vehicles and drones are already on the horizon to deal with logistics problems and make deliveries smoother and cheaper.
Also, data mining has never been easier. Because of the many details involved in satisfying a customer, data mining has grown in importance over the years, with the party controlling the customer's data being best positioned to identify and service demand while also delivering the desired experience. Most of the big ecommerce players are also into payments processing, which gives them further insight into a customer's tastes, preferences and buying habits. As machines read and process this data, they can create programs and processes to maximize customer satisfaction and drive sales. Artificial intelligence such as that used by companies like Amazon already decides how competitive a player is. But as time goes by, more and more retailers are jumping on board and harnessing big data that has become imperative for survival.
All said, companies moving online and existing players utilizing more advanced tools and analytics to increase their return on investment remain positives for the industry. At the same time, profitability could come in for some pressure (for some) as companies invest heavily in building out infrastructure to support the next leg of growth and deal with continued supply chain issues.
Zacks Industry Rank Reflects Weak Near-Term Growth
The Zacks Internet - CommerceIndustry is a rather large group within the broader Zacks Retail And WholesaleSector. It carries a Zacks Industry Rankof #210, which places it in the bottom 16% of more than 250 Zacks industries.
Our research shows that the top 50% of the Zacks-ranked industries outperforms the bottom 50% by a factor of more than 2 to 1. So the group's Zacks Industry Rank, which is basically the average of the Zacks Rank of all the member stocks, indicates weak near-term prospects.
The industry's positioning in the bottom 50% of the Zacks-ranked industries is the result of its relative performance versus others. As far as aggregate estimate revisions are concerned, it appears that analysts expect earnings to decline by 51.3% this year and by 68.4% in the next. The decline continues, as a lot of the sales that moved online because of the pandemic continues to move back to stores. Supply chain and labor issues are also increasing the cost of operation while amortization and other charges ride higher on the increased infrastructure buildup over the past few years.
Before we present a few stocks that you may want to consider for your portfolio, let's take a look at the industry's recent stock-market performance and valuation picture.
Industry Lags On Shareholder Returns
The Zacks Electronic - Commerce Industry has traded at a discount to both the broader Zacks Retail and Wholesale Sector as well as the S&P 500 index over the past year.
So we see that the stocks in this industry have collectively lost 44.2% of their value over the past year, compared to the broader Zacks Retail and Wholesale Sector, which lost 31.5% and the S&P 500, which lost just 9.5%.
One-Year Price Performance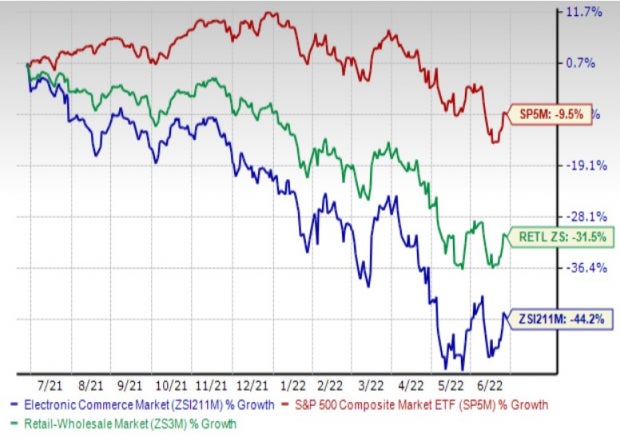 Image Source: Zacks Investment Research
Industry's Current Valuation
On the price-to-forward 12 months' earnings (P/E) basis, the industry still looks grossly overvalued (38.00X) with respect to both the S&P 500 (16.71X) and the broader retail sector (21.14X).
On the basis of forward sales (P/S) however, the industry trades at its annual low of 1.48X, which trails the S&P 500's 3.68X although it remains understandably higher than the sector's 1.24X. Over the past year, the industry has traded as high as 2.70X, as low as 1.48X and at the median of 2.37X, as the chart below shows.
Forward 12 Month Price-to-Sales (P/E) Ratio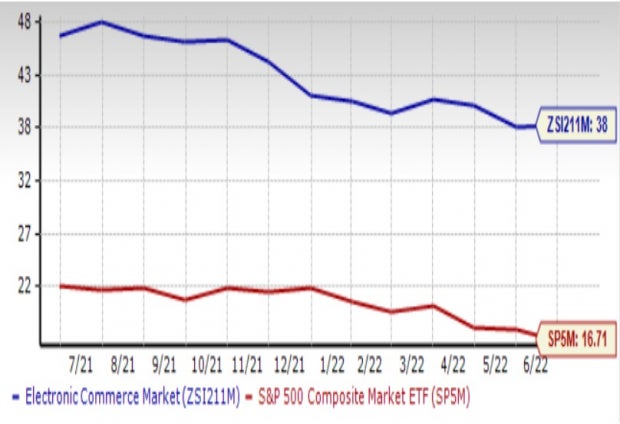 Image Source: Zacks Investment Research
3 Stocks Worth Considering
While things don't look exciting for the industry overall and its valuation is still too expensive, there are quite a large number of stocks to choose from. That's because of the significant variety that exists in this industry in terms of lines of business, business model, location, and so forth. Here are a few that are worth buying today:
Travelzoo (TZOO): New York- based Travelzoo provides travel, entertainment and local deals from travel and entertainment companies, as well as local businesses in Europe and North America (it is exiting the Asia Pacific business). It serves airlines, hotels, cruise lines, vacations packagers, tour operators, destinations, car rental companies, travel agents, theater and performing arts groups, restaurants, spas, and activity companies.
Travelzoo has amassed around 30 million members that the company describes as being affluent, active and open to new experiences. This is a strong positive in an environment that continues to open up to travel. In the last quarter, Travelzoo reported North America revenue growth of 19% and Europe revenue growth of 66%.
Analysts are extremely positive about its prospects both in 2022 and 2023. They currently expect Travelzoo's revenue and earnings to grow a respective 27% and 622% in 2022and at strong double-digit rates in 2023 as well. The Zacks Rank #1 (Strong Buy) company's estimates are also moving up. The 2021 estimate is up 51.2% in the last 30 days.
The shares are down 47.2% over the past year.
Price & Consensus: TZOO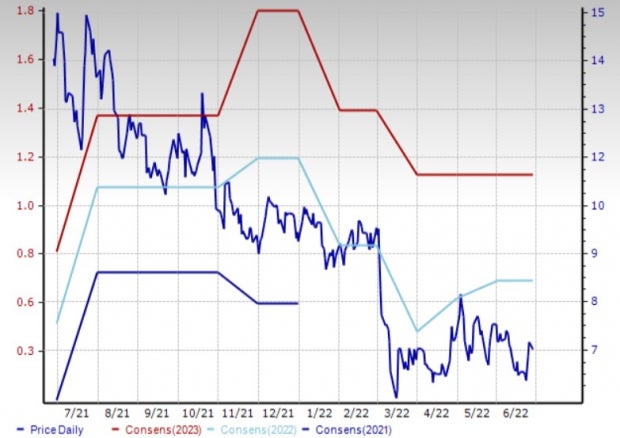 Image Source: Zacks Investment Research
Solo Brands, Inc. (DTC): Texas-based Solo Brands started out as a digitally native platform selling stoves and fire pits under the Solo Stove brand. Last year, it acquired three more outdoor lifestyle brands (Oru, ISLE and Chubbies) that significantly expanded its product range. The Oru brand brought kayaks, the ISLE brand brought paddle boards and the Chubbies brand brought swim trunks, casual shorts, sport products, polos, shirts and lounge products. Thus, the company became Solo Brands and launched its IPO in 2021. While it has a global supply chain, its products are sold in the U.S. And given the nature of its products, it enjoys seasonal strength in the second and fourth quarters.
The pandemic has been both good and bad for Solo Brands. Bad because it necessitated social distancing, which made word-of-mouth referrals difficult. Since this is a primary driver of sales for the direct-to-consumer (DTC) platform, there was a certain negative impact. Word-of-mouth referrals for example had dropped to 26% of solostove.com orders in Mar 2020, but they recovered to 45% of orders in Mar 2021. Another negative was the supply chain, which increased freight and container shipping costs while also impacting product availability. But the pandemic was also positive because it increased consumer interest in outdoor living and outdoor recreation while also necessitating that they do their shopping online (which is how the company's products are sold).
Right now, Solo Brands is seeing very difficult comps in its direct-to-consumer business, but wholesale revenues and contribution from acquisitions are helping results. After the seasonally strong second quarter, it has some new product launches planned for the second half, which may be expected to support sales. As a result, the company reaffirmed its 2022 guidance.
The Zacks Consensus Estimate for the 2022 EPS is up 21.3% in the last 60 days. The Zacks Rank #2 (Buy) stock is down 73.1% since it started trading.
Price & Consensus: DTC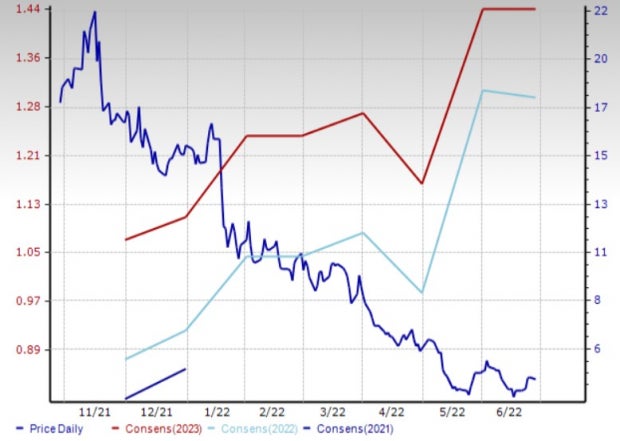 Image Source: Zacks Investment Research
Just Eat Takeaway.com N.V. (JTKWY): Amsterdam, the Netherlands-based Just Eat operates an online food delivery marketplace, connecting consumers and restaurants through its platforms. It has operations across most European countries, Australia, New Zealand and the U.S. (through its Grub Hub acquisition last year that is now looking to sell either partially or fully). In 2021, it had 580,000 restaurants in its network that generated 1.1 billion orders (up 33% over the prior year).
Just Eat's aggressive expansion drive has added a large number of restaurants to its network, thus expanding restaurant selection for its customers. In an environment where customer churn is set to increase (it added 20 million new customers since the pandemic started) the broader base of restaurants can be a deterrent. Without it, orders would most likely have been significantly lower in the first quarter instead of just flattish. Encouragingly, management continues to expect average monthly order frequency and returning consumers to remain above pre-pandemic and pandemic levels.
The increasing level of regulatory scrutiny is a bit of a concern. In the U.S., some state regulators are looking to cap the fees that delivery companies can charge restaurants, mandating the sharing of customer details like names, phone numbers, mailing addresses and purchase histories when requested by restaurants and requiring delivery companies to break down their charges for consumers. The EU Commission's proposals to improve conditions for workers and help them access social protections is also a potential headwind.
Management expects profitability on an EBITDA basis to be a 2023 phenomenon as the company is seeing very difficult comps this year in lieu of the strong demand during the pandemic. It has also put GrubHub on sale as the deal has not lived up to expectations. But profitability remains a focus point.
The aggressive expansion is telling on this Zacks Rank #2 stock's estimates as is the lowered expectations from GrubHub. The estimates therefore don't look too encouraging at the moment. The expected loss for 2022 has dropped just a couple of cents over the last 60 days to 98 cents a share. The 2023 loss dropped a penny to 68 cents.
The shares are down 79.4% since Jun 2021.
Price Performance: JTKWY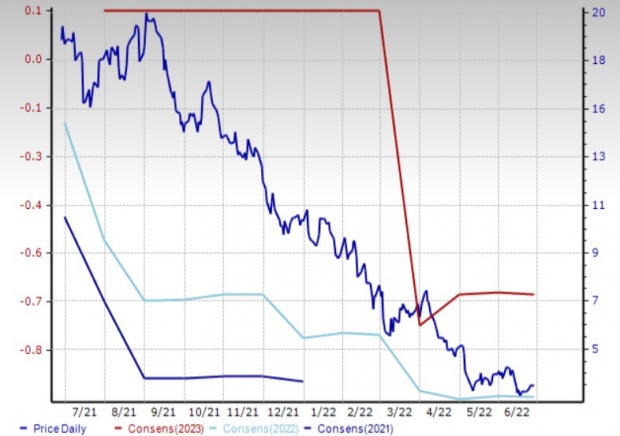 Image Source: Zacks Investment Research
5 Stocks Set to Double
Each was handpicked by a Zacks expert as the #1 favorite stock to gain +100% or more in 2021. Previous recommendations have soared +143.0%, +175.9%, +498.3% and +673.0%.
Most of the stocks in this report are flying under Wall Street radar, which provides a great opportunity to get in on the ground floor.
Today, See These 5 Potential Home Runs >>
Want the latest recommendations from Zacks Investment Research? Today, you can download 7 Best Stocks for the Next 30 Days.
Click to get this free report
Travelzoo (TZOO): Free Stock Analysis Report
Solo Brands, Inc. (DTC): Free Stock Analysis Report
Just Eat Takeaway.com N.V. Sponsored ADR (JTKWY): Free Stock Analysis Report
To read this article on Zacks.com click here.
Zacks Investment Research