Celldex (CLDX) Initiates Subcutaneous Skin Disorder Drug Study
Celldex Therapeutics, Inc. CLDX announced that it has initiated dosing in the first cohort of a phase I study evaluating a subcutaneous formulation of its monoclonal antibody candidate, CDX-0159. The company intends to evaluate the subcutaneous CDX-0159 as a potential treatment for a skin disorder, chronic urticarias, in a phase II study, which is likely to start in the first half of 2022.
The early-stage has been designed with four cohorts to evaluate four doses — 50 mg, 150 mg, 300 mg, and 600 mg — of the subcutaneous CDX-0159 in healthy volunteers primarily for safety and tolerability. The study's secondary endpoints include pharmacokinetics, pharmacodynamics, and immunogenicity.
We note that Celldex is already evaluating an intravenous formulation of CDX-0159 in multiple early-stage studies as a potential treatment of skin disorders — chronic spontaneous and chronic inducible urticarias. The company also plans to start a phase I study later this year to evaluate the intravenous CDX-0159 for treating prurigo nodularis, another skin disorder.
A subcutaneous formulation of any drug provides a better and easy administration alternative compared to the intravenous formulation. Several subcutaneous drugs are available with a self-administration option while intravenous drugs are usually physician-administered and require a visit to the hospital or a physician. A subcutaneous formulation of CDX-0159 is likely to be garner more demand than the intravenous one due to its easy and at-home administration potential.
Shares of Celldex have rallied 208.6% so far this year compared with the industry's increase of 0.8%.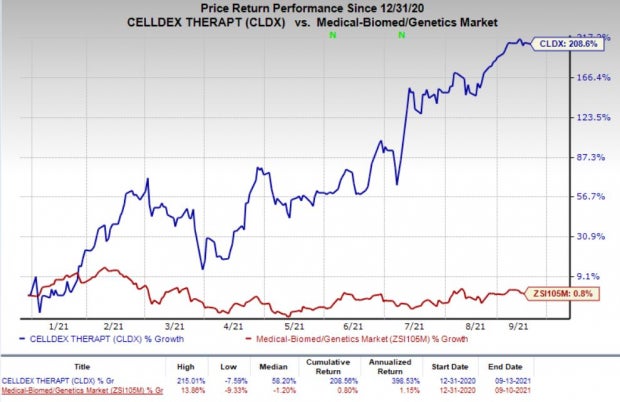 Image Source: Zacks Investment Research
Interim data, announced in July, from a phase Ib evaluating the intravenous formulation of CDX-0159 in patients with chronic inducible urticaria demonstrated a statistically significant response rate. The patients showed sustained durability of the clinical response. The antibody candidate also achieved a complete response in three CIU patients who were previously treated with Novartis NVS/Roche's RHHBY urticaria drug, Xolair (omalizumab). Two among these patients were refractory to Xolair treatment.
Apart from CDX-0159, Celldex is developing a CD40 human agonist antibody CDX-1140. The candidate is being developed as a potential treatment of solid tumors and B cell lymphomas as a monotherapy or in combination with Celldex's CDX-301 or Merck's MRK Keytruda.
The company initiated an early-stage study earlier this year to evaluate its new bispecific product candidate, CDX-527 for solid tumors.
Celldex Therapeutics, Inc. Price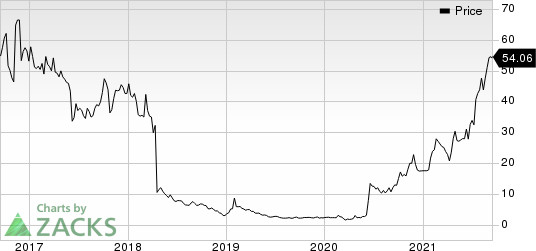 Celldex Therapeutics, Inc. price | Celldex Therapeutics, Inc. Quote
Zacks Rank
Celldex currently carries a Zacks Rank #3 (Hold). You can see the complete list of today's Zacks #1 Rank (Strong Buy) stocks here.
Tech IPOs With Massive Profit Potential
In the past few years, many popular platforms and like Uber and Airbnb finally made their way to the public markets. But the biggest paydays came from lesser-known names.
For example, electric carmaker X Peng shot up +299.4% in just 2 months. Think of it this way…
If you had put $5,000 into XPEV at its IPO in September 2020, you could have cashed out with $19,970 in November.
With record amounts of cash flooding into IPOs and a record-setting stock market, this year's lineup could be even more lucrative.
See Zacks Hottest Tech IPOs Now >>
Want the latest recommendations from Zacks Investment Research? Today, you can download 7 Best Stocks for the Next 30 Days.
Click to get this free report
Novartis AG (NVS): Free Stock Analysis Report
Roche Holding AG (RHHBY): Free Stock Analysis Report
Merck & Co., Inc. (MRK): Free Stock Analysis Report
Celldex Therapeutics, Inc. (CLDX): Get Free Report
To read this article on Zacks.com click here.
Zacks Investment Research