Intuit (INTU) Q3 Earnings and Revenues Surpass Estimates
Intuit Inc. INTU reported third-quarter fiscal 2020 non-GAAP earnings of $4.49 per share, which beat the Zacks Consensus Estimate by 0.5%. However, the bottom line declined 19% on a year-over-year basis.

Further, this tax preparation-related software maker's revenues grossed $3 billion, outpacing the consensus mark by 0.2%. Nevertheless, the top line declined 8% from the year-ago quarter.

Management noted that momentum in revenues continued in the beginning of the fiscal third quarter. However, the extension of the tax filing deadline to Jul 15, due to the COVID-19 pandemic, resulted in the postponement of tax filings, which caused decline in revenues.

Moreover, the shelter-in-place directives affected small businesses, consequently weighing on the company's top-line performance in the quarter.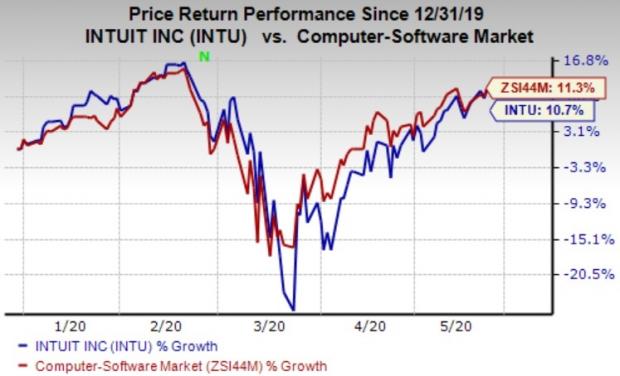 Coming to price performance, shares of Intuit have returned 10.7% year to date, compared with industry's rally of 11.3%.

Quarter in Detail

Segment wise, Small Business and Self-Employed Group revenues jumped 11% year over year to $982 million. This rise was primarily driven by solid growth in customers for QuickBooks Online and higher effective prices.

Total Online Ecosystem revenues rose 28% year over year to $560 million. QuickBooks Online Accounting revenues were up 36% year-over-year to $353 million. Online Services revenue, which includes payroll, payments, time tracking and capital, grew 16% year over year to $207 million.

Within QuickBooks Online payroll, a mix-shift to Intuit's full-service offering, was a tailwind. Moreover, within QuickBooks Online payments, continued uptick in customer base and an increase in charge volume per customer drove revenues.

Sturdy momentum in the company's lending product QuickBooks Capital was a positive as well. At the end of the quarter, net loans receivable balance was $89 million.

Total Desktop ecosystem revenues declined 6% year over year in the reported quarter to $422 million. Within Desktop ecosystem, revenues from QuickBooks Desktop Enterprise grew at mid-single-digit pace.

In the fiscal third quarter, revenues from Consumer Group declined 15% year over year to $1.83 billion, due to the shift of tax-filing deadline to Jul 15 led by disruptions related to the coronavirus pandemic. Meanwhile, Strategic Partner Group backed by professional tax generated revenues of $193 million, down 18% year over year.

DIY category grew 2.2% year over year. Meanwhile, assisted category declined 18.8%.

Management is optimistic on growing clout of TurboTax Live and QuickBooks Live, which is expected to aid the company acquire new customers, with enhanced engagement and drive average revenue per customer or ARPC. This is likely to be accretive to the company's Consumer business in the days ahead.

The company witnessed "highest customer satisfaction scores" for TurboTax Live driven by the usage of real-time chat and a floating Live Help button to simplify connection with live help, at all stages of the return process.

Intuit also continued to accelerate the application of AI to create tools to automate repetitive tasks, increase efficiency and improve customer experience.

Intuit Inc. Price, Consensus and EPS Surprise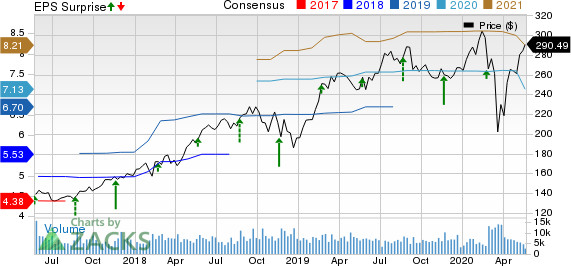 Intuit Inc. price-consensus-eps-surprise-chart | Intuit Inc. Quote
Operating Results

The company posted non-GAAP operating income of $1.54 billion, down 18.5% year over year. Operating margin contracted 700 basis points year over year at 51%.

Balance Sheet and Cash Flow

As of Apr 30, 2020, Intuit's cash and cash equivalents were $3.37 billion compared with $1.64 billion as of Jan 31, 2020.

Cash provided by operational activities was $2.13 billion for the nine months ended Apr 30, 2020, compared with $2.45 billion for nine-months ended Apr 30, 2019.

Total debt (short-term plus long-term), as of Apr 30, was $398 million compared with $411 million, as of Jan 31. Notably, on May 7, the company drew down the entire amount of its $1 billion revolving credit facility, in a bid to sustain financial flexibility.

During the fiscal third quarter, Intuit repurchased $40 million of shares, with $2.4 billion remaining on the company's authorization.

However, the company has temporarily suspended share purchases due to the pending Credit Karma acquisition, which is a stock-based transaction. Markedly, on Feb 25, 2020, the company had announced that it is set to acquire consumer technology platform Credit Karma, for approximately $7.1 billion. Management expects the acquisition to close during the second half of calendar year 2020 and be accretive over time.

Notably, Intuit's board of directors approved a cash dividend of 53 cents per share, payable on Jul 20, to shareholders as on Jul 10. The dividend payout indicates a 13% increase on a year-over-year basis.

Guidance

The company refrained from providing any guidance. Markedly, on May 7, 2020, the company withdrew guidance for fiscal 2020, citing uncertainty pertaining to impact of coronavirus crisis on small businesses.

Zacks Rank & Stocks to Consider

Intuit currently carries a Zacks Rank #3 (Hold).

Coupa Software COUP, Workday WDAY and Okta OKTA are some better-ranked stocks in the broader computer and technology sector. All the three stocks carry a Zacks Rank #2 (Buy). You can see the complete list of today's Zacks #1 (Strong Buy) Rank stocks here.

Workday, Okta and Coupa Software are set to report quarterly results on May 27, May 28 and Jun 8, respectively.

Today's Best Stocks from Zacks

Would you like to see the updated picks from our best market-beating strategies? From 2017 through 2019, while the S&P 500 gained and impressive +53.6%, five of our strategies returned +65.8%, +97.1%, +118.0%, +175.7% and even +186.7%.

This outperformance has not just been a recent phenomenon. From 2000 – 2019, while the S&P averaged +6.0% per year, our top strategies averaged up to +54.7% per year.

See their latest picks free >>
Want the latest recommendations from Zacks Investment Research? Today, you can download 7 Best Stocks for the Next 30 Days.
Click to get this free report
Intuit Inc. (INTU): Free Stock Analysis Report
Workday, Inc. (WDAY): Free Stock Analysis Report
Coupa Software, Inc. (COUP): Free Stock Analysis Report
Okta, Inc. (OKTA): Free Stock Analysis Report
To read this article on Zacks.com click here.
Zacks Investment Research