United Technologies: To Buy or Not to Buy
United Technologies (UTX) Stock: To Buy or Not to Buy
United Technologies UTX is diversified manufacturer operating in the building and aerospace industries. UTX's branches include the well-known Otis Elevators, Carrier HVAC, and aerospace engine builder Pratt-and-Whitney.
Big News
Recently, United Technologies and Raytheon RTN announced a merger that would make the combined company the second largest in the aerospace and defense industry, after Boeing BA. It would be worth about $166 billion with approximate annual sales of $76.7 billion. Some are worried that the new company, Raytheon Technologies, may be subject to antitrust regulation. But this becomes less likely due to the minimal overlap in products that the two companies produce.
This merger is part of a larger plan by UTX to increase profits and narrow its focus of manufacturing. UTX has announced that they will be spinning off Otis Elevators and Carrier HVAC into independent, publicly traded companies in early 2020.
The merged company will be a one-stop-shop for the aerospace and defense industry, producing everything from missiles to airplane seats. The sheer size of this new conglomerate is likely to shake up competitors, as others many other firms are currently rethinking their businesses and focusing on highly profitable units. This deal could pressure other large competitors, like General Electric GE and Honeywell International HON, to look for merger opportunities to bulk up their most profitable divisions.
Strong Past
Historically, both Raytheon and United Technologies have outperformed the conglomerates industry. Over the past two years, both firms have outpaced industry performance by a significant margin.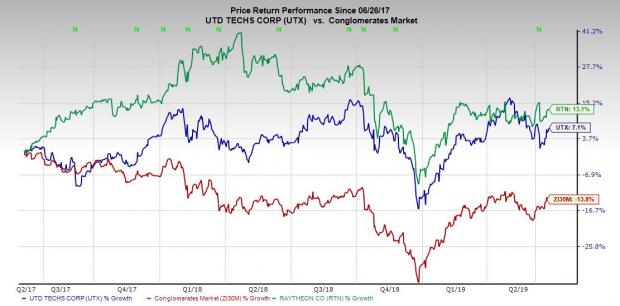 United Technologies has also topped quarterly earnings estimates over the past two years for an average earnings surprise of 9.46%, with some beats at almost 30%. United Technologies' boasts an attractive dividend. Its dividend has increased on a year-over-year basis for 4 of the past 5 years, with an average increase of 4.37%. The current annualized dividend is $2.94. The dividend is expected to increase as UTX pays out 38% of its earnings as dividend and the Zacks Consensus Estimates predict 4.73% growth this year.
Positive Outlook
United Technologies is currently a Zacks Rank #2 (Buy) with Style Scores of a "B" for Value and an "A" for Growth. The Zacks year over year sales growth estimates for UTX are very promising, with current quarter growth at 16.49% and next quarter growth at 17.31%.
The aerospace defense industry, in which the merged company will conduct a large portion of its business, is projected to grow significantly over the short and long term. The growth estimates show this industry growing 4.5% more than the S&P 500 over the next three months and a whopping 50.31% more over the next five years.
Due to this positive market outlook and the announced merger, prominent analyst firm Cowen recently upgraded UTX from a "market perform" to an "outperform" rating. Cowen also raised its UTX price target to $150, which would be a 15.22% increase from Monday's closing price.
Bottom Line
United Technologies seems to show signs that could make it an attractive buy. Among these are the recently announced merger, a very strong industry outlook, and recent positive earnings estimate revision activity. However, UTX is waiting to spin off Otis and Carrier and the merger likely will not be completed until after that. As a result, UTX stock could be put in limbo while investors wait to see how or if the deals will be completed.
More Stock News: This Is Bigger than the iPhone!

It could become the mother of all technological revolutions. Apple sold a mere 1 billion iPhones in 10 years but a new breakthrough is expected to generate more than 27 billion devices in just 3 years, creating a $1.7 trillion market.

Zacks has just released a Special Report that spotlights this fast-emerging phenomenon and 6 tickers for taking advantage of it. If you don't buy now, you may kick yourself in 2020.

Click here for the 6 trades >>

Want the latest recommendations from Zacks Investment Research? Today, you can download 7 Best Stocks for the Next 30 Days.
Click to get this free report
The Boeing Company (BA): Free Stock Analysis Report
United Technologies Corporation (UTX): Free Stock Analysis Report
Honeywell International Inc. (HON): Free Stock Analysis Report
General Electric Company (GE): Free Stock Analysis Report
Raytheon Company (RTN): Free Stock Analysis Report
To read this article on Zacks.com click here.
Zacks Investment Research