Pharma Stock Roundup: FDA Updates for RHHBY, AZN, MRK, No Asbestos in Talc Says JNJ
This week, the FDA granted approval to Roche's RHHBY cancer immunotherapy Tecentriq for expanded use in lung cancer. It also granted priority review status to AstraZeneca AZN & Merck's MRK applications looking for label expansion approvals of their PD-L1 inhibitors Imfinzi and Keytruda, respectively. Meanwhile, J&J JNJ said that two third-party labs conducted 155 tests on samples of its baby powders. All these tests confirmed that the talc does not contain asbestos, a known carcinogen.
Recap of the Week's Most Important Stories:
FDA Grants Priority Review to AstraZeneca & Merck's Supplemental Applications: AstraZeneca's supplemental biologics license application (sBLA) looking for approval of Imfinzi for the first-line treatment of extensive-stage small cell lung cancer was accepted and granted priority by the FDA. With the FDA granting priority review designation, a decision is expected in the first quarter of 2020. The sBLA was based on positive results from the phase III CASPIAN study.
The regulatory agency granted the same prestigious designation to Merck's supplemental new drug application (sNDA) seeking approval of Keytruda for a form of bladder cancer. The sNDA was based on data from the phase II KEYNOTE-057 study. Meanwhile, FDA's Oncologic Drugs Advisory Committee (ODAC) is due to discuss this sNDA at its December 17 meeting. With the FDA granting priority review, Merck expects a decision in January 2020.
Meanwhile, Glaxo's GSK HIV subsidiary, ViiV Healthcare submitted a NDA to the FDA seeking approval for its investigational candidate fostemsavir for heavily treatment-experienced patients with HIV.
J&J's Tests Say Baby Powder is Free of Asbestos: J&J's investigation conducted on the same bottle of Johnson's Baby Powder that was previously tested by the FDA found no asbestos, which allegedly caused many women to develop ovarian cancer. In early October, J&J announced a voluntary recall of one lot of its Johnson's Baby Powder. The recall was initiated following tests done by the FDA, which revealed traces of asbestos in samples from one bottle purchased online. J&J said that a total of 155 tests were conducted by two different third-party labs in the same bottle which FDA's contracted lab, Analytical Services, Inc. (AMA), had tested as well as samples from the same lot that was recalled and three lots each manufactured before and after the recall. All these tests also confirmed that the talc does not contain asbestos.
FDA Approval for Expanded Use of Roche's Tecentriq: Roche's cancer immunotherapy Tecentriq was also approved by the FDA in combination with Celgene's Abraxane and carboplatin for the first-line treatment of patients suffering metastatic non-squamous non-small cell lung cancer without EGFR or ALK genomic tumour aberrations. The approval was based on results from the phase III IMpower133 study. Tecentriq was approved for the same indication in the EU in September.
Bristol-Myers Orencia Gets FDA's Breakthrough Therapy for GvHD: The FDA granted Breakthrough Therapy status to Bristol-Myers (BMY) arthritis drug Orencia for a new indication. The prestigious designation is for the prevention of moderate-to-severe acute graft-versus-host disease, a potentially life-threatening complication after stem cell transplant.
Meanwhile, Bristol-Myers and partner Acceleron Pharma announced that an FDA advisory committee will review its sBLA seeking label expansion of newly approved rare blood disorder drug, Reblozyl in myelodysplastic syndromes (MDS). The FDA's Oncologic Drugs Advisory Committee will do so at its meeting on Dec 18. The sBLA is under review with the FDA with a decision expected on Apr 4, 2020. Reblozyl, which was added to Bristol-Myers' portfolio with the recent acquisition of Celgene, was approved by the FDA last month for the treatment of anemia in adult patients with beta thalassemia who require regular RBC transfusions.
AstraZeneca/Merck's Lynparza Approved in China for First-Line Ovarian Cancer: AstraZeneca/Merck announced that Lynparza was approved in China for first-line maintenance treatment of BRCA-mutated advanced ovarian cancer. With the approval, it became the only PARP inhibitor approved in this setting in China. It was approved in the United States and EU for the indication in late 2018 and June 2019, respectively. The regulatory filing was based on data from the phase III SOLO-1 study.
AstraZeneca announced an agreement to sell rights to Seroquel and Seroquel XR, a treatment for schizophrenia and bipolar disease in United States and Canadato Cheplapharm Arzneimittel GmbH. AstraZeneca has lost exclusivity for these medicines in these two countries. For the divestiture, AstraZeneca will get an upfront payment of $35MILLION plus future sales-contingent payments of up to $6 million. In October, AstraZeneca also sold rights to Seroquel and Seroquel XRin Europe and Russia to Cheplapharm. The transactions are part of the company's efforts to focus on its three main therapy areas of Oncology, Cardiovascular, Renal & Metabolism and Respiratory.
The NYSE ARCA Pharmaceutical Index was almost flat in the last five trading sessions.
Large Cap Pharmaceuticals Industry 5YR % Return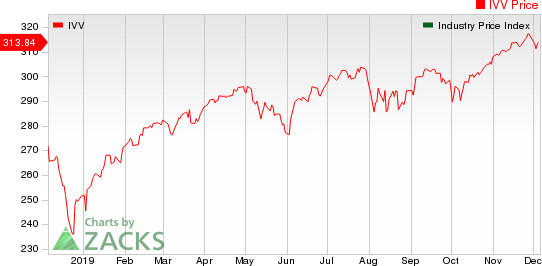 Here is how the seven major stocks performed in the last five trading sessions.

Last week, Bristol-Myers rose the most (3.5%) while AstraZeneca declined the most (2.4%).
In the past six months, Bristol-Myers has risen the most (27.6%) while Pfizer PFE lost the maximum (11.3%).
(See the last pharma stock roundup here: FDA Nod to NVS' & AZN's Drugs, BMY-CELG Merger Closes)
What's Next in the Pharma World?
Watch out for regular pipeline and regulatory updates next week.
Just Released: Zacks' 7 Best Stocks for Today
Experts extracted 7 stocks from the list of 220 Zacks Rank #1 Strong Buys that has beaten the market more than 2X over with a stunning average gain of +24.6% per year.
These 7 were selected because of their superior potential for immediate breakout.
See these time-sensitive tickers now >>
Want the latest recommendations from Zacks Investment Research? Today, you can download 7 Best Stocks for the Next 30 Days.
Click to get this free report
GlaxoSmithKline plc (GSK): Free Stock Analysis Report
AstraZeneca PLC (AZN): Free Stock Analysis Report
Merck & Co., Inc. (MRK): Free Stock Analysis Report
Pfizer Inc. (PFE): Free Stock Analysis Report
Roche Holding AG (RHHBY): Free Stock Analysis Report
Johnson & Johnson (JNJ): Free Stock Analysis Report
To read this article on Zacks.com click here.
Zacks Investment Research