Lionsgate (LGF.A) Q3 Earnings Beat Estimates, Revenues Miss
Lionsgate Entertainment LGF.A reported third-quarter fiscal 2019 adjusted earnings of 35 cents per share that beat the Zacks Consensus Estimate by a penny but decreased 27.1% from the year-ago quarter. However, the figure increased 59.1% sequentially.

Revenues declined 18.3% year over year to $933.2 million and missed the Zacks Consensus Estimate of $1.01 billion. However, the figure increased 3.6% sequentially.

Lions Gate Entertainment Corp. Price, Consensus and EPS Surprise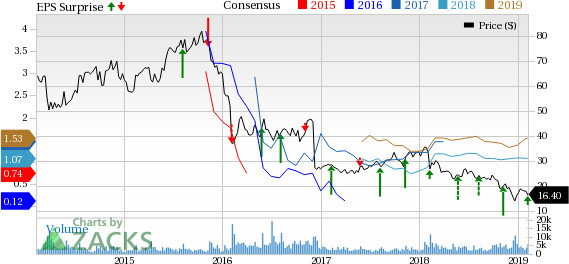 Lions Gate Entertainment Corp. Price, Consensus and EPS Surprise | Lions Gate Entertainment Corp. Quote

Segment Details

Motion Pictures (38.9% of revenues) revenues plunged 32.7% year over year to $362.6 million. The segment logged profit of $43.5 million, down 19.9% from the year-ago quarter due to underperformance of certain titles. In fact, the year-over-year comparison was unfavorable due to strong performance of Wonder in the year-ago quarter.

Television Production (23.2% of revenues) revenues were down 18.7% year over year to $216.5 million as the release of a few episodes were pushed beyond fiscal 2019. Segment profits were $21.2 million compared with $27.8 million in the prior-year quarter.

However, Lionsgate is ramping up its television content slate to become the primary content provider to streaming platforms. The company recently received a series order from Apple AAPL, which is expected to launch its own streaming service. Additionally, Comcast CMCSA owned NBC Universal pilot ordered a musical dramedy, Zoey's Extraordinary Playlist, last month. Notably, Comcast announced that it will launch a streaming service in early 2020.

The Media Networks segment (39.3% of total revenues), formed after the acquisition of Starz, reported revenues of $366.8 million, up 3.8% year over year driven by strong over-the-top (OTT) subscriber growth. Moreover, segment profit was $134.1 million, up 9.6% due to strong OTT revenues and cost efficiencies.

Starz revenues (98.7% of media revenues) increased 2.9% year over year to $362.1 million.

Domestic subscribers grew 1.1 million year over year and remained flat sequentially, taking the total domestic subscriber count to 25.1 million at the end of the quarter. OTT subscribers grew both sequentially and year over year, following the launch of premium programming like Power.

Additionally, the company noted that its strong content slate is reducing churn, which was down 27% year over year. Lionsgate continues to bring premium programming to Starz. Notably, a few of the upcoming programming for Starz includes Now Apocalypse and The Rook.

This apart, to attract traditional MVPD (multichannel video programming distributor) subscribers, Lionsgate is providing flexible packaging options to its partners. The company is modifying its packaging options to support its partners like traditional cable and satellite operators who are witnessing rapid change in the way users consume content. Additionally, the company is increasing its premium programming to boost user engagement.

This march, Starz will be launched in Canada via Bell Media's linear and OTT platforms. Notably, Bell Media is a subsidiary of BCE, Inc. BCE. Prior to this, Starz was successfully launched in UK via Liberty Global's cable platform, Virgin Media and via Amazon Prime in UK and Germany.

Moreover, the company's STARZPLAY Arabia venture currently has more than 1 million subscribers. Lionsgate is curating local film and TV content to boost its market position in the international footprint.

Streaming services (1.3%) surged 176.5% year over year to $4.7 million.

Operating Details

Adjusted OIBDA declined 3.5% from the year-ago quarter to $171.4 million. However, adjusted OIBDA margin expanded 280 basis points (bps) to 18.4%.

Operating income increased 8.2% from the year-ago quarter to $86.8 million. Operating margin expanded 230 bps on a year-over-year basis to 9.3%.

Balance Sheet & Cash Flow

As of Dec 31, cash and cash equivalents were $106.2 million compared with $372.3 million as of Sep 30. Total film obligations and production loans were $441.2 million compared with $468.3 million in the prior quarter.

Net cash used in operations was $14.2 million in the reported quarter. Net cash flow from operating activities in second-quarter fiscal 2019 was $156.5 million. The decline in the figure was due to amount paid to existing Starz Entertainment LLC shareholders per the Delaware statute and heavy investments in film and television content.

Free cash flow was $273.7 million compared with $99.5 million in the prior quarter due to improvements in working capital and receivables monetization.

Upcoming Releases

Lionsgate's Hellboy is expected to be released on Apr 12, while Long Shot is anticipated to be released in May. Additionally, John Wick: Chapter 3 – Parabellum is expected to be released in May and Midway is expected to come up in November. Moreover, Lionsgate announced that murder mystery Knives Out will be released on Nov 27, 2019.

Guidance

Management expects three-year CAGR of "mid-to-high single digits" in adjusted OIBDA. This includes annual start-up losses of $30-40 million in three international territories including UK, Canada and Germany.

Prints and advertising (P&A) expense in fourth-quarter fiscal 2019 is anticipated to be high due to pre-spend expenditure related to the release of Hellboy, Long Shot and John Wick: Chapter 3 – Parabellum in first-quarter fiscal 2020.

Lionsgate will pay about $800 million installment and more than $100 million in accrued interest to existing Starz Entertainment LLC shareholders per the Delaware statute. The company will also pay an additional $59 million to end the settlement.

Leverage will likely be in the range of 3.5X to 4X by the end of fiscal 2020.

Currently, Lionsgate sports a Zacks Rank #1 (Strong Buy). You can see the complete list of today's Zacks #1 Rank stocks here.

The Hottest Tech Mega-Trend of All

Last year, it generated $8 billion in global revenues. By 2020, it's predicted to blast through the roof to $47 billion. Famed investor Mark Cuban says it will produce "the world's first trillionaires," but that should still leave plenty of money for regular investors who make the right trades early.

See Zacks' 3 Best Stocks to Play This Trend >>
Want the latest recommendations from Zacks Investment Research? Today, you can download 7 Best Stocks for the Next 30 Days.
Click to get this free report
BCE, Inc. (BCE): Get Free Report
Comcast Corporation (CMCSA): Free Stock Analysis Report
Apple Inc. (AAPL): Get Free Report
Lions Gate Entertainment Corp. (LGF.A): Get Free Report
To read this article on Zacks.com click here.