Here's Why You Should Hold on to NuVasive (NUVA) Stock for Now
NuVasive, Inc. NUVA has been gaining on the back of a slew of product launches along with strength in its U.S. Surgical Support business. Its impressive third-quarter 2020 results buoy optimism as well. However, persistent pricing pressure and a tough competitive landscape are concerning.
Over the past year, the Zacks Rank #3 (Hold) stock has lost 27.1% versus the industry's 5.7% growth and the S&P 500's 17.8% rise.
The renowned surgical spine player has a market capitalization of $2.89 billion. The company projects 13.4% growth for the next five years and expects to maintain its strong performance. The company surpassed the Zacks Consensus Estimate for earnings in the trailing four quarters, the average surprise being 42.85%.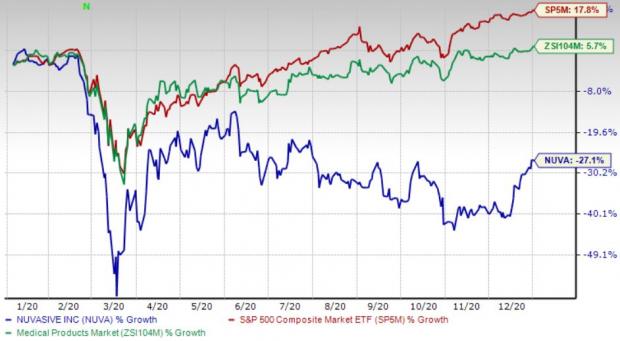 Let's delve deeper.
Product Launches: We are upbeat about the slew of product launches by NuVasive. The company, in November 2020, unveiled its new C360 cervical spine portfolio, which included the commercial launch of the Anterior Cervical Plating ("ACP") system. Notably, the ACP system features the thinnest plate till date currently available in the market. The same month, NuVasive commercially launched Cohere XLIF, which is the first Porous PEEK interbody introduced for use in eXtreme Lateral Interbody Fusion ("XLIF") and X360 surgeries.
Another notable product launch is the limited availability of the latest Precice Plate for use in limb lengthening and reconstruction procedures from NuVasive Specialized Orthopedics, which was announced in September.
U.S. Surgical Support Prospects Solid: NuVasive's buyout of Safe Passage in 2019 is encouraging for its Surgical Support business. Per management, the market is gradually experiencing greater adoption and rising demand for its offering of surgical alternatives with less tissue disruption. NuVasive continues to focus on unique spine offerings. Despite the pandemic-led business disruptions, the company witnessed a thoracolumbar case volume improvement throughout the third quarter.
Strong Q3 Results: NuVasive's better-than-expected results in third-quarter 2020 buoy optimism. The company experienced a faster-than-expected recovery from the impact of COVID-19. The results were primarily driven by strong international growth. Surgical case volumes in key international markets like Japan and Germany and certain regions in the European Union accelerated. Also, the FDA's 510(k) clearance for NuVasive's thoracolumbar interbody portfolio to include the treatment of multi-level sagittal deformities of the thoracolumbar spine in November buoys optimism.
Downsides
Persistent Pricing Pressure: Pricing continues to remain a major headwind for NuVasive as it experiences declining prices for its products due to intensifying competition in the spine market. Pricing pressure experienced by hospital customers from managed care organizations, insurance providers and other third-party payers is a persistent headwind. Also, increased market power of hospital customers as the medical device industry consolidates, is another source of pricing pressure.
Stiff Competition: NuVasive competes with a large number of players, making the medical devices market intensely competitive. The orthopedic industry, in particular, is highly competitive with the presence of bellwethers like Medtronic plc MDT.
Estimate Trend
NuVasive has been seeing a negative estimate revision trend for 2021. Over the past 90 days, the Zacks Consensus Estimate for its earnings has moved 4.8% south to $2.36.
The Zacks Consensus Estimate for its fourth-quarter 2020 revenues is pegged at $304.8 million, suggesting an 1.8% fall from the year-ago number.
Key Picks
Some other better-ranked stocks from the broader medical space are Hologic, Inc. HOLX and IDEXX Laboratories, Inc. IDXX.
Hologic's long-term earnings growth rate is estimated at 17.4%. The company presently carries a Zacks Rank #1 (Strong Buy). You can see the complete list of today's Zacks #1 Rank stocks here.
IDEXX's long-term earnings growth rate is estimated at 15.8%. It currently carries a Zacks Rank #2 (Buy).
These Stocks Are Poised to Soar Past the Pandemic
The COVID-19 outbreak has shifted consumer behavior dramatically, and a handful of high-tech companies have stepped up to keep America running. Right now, investors in these companies have a shot at serious profits. For example, Zoom jumped 108.5% in less than 4 months while most other stocks were sinking.
Our research shows that 5 cutting-edge stocks could skyrocket from the exponential increase in demand for "stay at home" technologies. This could be one of the biggest buying opportunities of this decade, especially for those who get in early.
See the 5 high-tech stocks now>>
Want the latest recommendations from Zacks Investment Research? Today, you can download 7 Best Stocks for the Next 30 Days.
Click to get this free report
Medtronic PLC (MDT): Free Stock Analysis Report
Hologic, Inc. (HOLX): Free Stock Analysis Report
NuVasive, Inc. (NUVA): Free Stock Analysis Report
IDEXX Laboratories, Inc. (IDXX): Free Stock Analysis Report
To read this article on Zacks.com click here.