Pharma Stock Roundup: JNJ & NVS' Q2 Earnings, Pipeline/Regulatory Updates in Focus
This week marked the start of the second-quarter earnings season for the pharma space with J&J JNJ and Novartis NVS releasing their results. Meanwhile, the FDA granted approval to Merck's MRK new antibiotic, Recarbrio; issued a complete response letter (CRL) to AstraZeneca's AZN Farxiga for type-I diabetes and gave priority review to Novartis' sickle cell pain crisis candidate, crizanlizumab.
Recap of the Week's Most Important Stories
Inside J&J & Novartis' Q2 Earnings: J&J beat estimates for both earnings and sales in the second quarter of 2019 and raised full-year operational sales growth guidance for the second time this year. Its Pharma segment continued to perform well despite currency headwinds and the impact of biosimilar and generic competition on sales of some key drugs like Remicade and Zytiga. The decent sales performance was led by the company's oncology drugs Imbruvica and Darzalex as well as psoriasis treatment, Stelara. Meanwhile, the Consumer segment also showed some improvement in the second quarter.
Novartis' earnings and sales also beat estimates and the company raised its guidance for the year. Its Pharmaceuticals business unit grew 10% driven by performance of key drugs like Cosentyx, Entresto and Lutathera while the Sandoz division rose 1% as strong uptake of biosimilars was offset by price erosion in the United States.
FDA Approves Merck's New Antibiotic Recarbrio: The FDA granted approval to Merck's new combination antibacterial injection, MK-7655A, which is a fixed combination of relebactam with imipenem/cilastatin. The medicine, to be marketed as Recarbrio, is approved for the treatment of adults with complicated urinary tract infections and complicated intra-abdominal bacterial infections caused by certain susceptible gram-negative bacteria in patients who have limited or no alternative therapeutic options
AstraZeneca's Farxiga Gets CRL for Type-I Diabetes: The FDA issued a CRL to AstraZeneca's supplemental new drug application (sNDA) looking for approval of its type-II diabetes drug Farxiga for type-I diabetes (T1D). The sNDA was based on data from the phase III DEPICT study for Farxiga in T1D. Forxiga (trade name of Farxiga in Europe) was approved for T1D in the EU in March.
Meanwhile, the FDA granted an orphan drug designation to AstraZeneca's PD-L1 inhibitor, Imfinzi (durvalumab), for the treatment of patients with extensive-stage small cell lung cancer, the most aggressive type of lung cancer.
FDA Grants Priority Review to Novartis' Sickle Cell Pain Crisis Candidate: The FDA granted priority review designation to Novartis' biologics license application (BLA) for its pipeline candidate crizanlizumab (SEG101). Novartis is looking for approval of crizanlizumab to prevent pain crisis (also called vaso-occlusive crises, or VOCs) in patients with sickle cell disease. With the FDA granting a priority review designation to the BLA, a decision is expected in the next six months.
FDA Accepts Allergan's NDA for Bimatoprost SR: The FDA accepted Allergan's AGN NDA looking for approval of Bimatoprost Sustained-Release (Bimatoprost SR) for treatment of open-angle glaucoma or ocular hypertension. Bimatoprost SR, an investigational implant, has been developed as the first sustained-release drop-free treatment option for lowering intraocular pressure in patients with open-angle glaucoma or ocular hypertension. The FDA is expected to give its decision in the first half of 2020.
J&J Files for Approval of Subcutaneous Darzalex: J&J filed an application with the FDA looking for approval of a subcutaneous formulation of its multiple myeloma drug, Darzalex. The BLA was based on data from the phase III COLUMBA study. Data from the study presented in June showed non-inferiority of the subcutaneous formulation, both as a monotherapy and as a combination medicine, compared to the currently approved formulation of intravenous administration.
Glaxo's Zejula Meets Main Goal in Late-Stage Study: Glaxo's GSK phase III PRIMA study, evaluating Zejula (niraparib) for patients with ovarian cancer in first-line maintenance setting, met the primary endpoint. Data from the study showed that treatment with its PARP inhibitor, Zejula led to a statistically significant improvement in progression-free survival in women regardless of their biomarker status, thereby meeting the study's primary endpoint. Zejula was added to Glaxo's portfolio following the acquisition of Tesaro earlier this year.
AbbVie Buys Mavupharma to Boost Cancer Pipeline: AbbVie ABBV announced the acquisition of Seattle-based private drug discovery company, Mavupharma for an undisclosed amount. The acquisition is expected to enhance AbbVie's early-stage oncology pipeline. Mavupharma is focused on novel approaches to target the STING pathway for the treatment of cancer that could result in the development of transformative medicines to treat cancer.
Bristol-Myers/Bayer Collaborate: Bristol-Myers announced an agreement with Bayer and Ono Pharmaceutical to evaluate a combination of Bayer's kinase inhibitor Stivarga (regorafenib) and Bristol-Myers's PD-L1 inhibitor Opdivo (nivolumab) in patients with micro-satellite stable metastatic colorectal cancer. The terms of the collaboration were not discussed.
The NYSE ARCA Pharmaceutical Index declined 0.6% in the last five trading sessions.
Large Cap Pharmaceuticals Industry 5YR % Return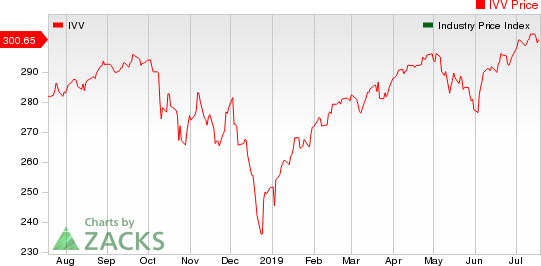 Here is how the seven major stocks performed in the last five trading sessions:

Merck recorded the highest rally (2.1%) while J&J declined the most (5.8%)
In the past six months, AstraZeneca has been the biggest gainer (11.4%) while Bristol-Myers declined the most (12.1%).
(See the last pharma stock roundup here: Pipeline & Regulatory Updates by MRK, GSK, SNY)
What's Next in the Pharma World?
Watch out for second-quarter earnings of Bristol-Myers, AbbVie, Glaxo, AstraZeneca and others and regular pipeline and regulatory updates next week.
Looking for Stocks with Skyrocketing Upside?
Zacks has just released a Special Report on the booming investment opportunities of legal marijuana.
Ignited by new referendums and legislation, this industry is expected to blast from an already robust $6.7 billion to $20.2 billion in 2021. Early investors stand to make a killing, but you have to be ready to act and know just where to look.
See the pot trades we're targeting>>
Want the latest recommendations from Zacks Investment Research? Today, you can download 7 Best Stocks for the Next 30 Days.
Click to get this free report
Merck & Co., Inc. (MRK): Free Stock Analysis Report
AstraZeneca PLC (AZN): Free Stock Analysis Report
Novartis AG (NVS): Free Stock Analysis Report
Johnson & Johnson (JNJ): Free Stock Analysis Report
AbbVie Inc. (ABBV): Free Stock Analysis Report
GlaxoSmithKline plc (GSK): Free Stock Analysis Report
Allergan plc (AGN): Free Stock Analysis Report
To read this article on Zacks.com click here.
Zacks Investment Research