Arthur J. Gallagher (AJG) Expands in New York With MTIA Buyout
Arthur J. Gallagher & Co. AJG has inked an agreement to buy M&T Insurance Agency, Inc. ("MTIA"). The transaction, pending approval, is expected to see light in the fourth quarter of 2022.

Buffalo, NY-based M&T Insurance Agency is an indirect subsidiary of M&T Bank Corporation and was founded in 1955. MTIA is a retail insurance agency that provides property and casualty products, customized group benefits and surety solutions to clients in the Northeast and mid-Atlantic. The buyout, after it materializes, will help the acquirer expand in New York. Also, AJG will become the preferred insurance broking partner of M&T Bank.

Arthur J. Gallagher boasts an impressive inorganic story. This Zacks Rank #3 (Hold) made six buyouts in the third quarter of 2022 and 13 new tuck-in brokerage mergers, representing about $87 million of estimated annualized revenues in the first half of 2022. AJG has a strong merger and acquisition pipeline with about $250 million of revenues, associated with about 40 term sheets either agreed upon or being prepared.

Arthur J. Gallagher's revenues are geographically diversified with strong domestic and international operations and a compelling product and service portfolio. A solid capital position supports AJG in its growth initiatives and it thus remains focused on continuing its tuck-in mergers and acquisitions.

This insurance broker remains focused on long-term growth strategies for delivering organic revenue improvement and pursuing strategic mergers and acquisitions. AJG is focused on productivity improvements and quality enhancements that should help it post sturdy numbers in the future.

Shares of Arthur J. Gallagher have gained 0.8% year to date against the industry's 9.2% decline. The efforts to ramp up its growth profile and capital position should continue to drive the share price higher.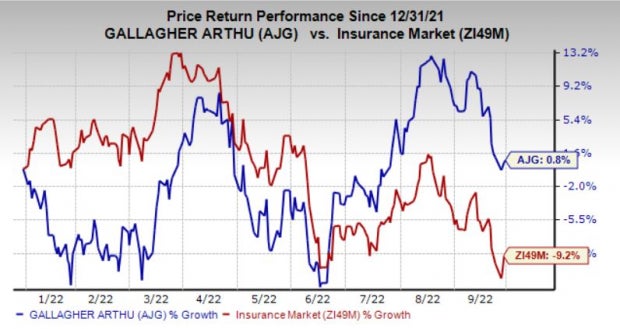 Image Source: Zacks Investment Research
Given the insurance industry's adequate capital level, players like Brown and Brown Inc. BRO, Sun Life Financial Inc. SLF and Marsh & McLennan Companies, Inc. MMC have been pursuing strategic mergers and acquisitions.

Brown & Brown, Inc.'s subsidiary, Brown & Brown of Massachusetts, Inc. has purchased Smithwick & Mariners Insurance, MidCoast Insurance and Chapman & Chapman Insurance. The addition of Smithwick & Mariners will boost Brown & Brown's presence in parts of England.

Brown & Brown and its subsidiaries continuously make strategic acquisitions to expand globally, add capabilities and boost operations. Also, these strategic buyouts help Brown & Brown increase commissions and fees, which, in turn, drive revenues.

Sun Life has agreed to acquire a 51% interest in Advisors Asset Management, Inc. ("AAM") for $214 million (C$280 million). The acquisition of AAM will enable SLF to extend its top-notch alternative investment capabilities to new clients.
Sun Life considers acquisitions a prudent approach to ramp up its growth profile. Strategic buyouts have positioned it as the second-largest dental network in the United States, consolidated its footprint in Vietnam, Indonesia and India, and expanded its wealth business in Hong Kong.

Marsh & McLennan Companies, Inc.'s subsidiary, Marsh McLennan Agency acquired a leading independent agency, Steinberg & Associates, Inc., to expand and enhance its personalized client service approach within the Mid-Atlantic region.

Acquisitions are one of the core growth strategies of Marsh & McLennan, helping it expand product offerings, benefit customers and strengthen its global presence.

You can see the complete list of today's Zacks #1 Rank (Strong Buy) stocks here.
This Little-Known Semiconductor Stock Could Be Your Portfolio's Hedge Against Inflation
Everyone uses semiconductors. But only a small number of people know what they are and what they do. If you use a smartphone, computer, microwave, digital camera or refrigerator (and that's just the tip of the iceberg), you have a need for semiconductors. That's why their importance can't be overstated and their disruption in the supply chain has such a global effect. But every cloud has a silver lining. Shockwaves to the international supply chain from the global pandemic have unearthed a tremendous opportunity for investors. And today, Zacks' leading stock strategist is revealing the one semiconductor stock that stands to gain the most in a new FREE report. It's yours at no cost and with no obligation.
>>Yes, I Want to Help Protect My Portfolio During the Recession
Want the latest recommendations from Zacks Investment Research? Today, you can download 7 Best Stocks for the Next 30 Days.
Click to get this free report
Marsh & McLennan Companies, Inc. (MMC): Free Stock Analysis Report
Arthur J. Gallagher & Co. (AJG): Free Stock Analysis Report
Brown & Brown, Inc. (BRO): Free Stock Analysis Report
Sun Life Financial Inc. (SLF): Free Stock Analysis Report
To read this article on Zacks.com click here.
Zacks Investment Research