Ameren (AEE) to Add 200 MW Extra Renewable Energy Generation
Ameren Corporation AEE announced that its unit — Ameren Missouri — received approval from the Missouri Public Service Commission (PSC) to proceed with the Renewable Choice Program. The program will promote the usage of renewable energy and enable the company to cater to customers' 100% energy requirement from clean sources.

This program will also permit Ameren Missouri to add 200 Megawatt (MW) renewable generation in its portfolio, after receiving commitments from customers for their renewable energy needs.

Plans to Reduce Emission

Ameren Missouri has been striving to increase generation from cleaner source and its Integrated Resource Plan (IRP) is a 20-year program to promote cleaner energy in Missouri. IRP verifies the estimated energy needs of customers in every three years. It also suggests the appropriate way to supply energy, considering the transition to clean energy sources like solar and wind power that are cost effective.

The company aims to add at least 700MW of wind generation in Missouri by 2020 and promote usage of green energy. Ameren Missouri targets to lower emission level by 35% by 2030. It is a significant improvement from 2014 IRP's level of 15%.

Transition in Utility Space

The utility sector is currently undergoing a notable transition. Utilities are shifting to renewables through the replacement of coal by natural gas and clean energy. Per an Energy Information Administration (EIA) report, total renewable energy consumption will increase 3.8% to 11.431 quadrillion btu in 2018 from the prior-year level. Higher utilization of renewable sources will reduce coal usage for electricity generation and lower emission.

Many electric utility companies are investing or making agreements to increase the usage of alternate energy sources to generate power. Recently, NextEra Energy's NEE subsidiary — NextEra Energy Resources — announced a renewable energy partnership program with AT&T Inc T to acquire 300 MW of wind energy from two new wind farms in Wilbarger and Hardeman Counties, Texas. Similarly, to cater to the demand of its commercial and industrial customers, NRG Energy Inc NRG and Cypress Creek Renewables will jointly develop a 25 MW solar project in Texas.

Zacks Rank & Price Movement

Ameren carries a Zacks Rank #2 (Buy). You can see the complete list of today's Zacks #1 Rank (Strong Buy) stocks here.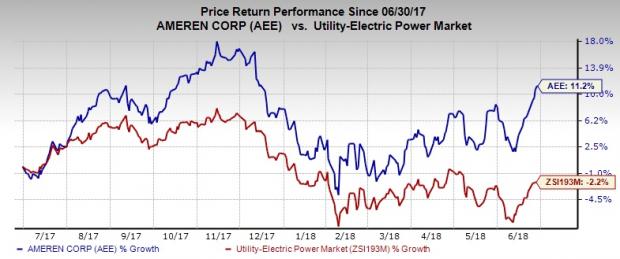 Ameren's stock has gained 11.2% in a year, against the industry's decline of 2.2%.
Wall Street's Next Amazon

Zacks EVP Kevin Matras believes this familiar stock has only just begun its climb to become one of the greatest investments of all time. It's a once-in-a-generation opportunity to invest in pure genius.

Click for details >>
Want the latest recommendations from Zacks Investment Research? Today, you can download 7 Best Stocks for the Next 30 Days.
Click to get this free report
Ameren Corporation (AEE): Free Stock Analysis Report
NextEra Energy, Inc. (NEE): Free Stock Analysis Report
NRG Energy, Inc. (NRG): Free Stock Analysis Report
AT&T Inc. (T): Free Stock Analysis Report
To read this article on Zacks.com click here.
Zacks Investment Research