Lumber Liquidators (LL) & NFCAP Unite to Help Professionals
In a bid to help flooring contractors and advance the profession with its resources and professional networks, Lumber Liquidators Holdings, Inc. LL or LL Flooring has entered into an alliance with the National Flooring Contractors Apprenticeship Program (NFCAP).

LL Flooring is the first national retailer to partner with the apprenticeship program. Its resources and professional networks will be open for apprentices across the country, which will be mentored by various flooring contractors. Along with donating products, LL Flooring will allow access to its website and marketing channels, advise on the curriculum as well as provide direct financial support to grow the program.

Damien McGaugh, senior vice president of sales at LL Flooring, said, "Installation services represent a core value we provide our customers, and we are excited to support future-facing programs like the NFCAP that are attracting and educating a new pool of installation talent." He continued, "We have a broad LL network of professional installers and contractors who understand the importance of taking pride in quality craftsmanship, which we're eager to foster in this upcoming generation."

NFCAP, in conjunction with the Department of Labor and the National Job Corps, is connecting with various vocational schools and training programs in the country to reach interested young tradespeople and influence them for certification. Currently, it has apprenticeships underway in California. Also, the program is fully approved in Texas and is on track for approval in Florida, Illinois, and Nevada.

LL Flooring — a multi-channel specialty retailer of hard-surface flooring, and hard-surface flooring enhancements and accessories — has been providing both superior-quality products and services to customers. The company is highly dedicated to help build, and train a new generation of high-quality installers and contractors who take pride in their craftsmanship to address the future need of nearly 200,000 installers as well as contractors.

For the second quarter, its net sales increased 30.9% year over year on strong pro customer and services sales. Comps also grew 31.3% from the prior year and 10.0% on a two-year stack basis. Adjusted operating margin expanded 280 basis points backed by more efficient marketing spend and disciplined expense management. Encouragingly, adjusted earnings increased a whopping 310% year over year.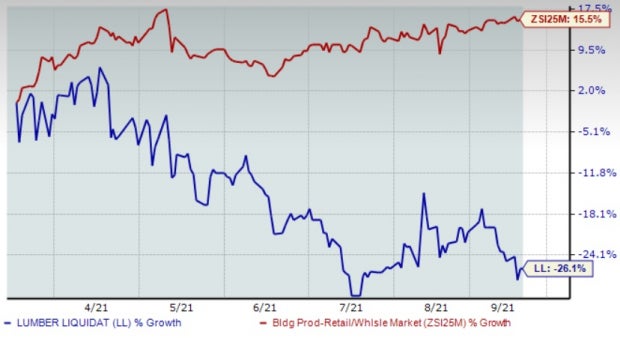 Image Source: Zacks Investment Research
Shares of this Zacks Rank #5 (Strong Sell) company have underperformed the industry in the past six months. LL Flooring — which shares space with Fastenal Company FAST in the same industry — has been witnessing supply chain disruptions, and related higher transportation and materials costs.

Nonetheless, estimates for 2021 earnings have moved 0.8% upward in the past 30 days, solidifying its growth prospects. The recent move is likely to boost investors' sentiments.

You can see the complete list of today's Zacks #1 Rank (Strong Buy) stocks here.
Key Picks
Some better-ranked stocks in the same industry include GMS Inc. GMS and Tecnoglass Inc. TGLS, both sporting a Zacks Rank #1.

GMS and Tecnoglass' earnings for the current year are expected to rise 51.1% and 74.7%, respectively.
Zacks Names "Single Best Pick to Double"
From thousands of stocks, 5 Zacks experts each have chosen their favorite to skyrocket +100% or more in months to come. From those 5, Director of Research Sheraz Mian hand-picks one to have the most explosive upside of all.
You know this company from its past glory days, but few would expect that it's poised for a monster turnaround. Fresh from a successful repositioning and flush with A-list celeb endorsements, it could rival or surpass other recent Zacks' Stocks Set to Double like Boston Beer Company which shot up +143.0% in a little more than 9 months and Nvidia which boomed +175.9% in one year.
Free: See Our Top Stock and 4 Runners Up >>
Want the latest recommendations from Zacks Investment Research? Today, you can download 7 Best Stocks for the Next 30 Days.
Click to get this free report
Fastenal Company (FAST): Free Stock Analysis Report
Lumber Liquidators Holdings, Inc (LL): Free Stock Analysis Report
Tecnoglass Inc. (TGLS): Free Stock Analysis Report
GMS Inc. (GMS): Free Stock Analysis Report
To read this article on Zacks.com click here.
Zacks Investment Research