IBM, Telefonica to Build Cloud-Based 5G Core Network Platform
International Business Machines Corporation IBM has been awarded a multi-year agreement to help in building Telefonica's first-ever Unica Next cloud-based 5G core network platform using IBM intelligent automation software and services.

Telefonica has engaged IBM Global Business Services — the consultancy arm of IBM, Red Hat OpenShift and Juniper Networks Apstra, and QFX technology — to deploy an open-standard open-networking platform across multiple central, regional, and distributed data centers to deliver low latency and high bandwidth services.

Telefonica expects to increase agility and data security with IBM's large network function ecosystem, Red Hat's vast ecosystem of certified partners, and Juniper's relationships with network function and hardware vendors.

The integration of IBM Cloud Pak for Network Automation software with UNICA Next allows for intent-driven orchestration, supporting the end-to-end lifecycle management of different network cloud elements and network functions, including 5G core.

The deployment of UNICA Next data centers is expected to start in October 2021 and its scalable architecture is designed to address ETSI and other relevant industry standards. Telefonica has already deployed a live implementation using the IBM Cloud for Telecommunications in Europe.
International Business Machines Corporation Price and Consensus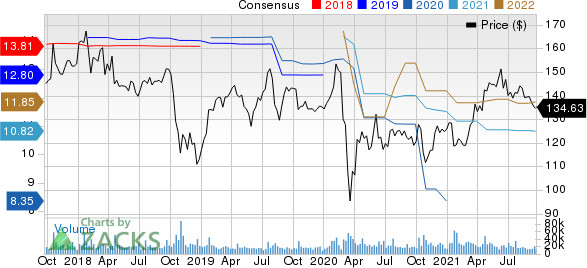 International Business Machines Corporation price-consensus-chart | International Business Machines Corporation Quote
Increasing Adoption of Automation Offerings Boosts Prospects
IBM is focused on improving its AI-powered automation offerings. In June, this Zacks Rank #3 (Hold) company introduced a hybrid cloud AI-powered automation software for telcos. This software can be accessed through the new IBM Cloud Pak for Network Automation, which is engineered to run in a wide range of environments on Red Hat OpenShift. You can see the complete list of today's Zacks #1 Rank (Strong Buy) stocks here.

The acquisition of Turbonomic complements IBM's takeover of Instana for APM and observability, and the launch of IBM Cloud Pak for Watson AIOps to automate IT operations using AI. The company plans to integrate Turbonomic's ARM software with the APM and real-time observability capabilities of Instana and the ITOps capabilities of IBM Cloud Pak for Watson AIOps to help customers assure application performance and minimize costs by driving optimization across development, test, and production environments.

IBM has also collaborated with Telefonica to create a virtual assistant and a blockchain platform based on open hybrid cloud technologies. These solutions will help enterprises streamline customer services and improve how companies trace their assets throughout the supply chain.

IBM's expanded push into AIOps comes as a growing number of players are adding AI-based automation including Cisco-AppDynamics, Splunk SPLK, Datadog DDOG, Micro Focus, BigPanda, Moogsoft, and PagerDuty PD.

Nonetheless, in addition to improving AI-powered automation offerings, IBM is growing its cloud business. The company considers hybrid cloud to have enormous revenue-generating potential. According to a Mordor Intelligence report, the hybrid cloud market is expected to witness a CAGR of 18.73% over the 2021-2026 period.

However, escalating costs of the hybrid cloud platform amid intensifying competition in the cloud vertical from dominant players like AWS, Azure, and Google Cloud pose a major headwind.
More Stock News: This Is Bigger than the iPhone!
It could become the mother of all technological revolutions. Apple sold a mere 1 billion iPhones in 10 years but a new breakthrough is expected to generate more than 77 billion devices by 2025, creating a $1.3 trillion market.
Zacks has just released a Special Report that spotlights this fast-emerging phenomenon and 4 tickers for taking advantage of it. If you don't buy now, you may kick yourself in 2022.
Click here for the 4 trades >>
Want the latest recommendations from Zacks Investment Research? Today, you can download 7 Best Stocks for the Next 30 Days.
Click to get this free report
International Business Machines Corporation (IBM): Free Stock Analysis Report
Splunk Inc. (SPLK): Free Stock Analysis Report
PagerDuty Inc. (PD): Free Stock Analysis Report
Datadog, Inc. (DDOG): Free Stock Analysis Report
To read this article on Zacks.com click here.
Zacks Investment Research