Emergent (EBS) Inks COVID-19 Manufacturing Deal With Providence
Emergent BioSolutions Inc. EBS announced that it has signed a five-year agreement with Canada-based Providence Therapeutics to provide development and manufacturing services related to the latter's mRNA-based COVID-19 vaccine candidate. Emergent's services will include development services, bulk drug substance formulation, and drug product manufacturing.
Per the deal, Emergent will manufacture tens of millions of doses of the vaccine candidate in 2022 along with the bulk drug substance of the vaccine formulation that can yield hundreds of millions more doses. The deal is worth approximately $90 million currently, which will cover manufacturing services and supply chain studies among others.
Currently, Providence Therapeutics is evaluating its mRNA-based COVID-19 vaccine candidate, PTX-COVID19-B, in a phase II study in Canada. The company successfully completed a phase I study that evaluated PTX-COVID19-B in seronegative individuals aged 18 to 64 years. Data from the study demonstrated that the vaccine was safe and exhibited strong virus neutralization capability. The study evaluated three doses — 16µg, 40µg, and 100µg — of the candidate and based on study results, the company chose the 40 µg dose for the ongoing phase II study. The company plans to initiate early-stage studies to evaluate the vaccine candidate in the adolescent and elderly population.
Emergent's shares have declined 36.1% so far this year compared with the industry's decrease of 0.8%.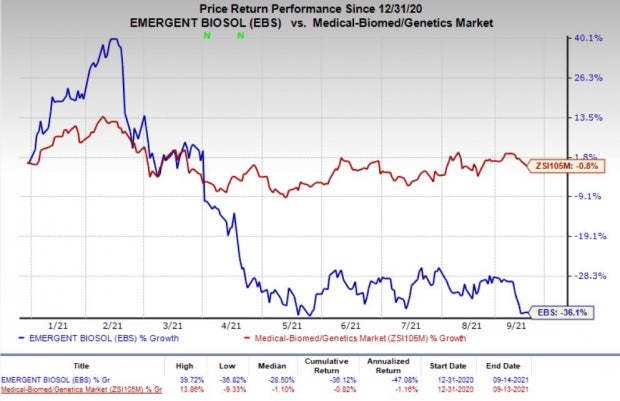 Image Source: Zacks Investment Research
Emergent is one of the leading contract manufacturers based in the United States. It has signed multiple agreements with several pharma/biotech companies including J&J JNJ to provide development and manufacturing services for their COVID-19 vaccines. Some of its deals are also backed by the Biomedical Advanced Research and Development Authority.
Several contract development and manufacturing (CDMO) services agreements drove the company's revenues in the second quarter of 2021. Revenues from CDMO services surged 160% year over year to $190.9 million. The company expects CDMO services revenues to be between $765 million and $875 million for 2021.
We note that Emergent had received a setback earlier this year when there was a manufacturing mishap at its Bayview facility where COVID-19 vaccine ingredients of J&J and AstraZeneca AZN reportedly got mixed and led to several faulty batches of J&J's vaccine. Emergent lost its contract for AstraZeneca's vaccine following the mishap. The production of J&J's vaccine at the Bayview facility was also temporarily halted but it was allowed to start the service by the FDA in July.
Emergent Biosolutions Inc. Price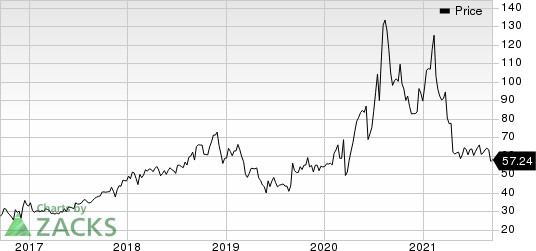 Emergent Biosolutions Inc. price | Emergent Biosolutions Inc. Quote
Zacks Rank & Stocks to Consider
Emergent currently has a Zacks Rank #3 (Hold).
Vertex Pharmaceuticals Incorporated VRTX is a better-ranked company from the biotech sector, sporting a Zacks Rank #1 (Strong Buy). You can see the complete list of today's Zacks #1 Rank stocks here.
Vertex's earnings estimates have moved north from $11.22 to $12.37 for 2021 and from $12.24 to $13.13 for 2022 over the past 30 days.
Time to Invest in Legal Marijuana
If you're looking for big gains, there couldn't be a better time to get in on a young industry primed to skyrocket from $17.7 billion back in 2019 to an expected $73.6 billion by 2027.
After a clean sweep of 6 election referendums in 5 states, pot is now legal in 36 states plus D.C. Federal legalization is expected soon and that could be a still greater bonanza for investors. Even before the latest wave of legalization, Zacks Investment Research has recommended pot stocks that have shot up as high as +285.9%.
You're invited to check out Zacks' Marijuana Moneymakers: An Investor's Guide. It features a timely Watch List of pot stocks and ETFs with exceptional growth potential.
Today, Download Marijuana Moneymakers FREE >>
Want the latest recommendations from Zacks Investment Research? Today, you can download 7 Best Stocks for the Next 30 Days.
Click to get this free report
AstraZeneca PLC (AZN): Free Stock Analysis Report
Johnson & Johnson (JNJ): Free Stock Analysis Report
Vertex Pharmaceuticals Incorporated (VRTX): Free Stock Analysis Report
Emergent Biosolutions Inc. (EBS): Free Stock Analysis Report
To read this article on Zacks.com click here.
Zacks Investment Research