NEOGEN's (NEOG) New Test to Identify Coronavirus in Wastewater
NEOGEN Corporation NEOG recently announced the launch of its Early Warning COVID-19 Testing for wastewater. Notably, the piloted, accurate and reliable test is expected to monitor the presence of the COVID-19 virus, SARS-CoV-2, in sludge from wastewater facilities.
For investors' note, the Early Warning test is based on technology stemming from the research and innovation of experts at RAIN Incubator, a biotechnology solutions provider based in Tacoma, WA.
It should be noted that, with respect to wastewater testing to detect the presence of the COVID-19 virus, QIAGEN N.V. QGEN has also been expanding its portfolio. The company has added QIAcuity One-Step Viral RT-PCR Kit to its growing portfolio of COVID-19 testing solutions for wastewater and mutation testing in January this year.
Other notable offerings from NEOGEN include disinfectants (including Synergize and COMPANION), cleaners and hand sanitizers.
The launch of the test, which marks NEOGEN's entry into wastewater testing, is expected to strengthen its fight against the global pandemic along with significantly boosting its genomics-based diagnostic technology arm. Notably, the genomics-based diagnostic technology arm is a component of the broader Food Safety business.
Significance of the Launch
Per management, the new test is expected to become a key tool for medical experts to combat COVID-19. The test can provide accurate results that enable the fast identification of new types of outbreaks along with providing early signals of potential infections and surges within facilities.
Management is optimistic about the test's capabilities to systematically check more people for infections. Further, the test is ready to be deployed to municipalities, colleges, food processing, transportation and other industries so that routine monitoring can be implemented in order to keep businesses open.
Management also believes that since early warning reduces time, costs and risk, the fast identification of areas of emerging infection via sewage testing will enable teams and their communities to anticipate a surge of viral infections before the actual beginning.
Industry Prospects
Per a report by Fortune Business Insights, the global water and wastewater treatment market was $265.30 billion in 2018 and is expected to reach $456.68 billion by 2026 at a CAGR of 7.1%. The unrelenting spread of COVID-19 infections is highlighting the need for fast identification of new types of outbreaks as well as detection of early signs of potential infections and rise in infection cases within facilities. This factor is expected to drive the market.
Given the market potential, the launch of the test is expected to significantly boost NEOGEN's business on a global scale.
Recent Developments in Food Safety
Of late, NEOGEN has been witnessing a few developments in this business arm.
The company announced the launch of Reveal Q+ for the Aflatoxin M1 test — a faster and easier test to detect the presence of cancer-causing toxin aflatoxin M1 in January this year. The same month, NEOGEN completed its acquisition of Ireland-based Megazyme, Ltd., a renowned supplier of analytical solutions to quality control laboratories in the global food and beverage industry.
The company, during its fiscal 2021 second-quarter earnings call in December 2020, witnessed a robust performance by the food safety segment. The uptick in segmental revenues primarily resulted from strength in its sales of Soleris microbial testing system — Soleris Next Generation, and Listeria Right Now test system.
The same month, NEOGEN developed the new Reveal tests for horse, beef, sheep and poultry to determine meat speciation in raw meat and environmental samples in just a few minutes.
Price Performance
Shares of the company have gained 21.6% in the past year compared with the industry and S&P 500's 10.2% and 18.4% growth, respectively.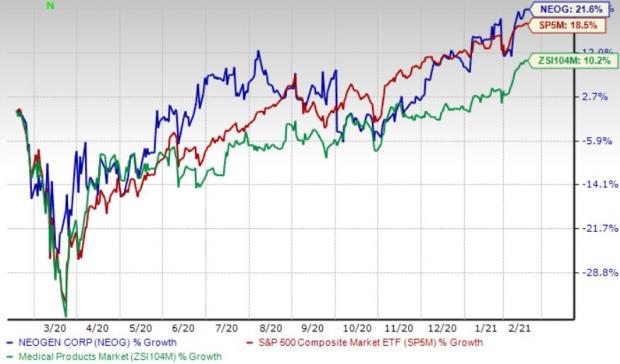 Zacks Rank & Stocks to Consider
Currently, NEOGEN carries a Zacks Rank #5 (Strong Sell).
Some better-ranked stocks from the broader medical space are Hologic, Inc. HOLX and IDEXX Laboratories, Inc. IDXX.
Hologic's long-term earnings growth rate is estimated at 15.4%. The company presently carries a Zacks Rank #1 (Strong Buy). You can see the complete list of today's Zacks #1 Rank stocks here.
IDEXX's long-term earnings growth rate is estimated at 15.8%. It currently carries a Zacks Rank #2 (Buy).
The Hottest Tech Mega-Trend of All
Last year, it generated $24 billion in global revenues. By 2020, it's predicted to blast through the roof to $77.6 billion. Famed investor Mark Cuban says it will produce "the world's first trillionaires," but that should still leave plenty of money for regular investors who make the right trades early.
See Zacks' 3 Best Stocks to Play This Trend >>
Want the latest recommendations from Zacks Investment Research? Today, you can download 7 Best Stocks for the Next 30 Days.
Click to get this free report
Hologic, Inc. (HOLX): Free Stock Analysis Report
QIAGEN N.V. (QGEN): Free Stock Analysis Report
Neogen Corporation (NEOG): Free Stock Analysis Report
IDEXX Laboratories, Inc. (IDXX): Free Stock Analysis Report
To read this article on Zacks.com click here.
Zacks Investment Research