Comcast (CMCSA) in Talks to Acquire Free-Video Streamer Xumo
Comcast Corporation CMCSA is in advanced discussions to acquire Xumo Inc, a free, ad-supported streaming service owned by Panasonic and Meredith MDP, per a Wall Street Journal report. The financial details of a potential pact were unavailable.

Xumo offers a range of free live and on-demand channels on more than 30 platforms, including Roku devices and smart TVs from Panasonic, LG, Vizio, Sanyo, Hisense and others.

Notably, the company inked a partnership with Xumo in 2019 to add the latter's app to Comcast Xfinity TV set-top boxes.

Portfolio Strength to Aid Subscriber Growth

Comcast's acquisition of Xumo is in line with its focus on offering superior content. The move is expected to aid the company in acquiring new video subscribers and retain its existing ones.

Xumo has a U.S. distribution footprint of more than 35 million households, with 5.5 million monthly active users as of the spring of 2019, per a Variety report. The company offers 90 different channels including newly launched music channels, stand-up comedy, sports, news coverage among others that span nine different genres.
Comcast Corporation Price and Consensus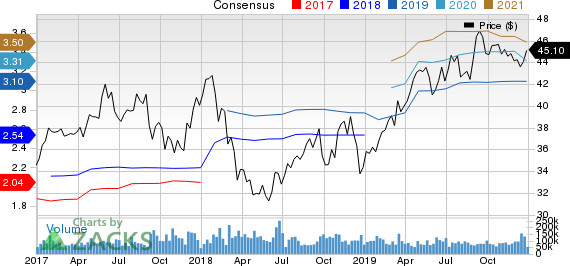 Comcast Corporation price-consensus-chart | Comcast Corporation Quote
Live news from Cheddar from the New York Stock Exchange each morning and comedy from channels like FailArmy and JASH are included in the variety of channels offered.

Additionally, subscribers can stream game highlights and analysis from Sports Illustrated and Copa90. Family entertainment from PBS Digital Studios, Family Feud and American Idol are also available.

Moreover, Condé Nast Traveler and Bon Appétit channels are available for travel enthusiasts alongside viral hits from JukinVideo and style trends from Vogue, Refinery29 and more.

Recently, Comcast entered into a long term-agreement with Lionsgate Films LGF.A. Per the deal, Lionsgate owned Starz network channels, which include STARZ premium channel as well as STARZ Encore channels, will continue to be available on Comcast NBCUniversal's Xfinity TV platform with expanded distribution on the Comcast Flex platform.

The deal also allows NBCUniversal to license content from Lionsgate for Peacock, a premium subscription-streaming service, next spring. Peacock's expanding content portfolio will improve Comcast's foothold in the rapidly growing streaming market, which, per Grand View Research report, is expected to witness CAGR of 19.6% between 2019 and 2025.

Growth Prospects Amid Streaming War

The solid growth prospects of streaming have attracted prominent tech and media companies like Apple, AT&T and Disney to the space, which is already seeing intense competition among incumbents like Netflix, Hulu, Amazon and Roku.

Comcast's interest in Xumo comes as the media conglomerate's NBCUniversal is prepping the launch of Peacock. Xumo can provide technical and business support to Comcast's streaming efforts across Peacock and the parent's other divisions.

Moreover, Xumo TV also has contracts with LG and T-Mobile TMUS to help power some of the content offered on LG TVs and smartphones. Buying Xumo TV will also help Comcast expand the reach of its content to LG TVs and smartphones.

Xumo, along with Pluto, Tubi and Chicken Soup for the Soul Entertainment, which owns Crackle and other AVOD platforms, has been one of the best-known brands in the growing ad-supported streaming space.

Xumo is smaller than Pluto TV, which was acquired by Viacom in January 2019. Pluto TV had 20 million U.S. monthly active users as of the fourth quarter of 2019, up nearly 70% this calendar year, per a Bloomberg report.

Nevertheless, Comcast is considering making the ad-supported version of Peacock free to everyone, per a recent CNBC report. That would mark a change from its original plan to offer the service free only to cable subscribers and Comcast broadband customers and is expected to aid subscriber growth.

Zacks Rank

Comcast currently carries a Zacks Rank #3 (Hold). You can see the complete list of today's Zacks #1 Rank (Strong Buy) stocks here.

Breakout Biotech Stocks with Triple-Digit Profit Potential

The biotech sector is projected to surge beyond $775 billion by 2024 as scientists develop treatments for thousands of diseases. They're also finding ways to edit the human genome to literally erase our vulnerability to these diseases.

Zacks has just released Century of Biology: 7 Biotech Stocks to Buy Right Now to help investors profit from 7 stocks poised for outperformance. Our recent biotech recommendations have produced gains of +98%, +119% and +164% in as little as 1 month. The stocks in this report could perform even better.

See these 7 breakthrough stocks now>>
Want the latest recommendations from Zacks Investment Research? Today, you can download 7 Best Stocks for the Next 30 Days.
Click to get this free report
Comcast Corporation (CMCSA): Free Stock Analysis Report
Lions Gate Entertainment Corp. (LGF.A): Free Stock Analysis Report
Meredith Corporation (MDP): Free Stock Analysis Report
T-Mobile US, Inc. (TMUS): Free Stock Analysis Report
To read this article on Zacks.com click here.