Tech Data's (TECD) Q4 Earnings Beat Estimates, Sales Down Y/Y
Tech Data Corporation TECD reported better-than-expected earnings and sales for fourth-quarter fiscal 2020. Also, the bottom line grew year over year and marked the sixth straight quarter of beat. However, the company's top line decreased on a year-over-year basis.
The company is on track with its definitive agreement to be acquired by Tiger Midco, LLC, an affiliate of funds managed by affiliates of Apollo Global Management, which is a leading global alternative investment manager. The deal is valued at $145 per share. The transaction is likely to conclude in the first half of calendar year 2020.
Notably, shares of this Zacks Rank #3 (Hold) company have edged down 0.9% compared with the industry's decline of 3.3% in the past three months.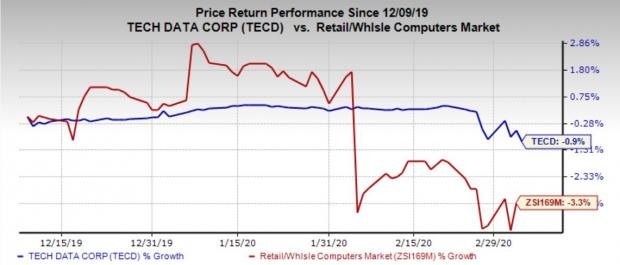 Q4 Details
Tech Data's fourth-quarter adjusted earnings came in at $4.88 per share that surpassed the Zacks Consensus Estimate of $4.79. Further, the metric rose 7% year over year in the reported quarter.
Net sales of $10,380.8 million exceeded the consensus mark of $10,346 million but declined 1% year over year. Moreover, net sales were flat on a constant-currency (cc) basis.
Net sales from the Americas (41% of global net sales) rose 1% to $4,291.8 million. Sales from Europe (56% of global net sales) declined 2% to $5,760.6 million. Sales from the Asia Pacific (3% of global net sales) remained almost flat at $328.4 million. On a cc basis, net sales rose 1% in the Americas but remained flat in the Asia Pacific and Europe.
Margins
The company's gross profit rose 3% to $666.2 million in the reported quarter. Gross margin expanded 22 basis points (bps) to 6.4%. Adjusted selling, general & administrative (SG&A) expenses increased 7% to $414.2 million. As a percentage of sales, adjusted SG&A expenses expanded 28 bps to nearly 4%.
The company's adjusted operating income of $252 million decreased 3% from $260.9 million in the year-ago quarter. Meanwhile, adjusted operating margin contracted 6 bps to 2.4%. Segment-wise, adjusted operating margin contracted 32 bps to 2.6% in the Americas and 110 bps to 1.9% in the Asia Pacific. Nevertheless, adjusted operating margin expanded 18 bps to 2.4% in Europe.
Balance Sheet and Cash Flow
As of Jan 31, 2020, Tech Data had cash and cash equivalents of $841.4 million, long-term debt, less current maturities, of $1,338.1 million, and total stockholders' equity of $3,119.5 million.
The company generated net operating cash flow of $180 million during the fiscal fourth quarter. Cash from operations totaled $593.1 million in fiscal 2020.
Tech Data Corporation Price, Consensus and EPS Surprise
3 Stocks to Watch
Zumiez ZUMZ), currently sporting a Zacks Rank #1 (Strong Buy), has a long-term expected earnings growth rate of 12%. You can see the complete list of today's Zacks #1 Rank stocks here.
Costco Wholesale Corporation COST has a long-term earnings growth rate of 7.6% and a Zacks Rank #2 (Buy).
Burlington Stores, Inc. BURL has a long-term earnings growth rate of 15.1% and a Zacks Rank #2.
Biggest Tech Breakthrough in a Generation
Be among the early investors in the new type of device that experts say could impact society as much as the discovery of electricity. Current technology will soon be outdated and replaced by these new devices. In the process, it's expected to create 22 million jobs and generate $12.3 trillion in activity.
A select few stocks could skyrocket the most as rollout accelerates for this new tech. Early investors could see gains similar to buying Microsoft in the 1990s. Zacks' just-released special report reveals 8 stocks to watch. The report is only available for a limited time.
See 8 breakthrough stocks now>>
Want the latest recommendations from Zacks Investment Research? Today, you can download 7 Best Stocks for the Next 30 Days.
Click to get this free report
Tech Data Corporation (TECD): Free Stock Analysis Report
Costco Wholesale Corporation (COST): Free Stock Analysis Report
Zumiez Inc. (ZUMZ): Free Stock Analysis Report
Burlington Stores, Inc. (BURL): Free Stock Analysis Report
To read this article on Zacks.com click here.
Zacks Investment Research