Here's Why You Should Invest in Lincoln Electric (LECO) Now
Lincoln Electric Holdings, Inc. LECO is well-poised for growth on the back of improving demand across its end markets, robust backlog levels and its ongoing cost control measures. Acquisitions to augment its capabilities and geographical footprint, focus on developing new products and utilization of digital platforms to engage customers are key catalysts.

The company currently has a Zacks Rank #2 (Buy) and a VGM Score of B. Our research shows that stocks with a VGM Score of A or B, when combined with a Zacks Rank #1 (Strong Buy) or 2, offer the best investment opportunities. You can see the complete list of today's Zacks #1 Rank stocks here.

Let's delve deeper into the factors that make Lincoln Electric a compelling investment option at the moment.
Solid Q2 Performance
Lincoln Electric reported record second-quarter 2021 adjusted earnings of $1.67 per share, indicating growth of 109% year over year. Total revenues surged 40% year over year to $826 million. Both the figures beat the respective Zacks Consensus Estimate.

The company beat the Zacks Consensus Estimate for earnings in each of the trailing four quarters, the average surprise being 21.4%.
Upbeat Outlook for 2021
Lincoln Electric has witnessed improving order rates across all segments lately, as its end markets continue to recover from the impact of the pandemic. Backlog at the end of the second quarter of 2021was even higher than pre-pandemic levels. Thus, the company entered the second half of 2021 with strong momentum. This along with acquisitions and its pricing actions are expected to drive the company's performance in the back half of the year. Lincoln Electric anticipates current-year organic sales growth in high-teens percentage, compared with the previous low to mid-teens percent range. It has effectively managed to counter raw material inflation through pricing actions and improved productivity. Incremental margin is expected to average in the high 20% range for 2021, reflecting increasing volume levels and operating leverage.
Impressive Price Performance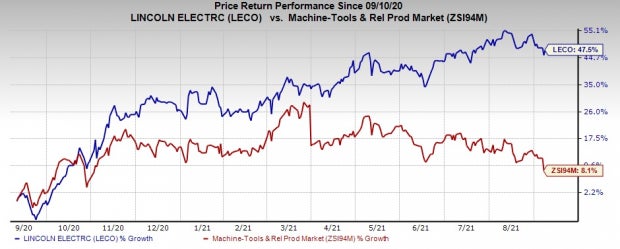 Image Source: Zacks Investment Research
Shares of the company have appreciated 47.5% in the past year, compared with the industry's growth of 8.1%.
Superior Return on Equity (ROE)
Lincoln Electric's trailing 12-month ROE supports its growth potential. The company's ROE of 41% is much higher than the industry's average ROE of 21.1%. This highlights the company's efficiency in utilizing shareholders' funds.
Upbeat Growth Projections
The Zacks Consensus Estimate for fiscal 2021 earnings per share is currently pegged at $6.17, indicating growth of 48.7% from the prior year. The same for fiscal 2022 stands at $6.78, suggesting year-over-year improvement of around 10%. The estimates for both 2021 and 2022 have moved up 7% over the past 90 days.

The stock has an estimated long-term earnings growth rate of 13%.
Growth Drivers in Place
Lincoln Electric has a balanced capital allocation strategy, which prioritizes growth investment while returning cash to shareholders. It is focused on new product development and using digital platforms to engage customers. Lincoln Electric's product launches in the automation solutions market are likely to drive growth. The company is focused on its new additive services business, which will position it as a manufacturer of large scale 3D-printed metal spell parts, prototypes and tooling for industrial customers.

The company has been growing on the back of its acquisition strategy, the latest being Zeman Bauelemente Produktionsgesellschaftm.b.H, a unit of Zeman Group, in April. It will boost Lincoln Electric's annual automation sales by around 10%. The buyout will also expand the company's international automation capabilities to support its Higher Standard 2025 Strategy. The acquisition is expected to be accretive to earnings on an adjusted basis by 3 cents to 5 cents this year. Lincoln Electric's recent acquisition of Fabricated Tube Products and Shoals will be integrated into its Harris Products Group business. The buyout positions the Harris Products Group to tap the growth opportunity in the Heating, ventilation and air conditioning sector as part of its Higher Standard 2025 Strategy.
Other Stocks to Consider
Some other top-ranked stocks in the Industrial Products sector include Belden Inc. BDC, Kadant Inc. KAI and The Manitowoc Company, Inc. MTW. All of these stocks sport a Zacks Rank #1.

Belden has an anticipated earnings growth rate of 63.4% for fiscal 2021. The company's shares have gained 78%, in the past year.

Kadant has an estimated earnings growth rate of 48.2% for 2021. The company's shares have appreciated 88% in a year's time.

Manitowoc has an expected earnings growth rate of 314% for 2021. The stock has surged 153% over the past year.
Breakout Biotech Stocks with Triple-Digit Profit Potential
The biotech sector is projected to surge beyond $2.4 trillion by 2028 as scientists develop treatments for thousands of diseases. They're also finding ways to edit the human genome to literally erase our vulnerability to these diseases.
Zacks has just released Century of Biology: 7 Biotech Stocks to Buy Right Now to help investors profit from 7 stocks poised for outperformance. Recommendations from previous editions of this report have produced gains of +205%, +258% and +477%. The stocks in this report could perform even better.
See these 7 breakthrough stocks now>>
Want the latest recommendations from Zacks Investment Research? Today, you can download 7 Best Stocks for the Next 30 Days.
Click to get this free report
Lincoln Electric Holdings, Inc. (LECO): Free Stock Analysis Report
The Manitowoc Company, Inc. (MTW): Free Stock Analysis Report
Belden Inc (BDC): Free Stock Analysis Report
Kadant Inc (KAI): Free Stock Analysis Report
To read this article on Zacks.com click here.