Landstar (LSTR) Stock Up 29.3% in 6 Months: Here's Why
Shares of Landstar System, Inc. LSTR have gained 29.3% in the past six months compared with the industry's 41.2% increase.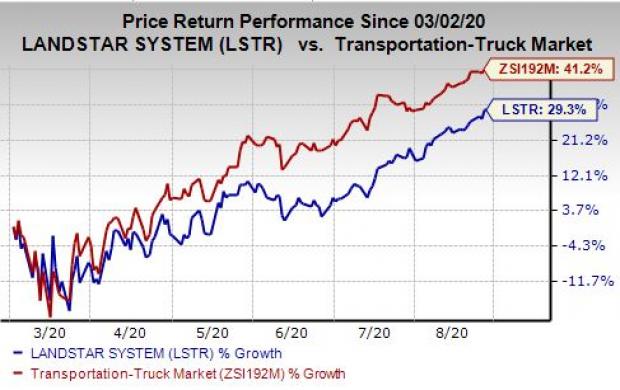 Reasons for Impressive Price Performance
Landstar's efforts to reward shareholders through dividends and share buybacks deserve praise. In a shareholder-friendly move, the company increased quarterly dividend by 13.5% to 21 cents per share (annualized 84 cents) in July. During the first half of 2020, the company rewarded shareholders with $93.4 million through dividend payouts. The company's impressive free cash flow-generation capacity supports such shareholder-friendly measures. In the first half of 2020, Landstar generated $178 million of free cash flow.
We are also impressed by Landstar's efforts to control costs in order to offset the softness in revenues due to slowdown in freight demand. Evidently, total expenses declined 13.1% year over year to $1.67 billion in first-half 2020. With revenues anticipated to be weak in the near term, we expect the company's cost-containment initiatives to drive the bottom line.
Landstar is seeing freight demand improve from peak declines in April and May. The number of loads and revenue per load on loads hauled via trucks increased from the April and May lows, but is still below year-ago levels. It expects revenues for the third quarter in the range of $885-$935 million. Earnings per share are estimated between $1.11 and $1.17. The Zacks Consensus Estimate for third-quarter revenues is pegged at $912.5 million (higher than the midpoint of $910 million of the guidance), while the same for earnings is pegged at $1.14 (in line with the midpoint of the guidance).
Northward Estimate Revisions
Driven by the above-mentioned tailwinds, the Zacks Consensus Estimate for current-quarter earnings has been revised 16.3% upward in the past 60 days. Similarly, the Zacks Consensus Estimate for 2020 earnings has moved up- 11% in the past 60 days.
Zacks Rank & Other Stocks to Consider
Landstar currently sports a Zacks Rank #1 (Strong Buy).
Investors interested in the Zacks Transportation sector can also consider few other stocks like Knight-Swift Transportation Holdings Inc. KNX , United Parcel Service, Inc. UPS and Werner Enterprises, Inc. WERN.
Knight-Swift and Werner sport a Zacks Rank #1, while UPS carries a Zacks Rank #2 (Buy). You can see the complete list of today's Zacks #1 Rank stocks here.
Long-term expected earnings per share (three to five years) growth rate for Knight-Swift, UPS and Werner is pegged at 15%, 7.7% and 8.5%, respectively.
Today's Best Stocks from Zacks
Would you like to see the updated picks from our best market-beating strategies? From 2017 through Q2 2020, while the S&P 500 gained an impressive +44.0%, five of our strategies returned +50.9%, +93.8%, +122.2%, +153.0%, and even +156.8%.

This outperformance has not just been a recent phenomenon. From 2000 – Q2 2020, while the S&P averaged +5.5% per year, our top strategies averaged up to +51.7% per year.

See their latest picks free >>

Want the latest recommendations from Zacks Investment Research? Today, you can download 7 Best Stocks for the Next 30 Days.
Click to get this free report
United Parcel Service, Inc. (UPS): Free Stock Analysis Report
KnightSwift Transportation Holdings Inc. (KNX): Free Stock Analysis Report
Landstar System, Inc. (LSTR): Free Stock Analysis Report
Werner Enterprises, Inc. (WERN): Free Stock Analysis Report
To read this article on Zacks.com click here.
Zacks Investment Research