Veeva Systems' (VEEV) Latest Launches to Enhance Workflow
Veeva Systems Inc. VEEV recently announced two new Veeva Crossix solutions — Veeva CrossixHCP Trigger Data and Veeva Crossix Omnichannel Boost. These latest products are aimed at aiding life sciences companies in executing and optimizing omnichannel marketing campaigns.
The Veeva CrossixHCP Trigger Data is expected to connect consumers' engagement with a brand's website to their healthcare professional (HCP) visits. On the other hand, Veeva Crossix Omnichannel Boost will likely provide a holistic view of HCP and patient engagement across the field and promotional channels.
The latest launches are expected to provide a significant boost to the Veeva Commercial Cloud product line of its Life Sciences segment.
Significance of the Launches
Veeva Systems believes that the marketing and field teams will now be able to leverage these new offerings for more comprehensive, accurate and actionable insights into patient and HCP touchpoints.
Per management, with the continuation of patients and HCPs accessing health information across diverse mediums, it is crucial for marketers to have a holistic marketing strategy. Management feels that by integrating data from field activities, and direct-to-consumer and HCP campaigns, marketers will gain real-time insights into omnichannel performance. This, in turn, will likely aid in ultimately delivering vital information to customers.
Industry Prospects
Per a report by Marketsandresearch.biz, the global clinical data management system market was estimated to be $1574.8 million in 2021 and is projected to reach $4294.1 million by 2028 at a CAGR of 15.4%. Factors like a surge in clinical trials, a flourishing healthcare industry, and increasing research collaborations and partnerships are expected to drive the market.
Given the market potential, the latest additions to its Veeva Crossix solutions are expected to strengthen its position in the global cloud application space.
Recent Developments
This month, Veeva Systems announced that Batavia Biosciences had selected Veeva Vault Quality Suite to optimize its global quality assurance (QA), unifying content, processes and training management on a single platform. Batavia Biosciences will also benefit from real-time insights that support ongoing QA improvements and inspection readiness.
The same month, Veeva Systems announced that INCOG BioPharma Services had implemented Veeva Vault Quality Suite as a foundation for digital excellence across its new manufacturing facility. Vault Quality empowers INCOG BioPharma's teams with a connected digital system that simplifies working with partners and provides transparency to customers.
In August, Veeva Systems reported its second-quarter fiscal 2023 results, registering an uptick in the overall top line and robust performances by both segments. The company continued to benefit from its flagship Vault platform. Veeva Systems' continued strength in its Commercial Solutions, with new SMB customer additions and further international CRM expansions in Asia and Latin America, was also promising.
Price Performance
Shares of the company have lost 42.6% in the past year compared with the industry's 61.5% decline and the S&P 500's 17.5% fall.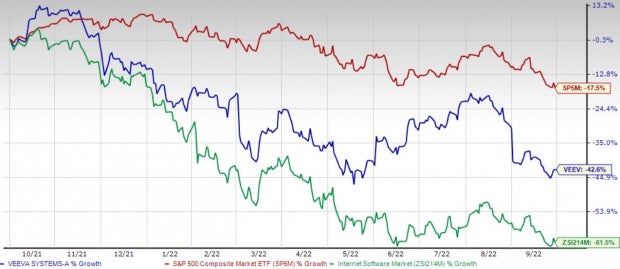 Image Source: Zacks Investment Research
Zacks Rank & Key Picks
Currently, Veeva Systems carries a Zacks Rank #3 (Hold).
Some better-ranked stocks in the broader medical space are AMN Healthcare Services, Inc. AMN, ShockWave Medical, Inc. SWAV and McKesson Corporation MCK.
AMN Healthcare, sporting a Zacks Rank #1 (Strong Buy) at present, has an estimated long-term growth rate of 3.2%. AMN's earnings surpassed the Zacks Consensus Estimate in all the trailing four quarters, the average beat being 15.7%.
You can see the complete list of today's Zacks #1 Rank stocks here.
AMN Healthcare has lost 7.3% compared with the industry's 39.1% fall in the past year.
ShockWave Medical, sporting a Zacks Rank #1 at present, has an estimated growth rate of 33.1% for 2023. SWAV's earnings surpassed estimates in all the trailing four quarters, the average beat being 180.1%.
ShockWave Medical has gained 38.2% against the industry's 33.1% fall over the past year.
McKesson, carrying a Zacks Rank #2 (Buy) at present, has an estimated long-term growth rate of 10.1%. MCK's earnings surpassed estimates in three of the trailing four quarters and missed the same in one, the average beat being 13%.
McKesson has gained 70.9% against the industry's 17.6% fall over the past year.
This Little-Known Semiconductor Stock Could Be Your Portfolio's Hedge Against Inflation
Everyone uses semiconductors. But only a small number of people know what they are and what they do. If you use a smartphone, computer, microwave, digital camera or refrigerator (and that's just the tip of the iceberg), you have a need for semiconductors. That's why their importance can't be overstated and their disruption in the supply chain has such a global effect. But every cloud has a silver lining. Shockwaves to the international supply chain from the global pandemic have unearthed a tremendous opportunity for investors. And today, Zacks' leading stock strategist is revealing the one semiconductor stock that stands to gain the most in a new FREE report. It's yours at no cost and with no obligation.
>>Yes, I Want to Help Protect My Portfolio During the Recession
Want the latest recommendations from Zacks Investment Research? Today, you can download 7 Best Stocks for the Next 30 Days.
Click to get this free report
McKesson Corporation (MCK): Free Stock Analysis Report
AMN Healthcare Services Inc (AMN): Free Stock Analysis Report
Veeva Systems Inc. (VEEV): Free Stock Analysis Report
ShockWave Medical, Inc. (SWAV): Free Stock Analysis Report
To read this article on Zacks.com click here.
Zacks Investment Research