Kaman Seals New K-Max Aircraft Order From Precision Lift
Kaman Corporation's KAMN business arm, Kaman Aerosystems lately clinched the third order for its premium K-MAX helicopter in the current quarter. The recent order for this state-of-the-art medium-to-heavy lift aircraft is placed by Baker City, OR-based elevator manufacturer, Precision Lift, LLC.
Inside the Headlines
K-MAX is Kaman's premium single-seat, single-engine and low-maintenance helicopter. The aircraft is optimized for different external load operations, including specialized features like counter-rotating rotor system, and designed especially for vertical reference flight. Notably, the aircraft can lift weight up to 6,000 pounds. So far, K-Max has significantly aided Kaman in expanding the fleet size and lifting capability of many operations across the globe. On grounds of growing popularity, the company recently approved the Lot II and Lot III production plans for this aircraft.
The aforementioned deal marks the second K-Max order placed by Precision Lift in the past 12 months. Notably, the reliability and versatility of its first K-MAX helicopter remarkably aided Precision Lift in improving its operational efficacy and significantly strengthening the existing Air Tractor AT-802 aircraft fleet. The company perceives the latest K-Max airplane to expand the current portfolio of its firefighting assets.
The aforementioned Precision Lift order is the third K-Max order secured by Kaman during this quarter. Prior to this, on Nov 28, 2018, the company sealed two orders for K-MAX helicopters from both Mountain Blade Runner Helicopters and St. Louis Helicopter LLC.
Zacks Rank and Price Performance
Kaman currently carries a Zacks Rank #3 (Hold). The company is poised to grow on the back of strength in Distribution segment's business, mergers & acquisitions, deleveraging initiatives, along with new contract wins. Nonetheless, weakening Aerospace segment remains a cause of concern. Moreover, over the past month, the stock has lost 9.4%, wider than 3.9% decline of the industry it belongs to.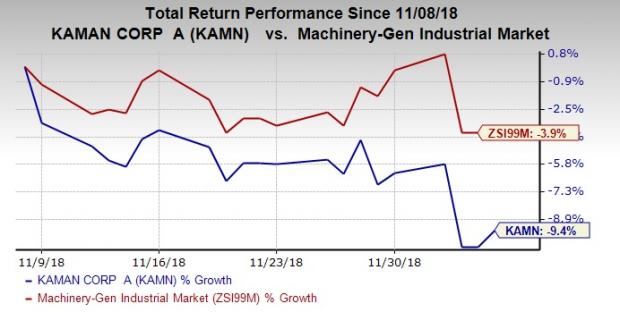 Stocks to Consider
Some better-ranked stocks in the same space are listed below:
Currently, DXP Enterprises, Inc. DXPE sports a Zacks Rank #1 (Strong Buy). The company pulled off average positive earnings surprise of 112.62% in the past four quarters. You can see the complete list of today's Zacks #1 Rank stocks here.
Luxfer Holdings PLC LXFR also flaunts a Zacks Rank of 1. The company generated average positive earnings surprise of 24.27% in the trailing four quarters.
Applied Industrial Technologies, Inc. AIT holds a Zacks Rank #2 (Buy). The company delivered average positive earnings surprise of 11.67% in the preceding four quarters.
Today's Stocks from Zacks' Hottest Strategies
It's hard to believe, even for us at Zacks. But while the market gained +21.9% in 2017, our top stock-picking screens have returned +115.0%, +109.3%, +104.9%, +98.6%, and +67.1%.
And this outperformance has not just been a recent phenomenon. Over the years it has been remarkably consistent. From 2000 - 2017, the composite yearly average gain for these strategies has beaten the market more than 19X over. Maybe even more remarkable is the fact that we're willing to share their latest stocks with you without cost or obligation.
Want the latest recommendations from Zacks Investment Research? Today, you can download 7 Best Stocks for the Next 30 Days.
Click to get this free report
DXP Enterprises, Inc. (DXPE): Free Stock Analysis Report
Applied Industrial Technologies, Inc. (AIT): Free Stock Analysis Report
Luxfer Holdings PLC (LXFR): Free Stock Analysis Report
Kaman Corporation (KAMN): Free Stock Analysis Report
To read this article on Zacks.com click here.