Builders Sentiment Marches Ahead in October: 7 Stocks to Gain
Builder confidence for single-family homes jumped four points in October, marking the largest monthly increase since last November. Solid demand trends for homes for the past several months have pushed the sentiments higher despite persistent supply woes and inflationary pressure.
U.S. Builder Confidence Rises for 2nd Straight Month in October
The NAHB/Wells Fargo Housing Market Index (HMI) reading unveiled that the sentiment among U.S. homebuilders for newly-built single-family homes rose four points to 80 this month from September's reading of 76. Yet, the metric is still five points below the previous year's reading of 85 and November 2020 record high reading of 90. Nonetheless, the reading of 80 and above is still encouraging.

The indicator that gauges present sales conditions rose five points to 87 from the last month. Prospective buyer traffic also improved four points to 65. Sales predictions for the next six months, which gives an idea of future industry movement, increased three points to 84. Regionally, the three-month moving averages for the HMI reading were mostly steady in the regions served (barring Midwest which grew one point to 69).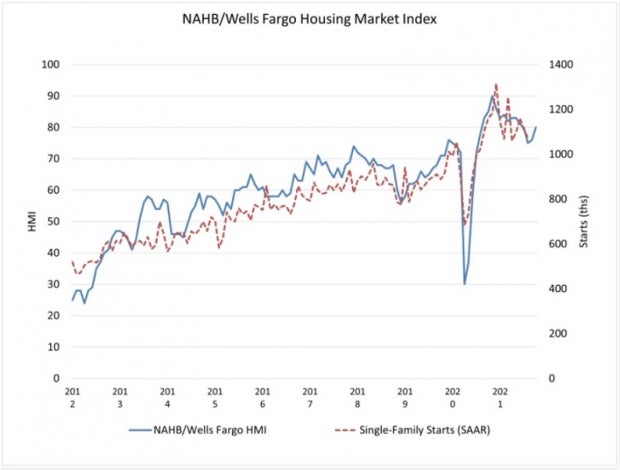 Image Source: NAHB
The Mortgage Bankers Association's Weekly Mortgage Applications Survey for the week ended Oct 8 improved 0.2% from the prior week. This indicates that homebuyers are taking advantage of lower rates despite higher prices. In addition to these positives, private residential construction spending rose 0.4% in August from July.

Yet, ongoing supply chain issues, labor shortage, and affordability hurdles are concerning almost every homebuilder. This apart, market pundits are concerned about building material price increases and a rise in interest rates in the coming months, as the Fed begins to reduce the purchase of U.S. Treasuries and mortgage-backed debt.

So far this year, the Zacks Building Products - Home Builders industry has gained 14.6% versus the Zacks Construction sector and S&P 500 composite's 17.1% and 21.4% rally, respectively.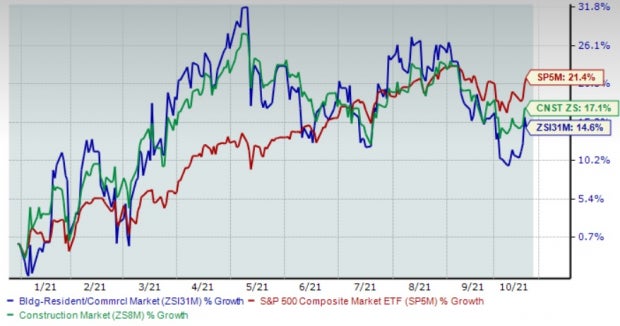 Image Source: Zacks Investment Research
Nonetheless, solid buyers' traffic and future sales prediction depict an encouraging picture for builders to build more.
Construction Stocks Worth a Look
Defying all odds, solid demand for homes and six-month sales predictions are encouraging. We have listed five top-ranked stocks from the Zacks Construction sector that investors may add to their portfolio given the companies' solid prospects. These stocks have been picked with the help of the Zacks Stock Screener.

Toll Brothers, Inc. TOL is a luxury homebuilding company and currently carries a Zacks Rank #2 (Buy). The company is primarily gaining from limited competition in the market, and the strategy of broadening product lines, price points as well as geographies. Its shares have gained 39.3% so far this year. Earnings estimates for the current year suggest 80% year-over-year growth. You can see the complete list of today's Zacks #1 Rank (Strong Buy) stocks here.

Watsco, Inc. WSO distributes air conditioning, heating, and refrigeration equipment along with related parts in the United States, Canada, Mexico and Puerto Rico. The company has been benefiting from an improvement in the e-commerce business. Also, increased focus on accretive acquisitions and enhancing shareholder value bodes well. This Zacks Rank #2 company's earnings are expected to grow 45.8% in 2021. This company has gained 29.8% year to date.

TopBuild Corp. BLD, which is an installer and distributor of insulation and other building products, mainly gains from solid housing market fundamentals, systematic inorganic strategy, Insulation Installation business as well as improving repair and remodeling activities. Shares of this Zacks Rank #2 company have gained 21.9% in the year-to-date period. Earnings estimates for the current year are likely to gain 47.1% year over year.

CRH plc CRH is a leading building materials company. The company primarily banks on accretive acquisitions, continuous focus on operational and commercial excellence, sustainable business model, and a balanced portfolio. It also benefits from service infrastructure, residential and non-residential demand for repair, maintenance and other construction projects. The company's earnings are expected to grow 112.7% in 2021. This company, which carries a Zacks Rank #2, has gained 13.6% year to date.

Eagle Materials Inc. EXP produces and supplies heavy construction materials, light building materials, and materials used for oil and natural gas extraction in the United States. Improved cement, concrete and aggregates sales volume as well as solid contribution from the recently-acquired Kosmos Cement Business have been aiding the company. Higher pricing and lower diesel costs are also adding to the positives. This Zacks Rank #2 company's shares have gained 93.9% so far this year. Its earnings estimates for fiscal 2021 are expected to grow 32.7% from prior year.

Additionally, investors may consider a few stocks from the Zacks Building Products - Retail industry, which are highly dependent on the U.S. housing market.

Builders FirstSource, Inc. BLDR is the largest supplier of building materials, manufactured components and construction services to professional homebuilders, sub-contractors, remodelers and consumers. The company is benefiting from its focus on cost synergies, strategic acquisitions, and robust demand arising from solid housing and repair & remodeling activities. This Zacks Rank #1 company's earnings for the current year are likely to gain 108.3% year over year.

Beacon Roofing Supply, Inc. BECN is the largest distributor of residential and non-residential roofing materials in the United States and Canada. This Zacks Rank #2 company banks on solid residential backdrop, and exceptional operating cost management and cash flow. Earnings for the current year are likely to rise 85.5% year over year.

Impressively, the stocks have gained 41.7% and 32.9%, respectively, outperforming the industry's 30.2% rise. Both of them are observing higher demand arising from the housing industry's solid momentum.
Zacks' Top Picks to Cash in on Artificial Intelligence
In 2021, this world-changing technology is projected to generate $327.5 billion in revenue. Now Shark Tank star and billionaire investor Mark Cuban says AI will create "the world's first trillionaires." Zacks' urgent special report reveals 3 AI picks investors need to know about today.
See 3 Artificial Intelligence Stocks With Extreme Upside Potential>>
Want the latest recommendations from Zacks Investment Research? Today, you can download 7 Best Stocks for the Next 30 Days.
Click to get this free report
Watsco, Inc. (WSO): Free Stock Analysis Report
Beacon Roofing Supply, Inc. (BECN): Free Stock Analysis Report
Toll Brothers Inc. (TOL): Free Stock Analysis Report
Builders FirstSource, Inc. (BLDR): Free Stock Analysis Report
Eagle Materials Inc (EXP): Free Stock Analysis Report
TopBuild Corp. (BLD): Free Stock Analysis Report
CRH PLC (CRH): Free Stock Analysis Report
To read this article on Zacks.com click here.