Curtiss-Wright Hikes Dividend, Announces Share Buyback Plan
Curtiss-Wright Corporation CW recently made an announcement regarding a new share repurchase authorization along with a hike in quarterly dividend. This reflects the company's focus on boosting investor confidence through several growth initiatives and shareholder-friendly moves.

Prior to this, the company had authorized a $100 million share repurchase program in December 2018, of which $50 million was used for additional opportunistic share repurchases.

Details of the Announcement

Curtiss-Wright announced a hike of 13% in quarterly cash dividend to 17 cents per share, resulting in an annualized dividend of 68 cents. The dividend will be payable on Jul 5, 2019 to its shareholders of record as of the close of business on Jul 20, 2019. Post the announcement, the company's dividend yield was at 0.53% compared with the industry's dividend yield of 0.88%.

Further, its board of directors authorized a new share repurchase program worth $200 million. Curtiss-Wright expects to repurchase at least $50 million in shares during 2019 via its existing 10b5-1 program that commenced in January 2019 and exhaust the remainder of prior-share repurchase authorization announced last December.

Upon completion of the current $50 million share repurchase program authorized for 2019, Curtiss-Wright expects to have approximately 43.3 million diluted shares outstanding as of Dec 31, 2019.

Our View

Solid cash flow balance encourages a company to adopt investor friendly cash deployment strategies like regular dividend payouts, dividend hikes and share repurchases. To this end, it is imperative to mention that Curtiss-Wright has recently increased adjusted free cash flow guidance for 2019.
In this context, positive synergies expected from the recently acquired Tactical Communication Group (TCG) are projected to boost the company's future cash flows. We believe this must have encouraged management to make the recent dividend hike and share repurchase announcements.

Dividend Hikes in the Same Space

Curtiss-Wright is not the only company to reward its shareholders with increased dividend. There are also other players in the U.S. defense space to add shareholder value.

For instance, General Dynamic Corp. GD announced a quarterly dividend of $1.02 per share in March 2019, registering a raise of 9.7% from the prior dividend payout.

Northtop Grumman Corporation NOC announced a quarterly dividend of $1.32 per share in May 2019, registering a raise of 10% from the prior dividend payout.

The Boeing Company BA also approved a quarterly dividend of $2.05 per share in December 2018, delivering a hike of 20% compared with the dividend paid in the prior quarter.

Price Performance

Shares of Curtiss-Wright have plunged about 12.9% in a year against the industry's growth of 7.2%.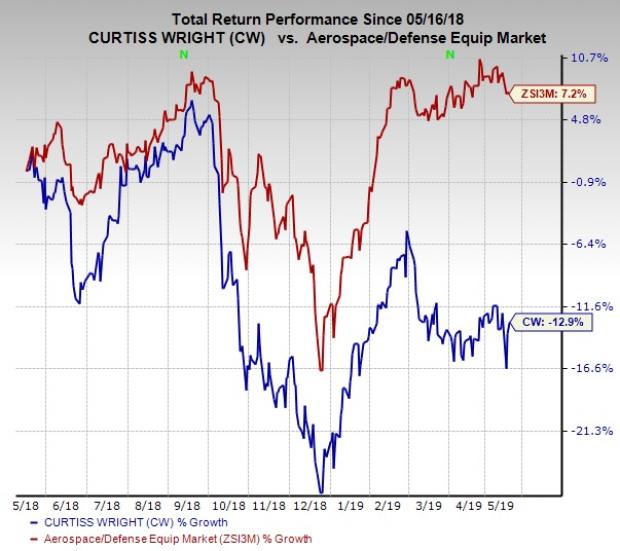 Zacks Rank

Curtiss-Wright has a Zacks Rank #2 (Buy). You can see the complete list of today's Zacks #1 Rank (Strong Buy) stocks here.

Radical New Technology Creates $12.3 Trillion Opportunity

Imagine buying Microsoft stock in the early days of personal computers… or Motorola after it released the world's first cell phone. These technologies changed our lives and created massive profits for investors.

Today, we're on the brink of the next quantum leap in technology. 7 innovative companies are leading this "4th Industrial Revolution" - and early investors stand to earn the biggest profits.

See the 7 breakthrough stocks now>>
Want the latest recommendations from Zacks Investment Research? Today, you can download 7 Best Stocks for the Next 30 Days.
Click to get this free report
General Dynamics Corporation (GD): Free Stock Analysis Report
The Boeing Company (BA): Free Stock Analysis Report
Northrop Grumman Corporation (NOC): Free Stock Analysis Report
Curtiss-Wright Corporation (CW): Free Stock Analysis Report
To read this article on Zacks.com click here.
Zacks Investment Research