Roche's Polivy Gets FDA Nod, Gazyva Meets Goals in Phase II
Roche Holdings AG RHHBY announced that the FDA has granted accelerated approval to lymphoma drug, Polivy (polatuzumab vedotin-piiq).
The drug has been approved in combination with bendamustine plus Rituxan (BR) for the treatment of adults with relapsed or refractory (R/R) diffuse large B-cell lymphoma (DLBCL) who have received at least two prior therapies.
Polivy (polatuzumab vedotin-piiq) is an antibody-drug conjugate (ADC), which targets CD79b that utilizes Seattle Genetics' SGEN technology.
Polivy was developed and will be commercialized by Genentech, a member of the Roche Group.
We remind investors that the approval comes two months ahead of the Prescription Drug User Fee Act (PDUFA) action date of Aug 19, 2019. The Biologics License Application (BLA) was granted priority review as well by the FDA. Polivy was previously granted Breakthrough Therapy designation by the FDA.
While the accelerated approval was granted for this indication, based on complete response rates observed in the phase Ib/II GO29365 study, the continued approval for the same may be contingent upon verification and description of clinical benefit in a confirmatory trial. Results of the study showed that 40% of patients treated with Polivy plus BR achieved a complete response compared to 18% with BR alone.
We note that Polivy was also granted PRIME (PRIority MEdicines) designation by the European Medicines Agency for the treatment of people with R/R DLBCL in 2017.
DLBCL is the most common form of non-Hodgkin lymphoma (NHL), accounting for about one in three cases of NHL. Approximately 150,000 people are estimated to be diagnosed with DLBCL each year globally. Polivy is currently being evaluated for the treatment of several types of NHL.
The approval will broaden Roche's hematology portfolio, which comprises approved drugs like MabThera/Rituxan, Tecentriq, Gazyva, and Venclexta in collaboration with AbbVie ABBV. The company also has Hemlibra in its portfolio, a bispecific monoclonal antibody for the treatment of haemophilia A.
Roche is currently looking to diversify its portfolio in wake of stiff competition from biosimilars for key drugs such as Avastin, Rituxan and Herceptin from Novartis and Amgen AMGN.

The stock has gained 10.1% in the year so far compared with the industry's 1.8% growth.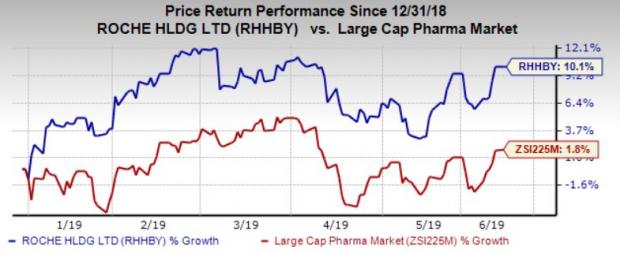 Concurrently, Roche also announced positive top-line results from a phase II study, NOBILITY, which is evaluating the safety and efficacy of Gazyva (obinutuzumab) in adults suffering from proliferative lupus nephritis, a severe and potentially life-threatening disorder of the kidneys. The study met its primary endpoint. Results showed that Gazyva in combination with standard of care (mycophenolate mofetil or mycophenolic acid and corticosteroids) demonstrated enhanced efficacy compared to placebo plus standard of care in achieving complete renal response at one year. In addition, Gazyva met key secondary endpoints showing improved overall renal responses (complete and partial renal response) and serologic markers of disease activity as compared to placebo.
Zacks Rank
Roche currently carries a Zacks Rank #2 (Buy). You can see the complete list of today's Zacks #1 Rank (Strong Buy) stocks here.

Will you retire a millionaire?

One out of every six people retires a multimillionaire. Get smart tips you can do today to become one of them in a new Special Report, "7 Things You Can Do Now to Retire a Multimillionaire."
Want the latest recommendations from Zacks Investment Research? Today, you can download 7 Best Stocks for the Next 30 Days.
Click to get this free report
AbbVie Inc. (ABBV): Free Stock Analysis Report
Roche Holding AG (RHHBY): Free Stock Analysis Report
Amgen Inc. (AMGN): Free Stock Analysis Report
Seattle Genetics, Inc. (SGEN): Free Stock Analysis Report
To read this article on Zacks.com click here.
Zacks Investment Research